Plenty of Radio-Friendly Singles on "Portable Sounds"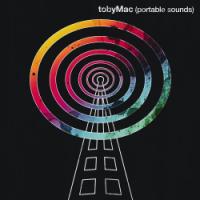 Artist: tobyMac
Title: "Portable Sounds"
Label: ForeFront
Always one to embrace what's new technologically speaking, tobyMac gives the iPod generation exactly what it wants on his third solo outing, "Portable Sounds" – plenty of radio-friendly singles that warrant repeated listens.
Instead of going for the whole cohesive album vibe that's largely unappreciated these days anyway, it's apparent that tobyMac invested his creative energy in recording highly listenable songs that reflect his musical tastes of the moment – classic funk, reggae, R&B and, of course, hip-hop.
But in the spirit of keeping the audience guessing what's up his proverbial sleeve, there are also a few surprises on "Portable Sounds." Most notably, it's the use of live instrumentation rather than the programmed sounds and extraneous samples of albums past that really stands out. Whether it's on the energetic opener "One World" where Joanna Valencia (who also performed on "Momentum" and "Welcome to Diverse City") ultimately steals the show with her powerhouse chops or the laidback groove of his irresistibly catchy first single, "Made to Love," the live strings and horns add a new vibrancy and potency to his sound.
Another key element that separates "Portable Sounds" from its predecessors is the more pop-friendly nature of songs such as "I'm for You" and "Suddenly" where tobyMac sings more than he rhymes, which is a pleasant change of pace. Although he's been a Gold-selling solo artist for the better part of this decade, these tracks are a nice homage to the dc Talk era. It's such a logical progression, in fact, that one half expects Michael Tait and Kevin Max to crash the party.
Aside from all the cosmetic changes from a sonic perspective, however, there seems to be a marked shift in tobyMac's songwriting strategy. While there's still plenty of unabashed fun to be had on the horn-driven "No Ordinary Love," which highlights the spectacular singing of Nirva Dorsaint, a member of his "Diverse City" touring band and the funky "Feelin' So Fly," there's far more lyrical depth on "Portable Sounds."
With "No Signal," a sweet ode to his family, tobyMac reaffirms his life's priorities in a song that'll likely generate a collective "awwh" when anyone listens. One-upping it, though, is "Lose My Soul," which, in the vein of "Burn for You" from "Welcome to Diverse City," is an introspective prayer that gives listeners a rare glimpse of the man behind the artist.
While he's always talked candidly about what he cares about in terms of social commentary, revealing moments like these have been few and far between. Now, here's hoping for a few more of those next time around. In the meantime, "Portable Sounds" should do the trick for longtime and new fans alike.


© 2007 CCM Magazine. All rights reserved. Used with permission. Click here to subscribe.