The Problem With Labels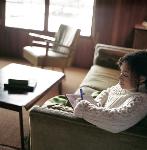 The other day I spent about an hour putting together nametags for the youth retreat my husband was leading. Since putting nametags together is not really a difficult task, it gave me some good, solid wool-gathering time.
The comedian Bill Engvall has a hilarious skit called "Here's Your Sign." His theory is that stupid people should carry signs with them so that we'd know how to deal with them. Well, this got me thinking about nametags. We could put so much more information on name tags, couldn't we?
For instance, whenever we have been led to change churches, the hardest part is not just learning people's names, but learning their characters. Who can I trust? Who's a problem parent? Who's the complainer? Solution? Just stick a name tag on them! "Hello! My name is Nancy and I'm a gossip" would make my life sooo much easier.

We definitely need to label the stupid people, but let's also include liars, cheaters, the lazy and the boring. While we're at it, let's also label the bad drivers, the people who take too many items through the grocery store line and the people who don't wash their hands after using the bathroom (yes, we should definitely label them!) And while we're at it, could we label the fair-weather friends? That would certainly save me a lot of heartache and pain.
So, if we're going to put a character tag on everyone, what would mine say? Well, how about witty, funny and charming? How about devoted friend and saint? But what if I didn't get to make my own tag? What if other people got to label me? I can begin to feel defensiveness and anger rising up even to think of it.
Can you imagine what it would be like to have the worst of ourselves hung around our necks forever? We could never be our best selves because our worst would be on display for everyone to see.
We wear so many names in our lives. We give ourselves names like "poor at math" and "bad at sports." And other people never seem to pass up a chance to hang labels on us, either. I remember repeatedly telling my brother he was a miser because he wouldn't share his hoarded stash of coins with me (he wasn't very impressed). As a child, a treasured adult gave me the label "squawks like a goose when she sings." While I'm not an American Idol, I don't do too badly. But I didn't sing much for a long time after that. Labels hurt. Names cripple.
But what if only God were allowed to make out our name tags? What sort of things would He say of us?
Over and over He calls us Beloved:
Eph 5:1 "Therefore be imitators of God, as beloved children."
We are also Precious:
Isa 43:4 "... you are precious in My sight, since you are honored and I love you..."
We have been Blessed:
Deut 28:6 "Blessed shall you be when you come in, and blessed shall you be when you go out.
We are Forgiven:
Col 2:13 "And when you were dead in your transgressions and the uncircumcision of your flesh, He made you alive together with Him, having forgiven us all our transgressions"
And, rather miraculously it seems to me, in a way He has given us a name tag.

In Eph 1:13-14, Paul declares, "In Him, you also, after listening to the message of truth, the gospel of your salvation -- having also believed, you were sealed in Him with the Holy Spirit of promise, who is given as a pledge of our inheritance, with a view to the redemption of God's own possession, to the praise of His glory." When we accept Christ as our savior, He puts His seal of approval on us. He gives us the Holy Spirit as a declaration of who we are now and what our future will be. My name tag becomes His name. The name of Christ, of Christian, becomes mine forever and ever. Alleluia!

All of the names and labels that have been hung on me, or that I have hugged to myself are gone in an instant. Thank you, God! I am the daughter of the King, His Beloved, Precious, Blessed, Forgiven child.

If it's all the same to you, I think I'll just stick to the name tag my Father has given me. He knows who I truly am after all.



Awnali Mills is a busy homeschooling quilter. She, her husband two children and one obnoxious bird live in Richmond, VA. She can be reached at awnalimills@yahoo.com.