START BACK OVER AT ONE – Even though it's their second effort on Essential Records, Paul Colman Trio's sophomore disc is indeed titled "One."  How now, brown cow? ... you may ask.  "As we began to track the music," explains Paul Colman, "we really discovered that all the songs are about reconciliation."  Take for instance "Solutions" which speaks to seeking resolution in relationship with Christ and "Pray," a call to walk in love and not judgment toward others.  According to Colman "'One' picks up where 'New Map of the World' left off."  And that's a good thing, considering the project's and PC3's meteoric rise last year (touring with Third Day on the successful "Come Together" tour, a "New Artist of the Year" Dove Award at last month's ceremony, and two No. 1 radio singles with "Turn" and "Run").  With it's more "stripped back sound", "One" showcases the production genius of Brent Milligan (The Elms, David Crowder Band), as well as the songwriting skills of Colman and his trio mates -- Grant Norsworthy, and Phil Gaudion. 

AMERICAN IDOL GOES INSPIRATIONAL – If you've been living under a rock, then you've missed the whole "American Idol" phenomenon that's swept North America in the past year or so.  While Ruuuuu-ben Studdard walked away with this season's title and a $1 million recording contract with J Records on last night's show, first season "wild card" choice RJ Helton has just signed a record deal of his own with Gospo Centric's B-Rite Music.  Due out this coming fall, the project sounds like a dream come true for Helton.  "I am really excited that I am getting a chance to make the kind of record I have always wanted to make and happy to be with a label that understands my passion for music," says the ex Idol.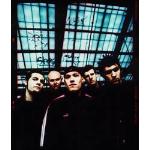 ON THE CUTTING EDGE – Since their self-titled disc dropped last July, BEC Recordings band Kutless continues to make a name for itself with razor-sharp precision.  While simultaneously remaining in the Top 30 at CHR and selling 2,000 units per week in their journey to the 100,000 mark, the hard rockers also achieved status as the No. 1 selling new artist in the CBA in 2002 and is on track to repeat in 2003.  But despite the success, the boys from Portland, Ore. are committed to keeping it humble.  "If the Lord has something for us, we know it will come to pass," comments drummer Kyle Mitchell.  "We have seen many doors open and many so-called random occurrences come together, and we know that is has been one hundred percent God."  Be on the lookout for Kutless this fall as they'll be co-headlining the popular "Festival Con Dios" tour along with festival founders, Newsboys.  But before that time – and since summer comes first on this year's calendar – you can catch Kutless at many Christian music festivals, including Alive Festival, Cornerstone, Creation East and West, and Spirit West Coast.  For a full list of dates, visit www.kutless.com.