Become Your Spouse's Soul Mate
David & Lisa Frisbie, Authors, The Soul-Mate Marriage
Monday, February 02, 2009

"There has to be more," couples tell us, especially those in their twenties and thirties. "We know our marriage can be better than this, but how? We're tired all the time, all we do is chase the kids around, go to work and come back, and try to survive till tomorrow."
Couples with infants and very young children are even more direct.
"I'm going crazy!" a young mom may tell us. Beside her, her husband often smiles or affirms the statement. Then we listen as one or both of them complain to us about late-night feedings, colic, childhood diseases, the baby's lack of interest in feeding—all of which are early parenting issues that are normal to life, but cause couples stress and uncertainty. Each couple seems to think they're unpacking a unique or special situation. Instead, after more than two decades of doing this professionally, we can proclaim with certainty that most marriages experience these same seasons and these same obstacles along the pathway to maturity, intimacy, and lasting love.
Would you find it hard to believe—some couples attend these events just to get away from their screaming kids for a while? Can you blame them? It's fairly easy to find a few weekend babysitters, particularly among your church friends and relatives, if you present a noble cause like going to a marriage enrichment retreat. People are glad to help, and if you belong to at least a medium-sized church you probably won't lack for volunteers to watch your kids while you get away to work on your relationship.
Grandparents, aunts and uncles, and married and single siblings may be more than ready to volunteer their services, especially if they believe they're helping you learn and grow as a couple.
Even empty-nesters are repeat visitors at our retreats. "We feel like we don't know each other anymore," they'll tell us. "Now that the kids are gone, we're finding that we don't have much in common. It's scary—maybe this is why so many couples break up even after a long time of being together."
One way or another, couples attending their second or fifth or ninth marriage renewal event tell us they're searching for something deeper and better, no matter what stage of life they're in or how old their children are. Couples without children come to marriage retreats too—the core issues of striving toward unity are at the heart of good marriage relationships in all seasons. These issues are not connected to family size, or age, or demographics of region, economic status, culture, or race.
Many couples come to one marriage retreat, then later come back for another one. They're searching for techniques or mechanics or steps or a program that will solve their deep yearning to be together as one—at the soul level, not just in zip code.
Like U2, they still haven't found what they're searching for. But greatly to their credit, at least they don't give up.
Thirty minutes after Garrett and Danielle arrive for their first counseling session, we are starting to make a little progress together. We've all gotten more comfortable—the couple's fake fight seems to have relaxed them. It's time for me to begin telling them what their relationship needs.
They're not prepared for the answer I give them.
What your marriage needs, I explain to them carefully, is…more TV.
Both of them stare at me like I've gone completely insane. More TV?
After a moment's pause, Garrett gives me a knowing nod, looking at me with an expression that seems to say, "Dude, this is such excellent advice!" He appears to believe I am advising him to get the full NFL package, every game all season long, plus the NBA and NHL full-season add-ons.
More TV?
Garrett is buying into this big-time. He likes counseling now. He's become a believer, and he's ready to champion my cause forever.
I ruin the moment by explaining to him what I mean.
T Is for Transparency
T is for transparency. You won't move an existing relationship to a deeper level until you're willing to let people see you as you are, for who you are, without pretending to be more cool, more smart, more together, more self-controlled, or more anything else than you really are. How many genuinely transparent people do you know? Go ahead and count them on your fingers. Don't worry about it: You won't need both hands.
When the container of a light source is transparent we can see right through it. By contrast, a container that is translucent lets much of the light shine through, but doesn't let us see what's inside it. That's a major difference. There are some things we may be able to see, while many other things remain hidden from our view.
Most of us, whether consciously or not, grow up making the choice to be translucent people. We are opaque and cloudy, presentable on the surface, yet the inside is shrouded in mystery. Light may flow out of us, but no one can see where it comes from.
If we are Christians, we may end up being a lot like those stained-glass windows you see in some churches. So beautiful—what a lovely picture of Christ—and the light shines right through it. But it isn't possible to see what's behind the glass. Who or what is back there, anyway? We can't tell. We can't see the inner truth behind the surface picture.
Transparency almost always lacks the outward beauty of a stained-glass window, because a transparent surface reveals the reality behind the outside layers and outer gloss. This kind of transparency as a personal trait probably isn't very attractive unless you happen to be beautiful in your real, inner life. It seems quite possible that Mother Teresa was beautiful in her transparency, or perhaps Henri Nouwen was beautiful in his. Mahatma Gandhi may have been beautiful in his transparency. This is only speculation on our part. Lisa and I did not have the privilege of meeting these people, though we did hear Henri Nouwen speak and we love his writing. These three people—you can probably name others—seem to have chosen a high level of personal transparency as a way of life, humbly serving others and doing effective work in a hurting world. Such lives are remarkable and rare, which is why we tend to notice them.
Transparency always attracts and holds our attention. It's rare and unusual.
Taking Transparency on the Road
Sometimes transparency chooses us, even when we don't voluntarily choose it. These occasions can be embarrassing. They can be highly useful. Sometimes they can be both.
I recently spoke at the thirtieth reunion of my university class. Lisa and I were scheduled at the homecoming banquet at the local Hyatt Regency hotel. We were also doing a book signing and personal appearance at a large Christian bookstore in the same area, and I was speaking to the whole group at our class reunion.
We'd be seeing classmates from 30 years before, and obviously we wanted to look our very best. I'd be speaking from the platform. Needless to say we brought our best clothes, some of them brand-new, all of them dry-cleaned and ready for the big show. We were prepared.
God, the airlines, or simple fate had a better idea.
Our flight from San Diego to Minneapolis was greatly delayed before departure. We sat out there on the runway, tantalizingly near the beach but unable to deplane and splash around in the frothing surf. There were delays, mechanical issues, explanations, and more delays. Much later we were finally airborne, way behind schedule.
By the time we landed in Minneapolis, there were no more flights to Kansas City that night—on any airline. Because the reunion was an early-morning breakfast event, we couldn't accept the airline's kind offer of a free hotel night and a complimentary late dinner in Minnesota—we needed to be in Kansas City early the next day.
We didn't ride the shuttle, nor did we accept the airline's offer of travel vouchers. We kept talking to ticket and counter agents, explaining the problem. After several hours of fruitless but persistent appeals at the ticket counter, and with the much-needed help of two supervisors, we were eventually routed to Chicago on a very late flight, and from there on into Kansas City on another airline on an even later flight, arriving long after midnight at an airport that was essentially closed down.
Our plane landed safely in Kansas City, but our luggage did not.
Very few high-end clothing stores are open in Kansas City between the hours of three and six on a Saturday morning. I had basically two options: I could call in sick (which seemed attractive to me), or I could show up for the reunion and give my speech wearing the same very casual clothes I had traveled in the day before.
Did I mention that the university had just elected a new president we'd never met, and that he'd be attending our reunion breakfast while I spoke?
No pressure or anything.
I didn't call in sick.
Instead I showed up for breakfast, 30 years after graduating from college, wearing a faded old polo shirt, my well-worn khakis, and my oldest pair of casual shoes, all of which I'd worn all the day before during our "planes, trains, and automobiles" travel day. I stood out more than a little bit—most people were clearly dressed for success.
Lisa, always prepared, likes to travel in "business casual" attire. She looked stunning that day wearing the previous day's traveling clothes. I didn't look stylish or successful or professional or wise—a trick of the eye I had hoped to achieve by wearing my best suit, a power tie, and some well-shined Bostonians. Instead of seeming hip and savvy I looked like who I really am: a middle-aged guy with a receding hairline, going gray here and there, a guy who loves living in southern California and who enjoys dressing casually and comfortably as often as possible, especially while waiting in line at major airports and while schlepping his luggage onto shuttle buses outside the terminals.
We did our book-signing gig in the same clothes. I certainly didn't choose to be so transparent that weekend. After 30 years of scratching around for a career, I would have welcomed a chance to look better, seem better, and come off as more impressive than I really am. (Isn't that the point of these reunions?) But transparency invaded my space without waiting around for an invitation.
The result—amazingly—was that people not only welcomed and accepted Lisa and me, but immediately bonded and connected with us. They could identify with our true story of lost luggage and rerouted flights. They laughed as I recounted our many travel ordeals. Who knew? It's better to show up at a reunion as you really are, instead of showing up pretending to be younger, richer, wiser, or more beautiful than you really are.
The new president of the university, a very classy guy, invited us to join him at the head table for that night's banquet at the Hyatt Regency. Kind of like Mr. Drysdale inviting Jethro and Elly May to be his guests for a swank event at the Beverly Hills Hilton. We went, we sat at his table, and we formed a friendship with an amazing man who somehow ignored the poverty and inappropriateness of our attire. Our respect for him grew enormously.
V is for Vulnerability
The V in TV is for vulnerability. Vulnerability is about choosing to be weak instead of strong, open instead of closed, caring and feeling instead of remaining aloof. Rabbits and deer are vulnerable; porcupines and armadillos much less so.
We're born like rabbits and deer. We are defenseless and vulnerable, and this is why our birth parents or the other adults who raise us try to protect us and keep us safe. But one way or another as we emerge into real life, we begin forming relationships and we get hurt. We trust a friend who betrays our secrets, we fall for a first crush who then abandons us, or we get involved in a close relationship that crashes and burns, wounding us deeply.
One way or another many of us end up choosing to be more like porcupines or armadillos. We may interact with people, but now we've got our guard up for good. We're wearing the armor. We hide our true selves behind layers of sharp points and thick skin, hidden away behind protective devices meant to keep us from further pain.
This is especially true after we gain some "experience" with love and romance. Maybe as a teen girl we have a great relationship with our first love. Then he dumps us. Or maybe as a university-age guy we're dating this amazing girl who is so impressive—but it turns out she's also dating two or three other people at the same time. She's not ready to choose, or maybe she chooses someone else. One way or another we participate in dating and bonding and the rituals of romance, and we often end up getting hurt.
Hurt happens.
Many of us learn from that, but we draw the wrong conclusions. We learn that love hurts, and we conclude that caring deeply about someone only leads to pain and suffering. We conclude that the only way to be "safe" is to hide from relationships and not get too attached to people. The lesson isn't essentially wrong: Life does hurt. But the conclusions we rush toward are not always helpful and fruitful for us in our later development. And the armor we build around ourselves only keeps us from finding the very love we desperately want.
Sometimes our armor protects the wrong places.
As family counselors Lisa and I often work with young adults who have misplaced armor. Many of them sexually "hook up" with someone else—but they do not allow their sexual partner to really get to know them. Although they give away their bodies, they simultaneously lock away their hearts. The very notion of "hooking up" seems to imply lack of commitment, shunning meaningful connection, and avoiding personal vulnerability—while being intimate only in body.
Bent on protecting their emotions and thus their true selves, these teens and young adults fail to defend their physical selves. Many of them end up damaged and broken in their physical bodies and emotions, burdened by STDs, feelings of guilt and shame, and sometimes also by unwanted pregnancies. Their defenses are carefully constructed around the wrong places. And meanwhile they are open and vulnerable in places where they can experience disease and harm.
The contrast is striking: armor around their emotional selves, not their physical selves. These wounded-by-life young adults close off their inner emotions and feelings. They refuse to be hurt again. They're fine with casual promiscuity, frequent one-night stands, and shallow relationships. They refuse to let themselves care about their partners, believing if they don't care they can't get hurt again. They are like sexually active porcupines.
Why are many of today's teens and adults willing to be sexually open and vulnerable, yet not willing to be open, honest, and vulnerable emotionally and personally? The answer is, they believe sex can't or won't hurt them (they are wrong about this, medically and psychologically as well as spiritually), but they believe that caring about someone is only a pathway to personal pain, now or in the future.
Open bodies, closed hearts: Is this the path of wisdom? Giving away physical health and personal innocence, settling for shallow hookups when the Creator designed us for lifelong unions with interesting, intimate partners?
Regardless of your moral perspective or your place on the journey of faith, this is tragic for families and for society at large. Wise, well-adjusted adults building healthy relationships and forming healthy family units form the foundation of a culture that will endure and thrive. Shallow, immature adults hooking up with temporary sex partners bring discord, uncertainty, and ultimately more brokenness into a social system that is already overloaded with brokenness and sorrow.
Vulnerability is wisely saved for some times and some situations, and is to be chosen only in some ways. In this book we are focused mostly on learning about how to make a godly marriage relationship grow, a committed union between a man and a woman who are partners on the journey of life. These two adults aren't just casual friends or temporary associates. Instead, they are joined together in the sight of God, as witnessed by friends and family, and are pledged to a lifelong journey lived side by side, not apart.
If you are forming a lifelong partnership with a committed spouse, and if you want a relationship that goes deeper and becomes stronger, choosing to be emotionally vulnerable is not only appropriate for you, it is also a necessary step in the evolution and progress of your relationship. You won't move forward without it.
Back in my office, Garrett and Danielle are starting to talk with each other, and I'm listening.
When counseling works effectively we all get comfortable being together in one room, and the walls between husband and wife start to crumble. Realizing this is a place of safety, each partner begins to risk talking more honestly about what's really going on in their relationship—or what isn't going on but should be.
Today a few minutes of fake-fighting and laughter is yielding to gentle but honest discussions about married life, having kids, and the changes most married couples encounter and experience. The issues we're talking about are normal, natural, and common to almost every married couple who chooses to have children in the early years.
Garrett and Danielle, who stumbled into this office wanting a closer relationship but not knowing how to get there, are no exception. Although every relationship is unique, it's amazing how similar our problems are in the first few years of a marriage. We think we're the first to explore this new territory, but in reality many others have been there. Quite a few are there at this moment, just like we are!
It's becoming clear to me that Danielle and Garrett have a good marriage—they really do love each other, down underneath their many surface frustrations. They really do hope for more satisfaction than they're experiencing. They want more closeness, more intimacy, more togetherness—they just don't know how to make it happen. They've tried a few things on their own, but without much in the way of results. Each of them is beginning to wonder inwardly, So, is this all there is? Is there any point to trying to reach for more, or should we settle for less?
In the midst of these questions, both Garrett and Danielle have a genuine faith in God—although they're honest enough to admit that personal spiritual growth is not really happening for either one of them right now. Mostly, they're trying to survive the years of late-night child feedings, diaper changes, and a young toddler tearing up the house and making messes everywhere. They're trying to grow together in spite of feeling more and more apart; they're trying to live up to their original hopes about married life.
As they face these issues, they don't have sex as much anymore (his perspective).
As they confront these challenges, they don't meaningfully connect and talk together at a deep personal level like they did at the beginning (her viewpoint).
Yet here's the good news, part one: Instead of simply settling for this kind of life, Garrett and Dani have decided to reach out and seek some counseling, trying to find some clues that might point them toward a happier union. In their case, the motivation for marriage counseling seems to come from both sides of the bed, not just from one partner.
The good news continues: They've taken action steps. They've hired someone to do child care, they've scheduled an appointment with me, and today they're trying on a new counselor for size, seeing if he fits. They're sitting in my office like two explorers, crossing a strange and unfamiliar land in search of buried treasure. Is there any gold hidden around here somewhere? How do we find it? Can we afford to take this journey? Are you (counselor) a reliable guide to this new terrain, or should we find someone else?
Improvement Isn't an Accident
I hear very similar questions from almost every married couple I counsel. Their core questions tend to be the important ones: Can we get to a deeper place, to a life that is meaningful and fulfilling, to the kind of connectedness and unity, lasting romance, and satisfaction that both of us always hoped for? Is that kind of intensity even possible for our marriage?
They're curious: If there really is a way forward, what does the pathway look like as a relationship moves toward genuine closeness and real depth? What are the markers along the journey toward an intimate and close relationship?
These couples are asking the right questions. Their search brings them to a logical and good place to start looking for helpful answers—a marriage retreat or the office of a marriage counselor or minister. But whether couples search for this kind of help with a pastor, a close friend, an older married couple that models a strong marriage, or a paid professional counselor—the important thing is that wise couples choose to "go for it" instead of settling for less.
Your marriage will not improve if left to itself. Your relationship will not grow deeper by accident, by chance, or without work. The exception—and it's not an exception you're likely to want—is that sometimes intense tragedy or enormous adversity can prove unifying for a couple, as they rally to face an unexpected and difficult battle.
Apart from that, in the midst of real life and normal situations, marriages and relationships tend to slide toward stagnation, indifference, and unfruitfulness. It can be useful to think of your marriage like your front yard. If you simply ignore it and live your life, weeds will grow in a hurry. But if you want lush, green grass that is soft and inviting underfoot, you're going to have to work at the job, pay attention to the results, and take a lot of action steps, some of which may be expensive.
A week or so later Garrett is talking—really talking—opening up and revealing the way he feels as a husband and father and person. Although I've already told him three times today he needs to talk directly to Dani and not to me, he seems to be a slow learner. He hasn't applied this strategy yet.
Today is our second session together. This time we plunge into the deep end of the pool right away. We don't waste much time in the shallow water.
"Sometimes," Garrett is saying softly, in a quieter voice than usual, "sometimes I feel like she loves the baby more than she loves me. It's like I've been totally replaced in the relationship—first by Kyle, now by Kelsey. I mean…I don't know any other way to say this…it just seems like Dani gives all her love to those two kids, and there isn't any room left in her world for me."
Danielle is extremely quiet, processing what she is hearing. I am grateful that she doesn't lash out with some kind of a denial or argument right now—many wives would. The office is suddenly so quiet that all three of us can hear a computer printer, one room away in the reception area, suddenly awaken and begin spitting out pages of copy.
Dani says nothing. There is a very loud silence in my office.
Garrett tugs at his goatee, swallowing, looking down at the floor.
"Garrett," I remind him gently, waiting until he looks up at me. "Remember to talk directly to Dani, not to me. Please go ahead and say the exact things you just said, but this time don't say them about Dani, say them to Dani."
"I can't," Garrett says so quietly I almost don't hear him. "I can't do that."
"Yes you can, honey," Dani urges him softly. "I think this is what we need."
She's right, but I have no idea if her husband is wise enough to follow her in the direction of transparency and vulnerability. When it matters, can Garrett do more TV?
He weighs the risks, then decides to open up a little more.
"When Kyle was born…" he says to his wife, his voice quiet, tentative and uncertain, "when Kyle was born it was like you moved me out of your life completely. There wasn't room for me anymore. I would come home and find you holding him, or feeding him, or whatever—it was like the two of you were complete, like you didn't need me for anything. I felt like I'd been replaced, like I didn't matter to you anymore."
The words are tumbling out of him quickly. Garrett seems nervous and afraid, like he shouldn't be saying this, like he's letting something loose in the office that will rear up and destroy us all. The fear in him is stark and tangible; we can all sense it.
Danielle, by an act of God's grace or imparted mercy, is staying silent. Whoever raised this woman did it well. There is wisdom in her, genuine wisdom. She knows when to simply listen, not talk back. She has turned her chair to face Garrett as he talks to her; now she reaches out and grabs one of his hands and brings it to her lap. She does these things instinctively, not contriving, but humble, listening, open.
"Go on," she says to her husband of five years. "I think this is helping us."
Garrett swallows, looks at her intently, and resumes talking.
"I didn't mind it so much at first," he tells his wife. "I mean, I was proud of you and proud of our son, and when I looked at you I just felt so…I don't know…like my life had meaning or purpose, like I had achieved something really worthwhile, maybe for the first time ever. It felt good, mostly."
The young man pauses and looks down at the floor.
"But after a while, I kind of felt like I'd been moved out of first place in your life and now I was in second place. And before I could really adjust to that, here comes Kelsey. She bumps Kyle out of first place—now he's in second, and I'm way back there in third. It's like you love Kelsey with all your heart and you smother her with all your affection, and then you love Kyle too, and you give him a whole lot of attention, and then maybe if there's anything left over after you care about both of them, you get around to me…"
Garrett stops speaking. His body language shows he fears he's gone too far, now he wants to quit, wants to apologize and come crawling back. He's messed up and he wants to make it right—if it's not too late, if he hasn't said something so terrible that there's no fixing it. Has his sudden confession blown the relationship apart beyond repair?
There's a little tear in the corner of Dani's left eye, but her husband doesn't see it. Danielle, for her part, isn't letting her emotions control her. I watch her as she carefully composes herself, keeping it together, waiting in case there is more her husband wants to say to her. She seems open and yet guarded at the same time, waiting.
Garrett is finished with his explanations—at least for right now. All three of us sit in silence for a little while. The computer printer in the outer office finishes its task and also falls silent. There is almost no noise in the room; we can all hear ourselves breathing.
"Wow," Garrett finally sighs after perhaps two or three minutes of silence. "I've never said any of this stuff out loud before. But to be honest, this is exactly how I've felt since right after Kyle was born. I mean…"
His voice trails off into empty space leaving his sentence unfinished.
Dani looks across the desk at me, wondering what comes next. Her eyes seem to be asking me, "Is it my turn to say something now, or what?"
The Virtue of Neutral Friends and Guides
An hour or so later our session is drawing to a close. Garrett and Dani have been talking with each other nearly nonstop, almost forgetting I'm here at times. Like many other couples of all ages, the two seem able to talk more freely here in this office, with a counselor present, than in the privacy of their own home.
It's one of the ongoing mysteries of the counseling process. Somehow having a neutral, benevolent (and hopefully prayerful) third party makes it easier to communicate. Maybe we're more careful in how we say things when an outsider is listening. Perhaps we're less likely to give in to anger, get sarcastic, or let off a blast of sudden criticism. It could be as simple as having a referee present to blow the whistle in case someone commits a foul during the big game. For whatever reason, a counselor's office often becomes a place of safety where we can take risks we might otherwise avoid.
My office is functioning that way today, as it frequently does, and I'm grateful.
Dani looks at me late in our session, her eyes reddened from some useful crying. "Can we do this a few more times?" she asks me. "Can we get together with you at this same time next Thursday night? Does that work for you?"
The DayTimer on my desk shows an open time slot for next Thursday evening. "I'm putting it on my calendar right now," I tell the young couple as they watch me write their names into my organizer. "Let's get together at the same time, next Thursday night."
Danielle reaches for a Kleenex from the box on my desk, pulls one out with a precise motion, dabs at her eyes. Always graceful, she folds the tissue into her pocket and looks directly at me.
"Thank you," she says to me. She doesn't mean for the Kleenex.
Garrett gives me a very probing look, this time actually seeing me and communicating with me person to person. "Man, we needed this," he says. "I can't believe how long I've been holding all this inside me. I can't believe how good it feels to finally get it out."
His wife hugs him, clings to him, leans into him and absorbs his strength.
After a closing prayer, the two of them leave my office. As they walk toward their car I'm indoors praying for them, watching them from my window, grateful for what their body language shows as they cross the parking lot. Dani leans her head over on Garrett's shoulder as they walk. Garrett appears to be talking to her. Extra points for the twentysomething husband—he actually opens the car door for his wife. A rare gentleman.
They'll drive home, relieve the babysitter for the night, and rejoin the chaos of life with two young kids soon enough. Before that, at my suggestion they're stopping along the way for some ice cream. I've given them directions to a nearby Coldstone Creamery.
Every doctor has to write a few prescriptions now and then.

Published February 3, 2009
---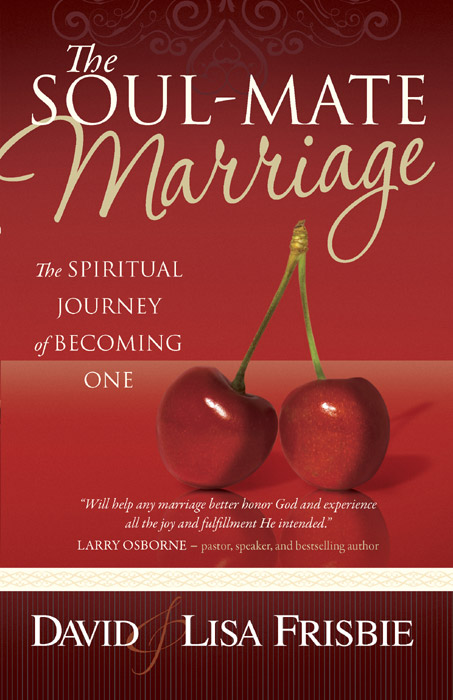 Adapted from The Soul-Mate Marriage by David & Lisa Frisbie (Harvest House, 2008). Copyright 2008 by David & Lisa Fribie. Used with permission. All rights reserved.
---
David and Lisa Frisbie serve as co-directors of the Center for Marriage & Family Studies. They are the authors of ten books and dozens of published articles about marriage and family life. To date, their travels to speak, teach, train, and counsel have taken them literally around the world, and to all 50 of these United States. Happily married for three decades, David and Lisa bring an extensive cross-cultural perspective to their writing, in addition to years of educational training. Prevoius books by the Frisbies include Raising Great Kids on Your Own and Happily Remarried.
Have something to say about this article? Leave your comment via Facebook below!
advertise with us
Example: "Gen 1:1" "John 3" "Moses" "trust"
Advanced Search
Listen to Your Favorite Pastors