10 Tips for the Christian Bride
Nothing can truly prepare you for your wedding season. As much as you may have dreamed of your engagement and planning your wedding, the emotions, logistics, and sheer cost of the wedding and the emotional energy it takes to pull it off will still hit you like a ton of bricks.
After planning a full-on, 100-person wedding within just three months, I definitely feel like I deserve an internationally recognized reward of some kind. Or, at the very least, for society to give brides, and all we handle, a little more props!
But I couldn't have gotten through the insanity of my wedding season without the wisdom people in my life shared with me and the wisdom the Spirit gave me along the way. I am writing for brides who have taken on most of the wedding planning responsibilities. (Although I was very fortunate to have my fiance heavily involved, I still called the shots. I'll blame that on being an artist with a specific vision - but I'm sure lots of you can relate).
I have five tips for you that I wrote while I was engaged and five tips for you from 6 months after our magical wedding day (hindsight is 2020). These tips will help you keep your sanity, enjoy the process, and, most importantly, see God's love through it all!
10 Tips From a Christian Bride
1. Let Yourself Swept Up in the Details…and then Let Them Go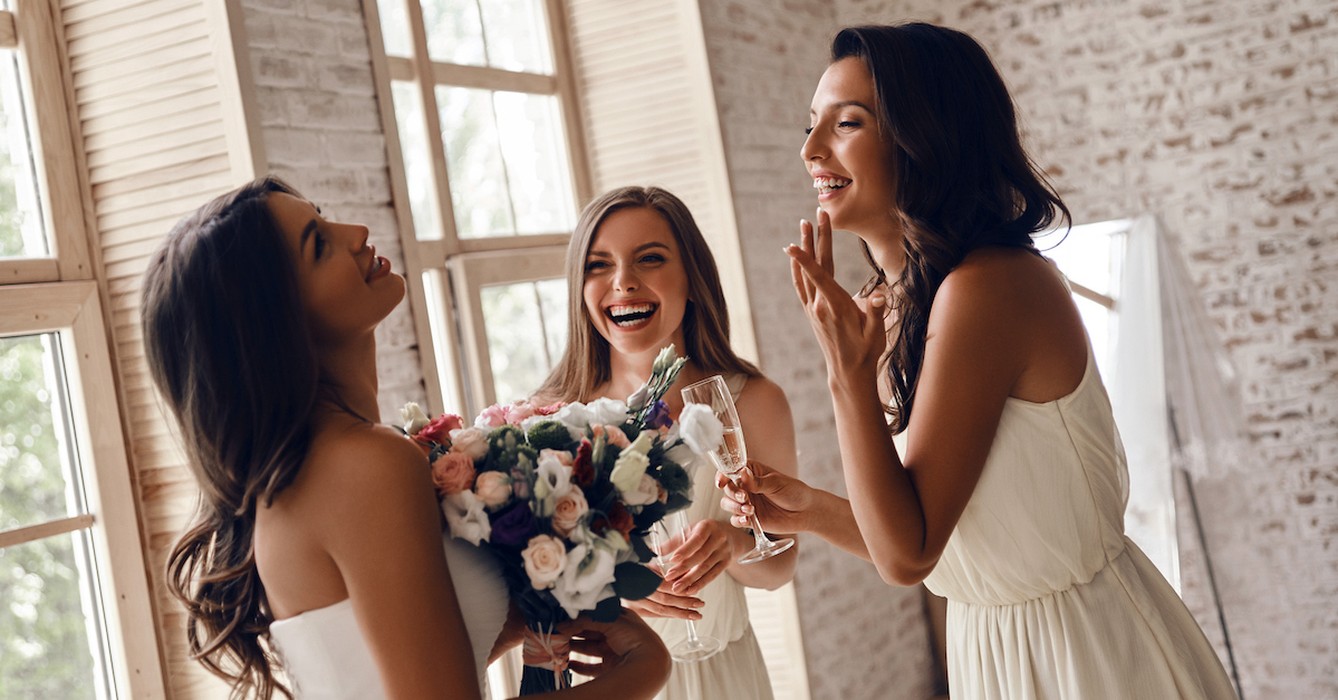 Photo credit: ©GettyImages/g-stockstudio
This is such a special season in your life. There is a reason the Bible has so many allusions and metaphors about brides, grooms, and weddings–there is just something undeniably exciting, memorable, and pure about them.
This is (theoretically) the only time you will go through this season of putting all your creative energy into a single event that you'll LOVE and are so excited about. It's the only time in your life that being highly opinionated and self-focused is socially acceptable. It's the only time in your life that you and God get to dream of something like this together!
So enjoy it!
Care about the types of flowers you want–AND the vases they'll be in. Care about the design of the napkins and spoons. Care about what shoes you'll be wearing when you and your new husband drive off together. Have fun with all of these things–they are, after all, an expression of YOU and the dreams you have for yourself! It is not wrong to get lost in the details.
But then, and I can't emphasize this enough, let your expectations go. Know the shortlist of what you absolutely won't compromise on, and then, for the rest of it, just let it go. It's going to be beautiful, it's going to be amazing–but most importantly, your wedding is a living parable of what it's going to look like when Christ marries his bride, the Church! (Revelation 21).
So, care about the details and have fun. But don't get so wrapped up in table signs that you lose this breathtaking, big-picture truth!
2. Notice How Much Others Are Using Their Gifts to Take Care of You
This has been one of my favorite parts of the entire engagement process. Jesus' body is made up of many parts, with many different gifts (1 Corinthians 12)--and I have gotten to see this passage come alive for my fiance and me!
It has been the sweetest show of love from God through our friends and family and how well everyone in our lives is taking care of us.
Our friends and family that are into decorating have volunteered to help us set up for our wedding. My mom is on the perpetual lookout for thrifted candelabras. Our friend has lent us all sorts of decorations from her job. And then, our friends and family that are logistically minded and talented in that way volunteered to help us think through all the details of the day. And I mean, ALL the details of the day. From when people need to arrive to where the trash will be dumped at the end of the night. Our bridal party, family, and church friends have all given of themselves in such a special way for us. And it's something I will never forget!
To be honest, I was skeptical when I first got engaged that anyone would show up for us. But I will challenge you to be faithful if that's you too! If you are looking for it, people will show up from all over the place to love you and share their talents.
Treasure these people and what they share with you because you will remember it for the rest of your life.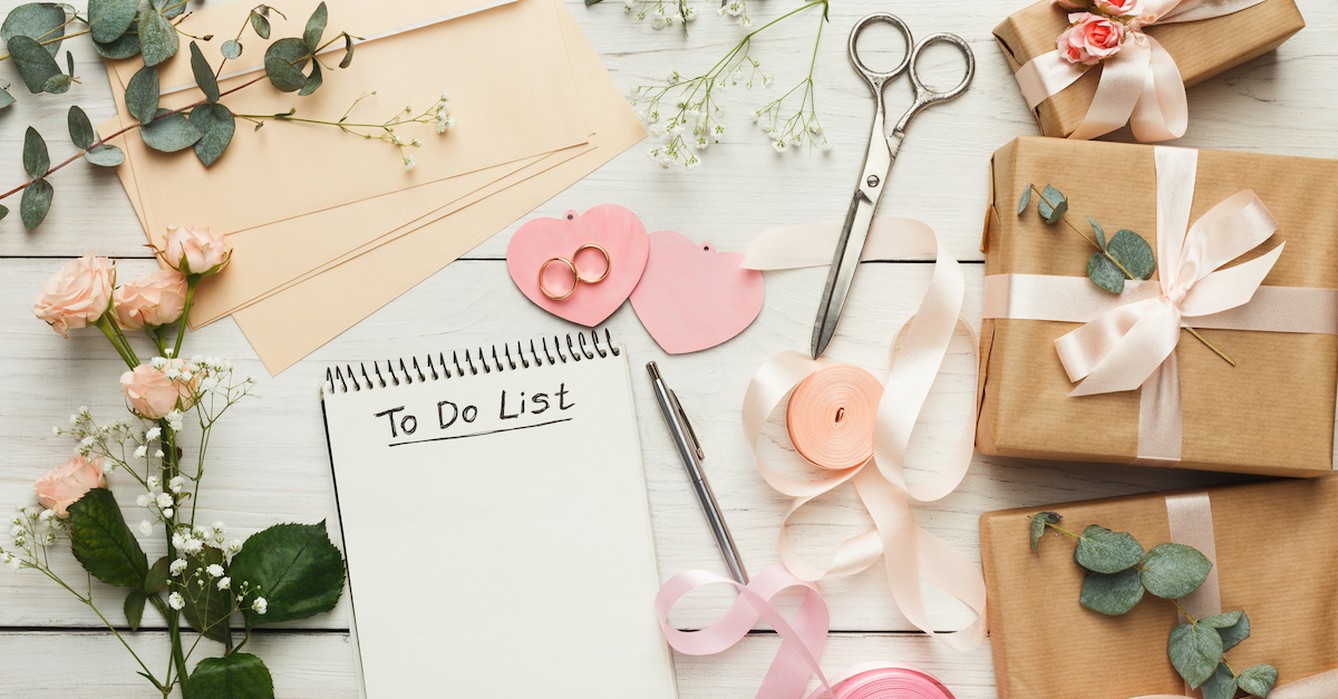 Photo credit: ©GettyImages/Prostock-Studio
3. Focus on What You Do Have, Not What You Don't
Because weddings are such an idealized and romanticized thing, it is so easy to be deeply disappointed by what your wedding is turning out to look like versus what you THOUGHT your wedding would look like.
Even if you had unlimited money, you could still be disappointed on your wedding day. Your bridesmaids could not show up for you like you'd want them to. Or maybe your favorite uncle has an unavoidable conflict and can't attend your wedding. Or it looks like it's going to rain the whole day.
As much as you have probably pictured your perfect wedding–there is a 100% chance that it will not be perfect, no matter how much you hold onto the reins. I'm sorry to tell you that. But that is why it's so important to be grateful for what you DO have instead of focusing on what you don't have!
What is going well in your wedding planning process? What details are you most excited about? How are God and your fiance showing up for you in this time? What is one unexpected thing that is easier or better than you thought it would be?
Focus on those things instead, and I promise you will be much happier leading up to your wedding and so much happier on the day of!
4. Reflect on How God Feels about You as His Bride
Scripture has so many beautiful words about how God feels about his bride. Here are a few of my favorites:
Ephesians 5:25: Husbands, love your wives, just as Christ loved the Church and gave himself up for her.
Isaiah 62:5b: As a bridegroom rejoices over his bride, so will your God rejoice over you.
Revelation 21:9-11 One of the seven angels who had the seven bowls full of the seven last plagues came and said to me, "Come, I will show you the bride, the wife of the Lamb." And he carried me away in the Spirit to a mountain great and high, and showed me the Holy City, Jerusalem, coming down out of heaven from God. It shone with the glory of God, and its brilliance was like that of a very precious jewel, like a jasper, clear as crystal.
These Scriptures are just a few that I would encourage you to focus on during this time. Being engaged naturally makes other people treat you as the special, precious gem you are–soak that in! Remember that this is how God sees you all of the time, but that you're getting a special glimpse into that truth now. Knowing that you are the beloved, beautiful bride of Christ will make this whole process more meaningful.
5. Talk about Sex as Early and Often as You Feel Is Helpful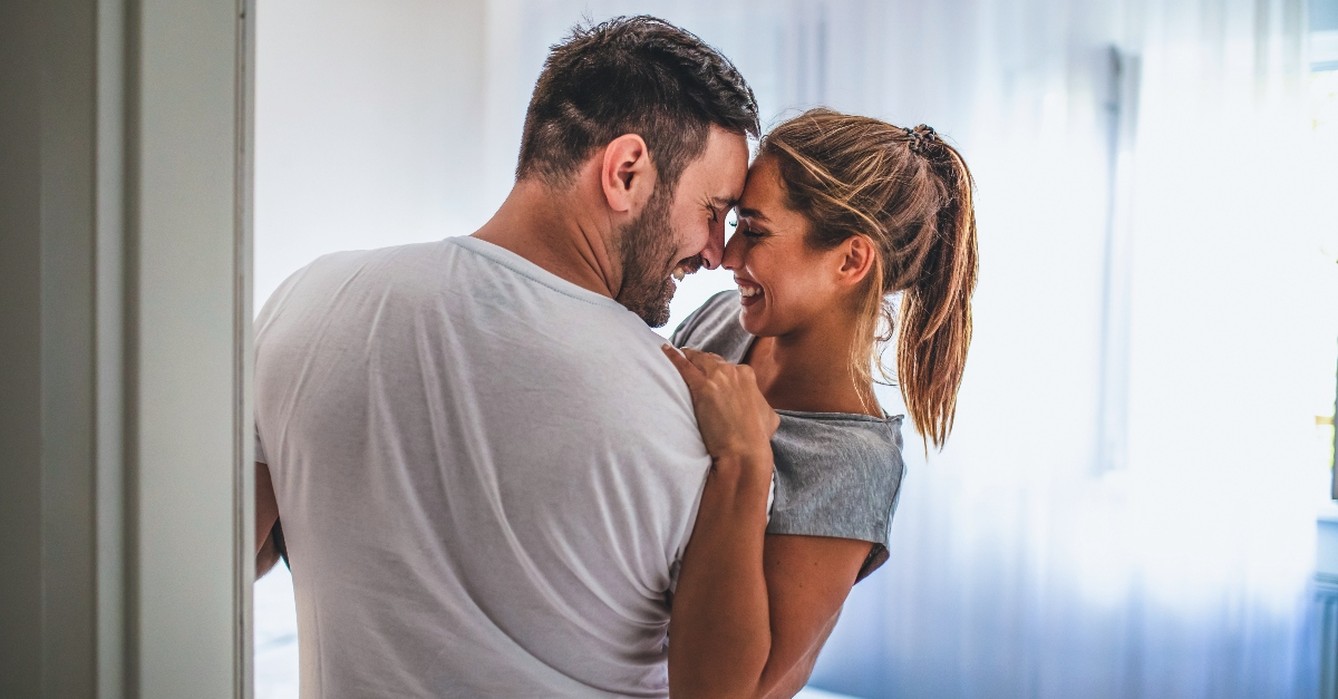 Photo Credit: ©iStock/Getty Images Plus/dragana991
Sex is a delicate topic, and it makes sense that everyone approaches it differently and with caution. But I personally think it's a huge mistake to wait until just before the wedding night to talk about sex! Many Christian marriage counseling books have their chapter about sex at the very end, which I think is more harmful than helpful.
First, I think single people should be talked to about sex much more than the Church does, even if they're not getting married. But second of all, sex is a huge deal that takes some time to wrap your head around, especially if you've been pure your entire relationship!
Going from 0 to 100 is no small feat. And sex, being the complex, emotional, intimate thing that it is, will require so much communication and trust between you and your future husband. So if you have fears or questions about sex, ask them now! Don't wait until just before the wedding to start thinking through your experiences and beliefs around sex or communicating to your fiance what you will need.
Go to a couple you trust and talk about it openly with them. Share your thoughts and fears to the point that it's helpful, and be vulnerable. It's okay. Trust your partner and the Spirit to protect your purity even as you delve into these waters. Just because you talk about sex doesn't mean you're automatically going to go home and sin–trust your Spirit and your convictions, and you will only benefit from talking about sex.
Bonus tips:
Be grateful for your needs being met in this time–emotionally, physically, financially, and everything else will be a bonus.
People love you but have their own lives, so don't take it personally if they're not as involved as you wish.
Do all the healing work you can before you get married so you can start your marriage as the healthiest you–but know it's a lifelong process, and God and your husband love you anyway.
Take time to spend with your partner and NOT talk about the wedding! Your relationship will thank you.
Write out things you are grateful for about your future husband (and use this list to remind you why you are marrying him, even as he's driving you crazy).
5 Tips From a Christian Newlywed
1. Truly, Don't Sweat the Details
I know, I know, this is the most obnoxious piece of advice that people love to dole out. But let me tell you WHY I mean this.
What I heard when people would tell me this advice was something along the lines of "I know you have envisioned this day for your entire life and want it to be wonderful, but inevitably things are going to stink so don't waste your energy. Nobody cares about your napkin patterns."
And although I do think it's probably true that nobody cared about my napkin patterns, I was discouraged by this advice because it felt so invalidating and defeating.
But let me tell you what I didn't understand about this piece of advice that I do now:
1) Your wedding day does go by in a flash. It's certainly a beautiful burst of light and color, but that's it: a burst. Your brain can't contain all of the happiness, beauty, nostalgia, nerves, and emotions that you experience that day. So what I didn't realize when people would say that advice is that even if I don't remember my napkin patterns or if the font looked good on our invitations, and if I don't remember six months later, did those details make or break my day? Nope!
2) More logistically, there are so many details on your wedding day that you literally will not physically even lay your eyes on. The way my husband and I were ushered around our wedding venue for all the photos, ceremony, cake cutting, etc., I didn't have a moment to examine what anything looked like. I spent hours worrying about the drink table decorations and whether our gift table was in the right place. And when I say I didn't even get to SEE the drink table or the gift table on my wedding day, I mean that. In the pictures, they looked great. But I had no idea how they looked on my wedding day. And it didn't matter!
So, have fun with the details and treasure that they express your heart. But if a little voice (or your fiance) tells you, "This doesn't really matter that much," listen to it!
It's going to be wonderful. Let the details go.
2. Trust God…Then Trust Him Some More
I would say that if I regret anything from my engagement season or wedding, it's that I didn't give God more opportunities to come through for me. So fearful of something going wrong or the whole day being ruined, I took control and burnt myself out.
I tell people that my personality was wedding planning for those three months. Fears about not having enough time or enough money consumed me, and I did not give myself the rest I knew I needed.
It's so funny–or at least ironic–that on my wedding day, it was freakishly cold for August. I was insistent on having a summer wedding and sped up our timeline to make that happen because I wanted warm, sunny weather.
And then, the day of, it felt like a crisp fall day–out of absolutely nowhere! I don't think God was doing this to punish me or rub his power in my face. I just think he was showing me, "Kelly-Jayne, I love you so much, but I'm in control. The world is in my hands, and I am the one holding everything together."
I do hold onto the moments that I know for a fact it was God coming through for us, and I think of them often. But I know I missed out on more of these God stories because I was so worried everything would fall apart if I wasn't the one keeping it together.
You are God's beloved daughter. And what good father doesn't want his daughter's dreams to come true on such a special day?
Trust that God knows your desires and future and WILL create streams in the wasteland to meet your heart's needs.
3. Make Time to Pray, Just You and God, on Your Wedding Day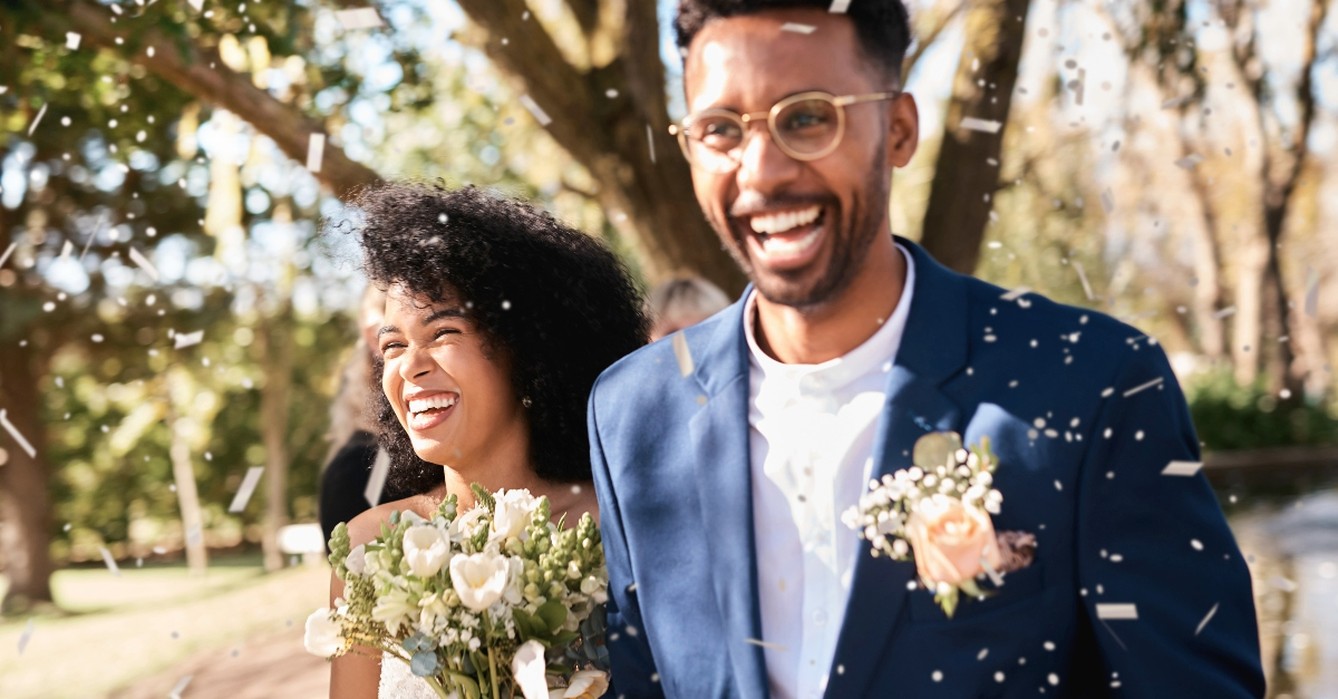 Photo Credit: ©iStock/Getty Images Plus/PeopleImages
A famous piece of wedding advice is from the show The Office, where Pam and Jim discuss how a family member told her to take "mental photos" throughout her day because it goes by so quickly. I second this advice and add something to it–take moments whenever you can to experience this day with God at your side.
I will never forget how beautiful the green trees were at our wedding venue because not only did I take a mental picture, but I made it a special moment between God and me for us to treasure this moment together:
"God!" I said as I looked up at the trees. "I'm getting married tomorrow!" And I sensed him beaming at me and telling me how pretty I looked and how he made the sunlight shine through the trees extra beautifully for me that day.
Because your day is full of excitement and other people, it's so important to take little intimate moments for just you and God to share and remember for the rest of your life.
4. Purity Is Worth It
My husband and I did not kiss until our wedding day. Even in Christian circles, this can sound extreme. But I'm telling you, it is so so so worth it to wait! It can be easy to justify pushing purity boundaries when you're engaged because you're going to get married so soon. But I want to encourage you to hold strong to your convictions because God's way is always best.
My husband and I laugh now about how, when we were almost married, we'd have these long, mournful goodbye hugs when it was time to say goodnight. But now, we enjoy the freedom and safety of a sexual relationship the way God designed it! It was hard, and it was sad a lot of the time. But we wouldn't trade that training ground for anything and are so happy not to have to say goodbye at the end of the night anymore.
Stay strong, sister. You and the Spirit have got this! And God has so much goodness in store for you if you will trust him.
5. Have a Go-To Couple You Trust to Help You with Your New Marriage
You are about to do something completely new that you've never done before. God did not intend for you to walk this new path alone! There is irreplaceable worth in having an older couple who can speak truth into your marriage.
They can normalize common problems and make you feel less crazy. They can come to bat for you when your husband needs to grow in an area (and when you need to grow, too!) They can give you invaluable advice about your first sexual experiences and help answer any questions.
Titus 2 talks about the importance of older women teaching younger women to love their husbands and children. It's not news to you that Christianity is meant to be lived out in a community. But having a couple you trust will make your marriage much richer and glorifying to God!
Bonus tips:
Ensure you voice what you value the most on your day of so you don't miss it.
With your fiance, talk through both of your expectations of responsibilities after the wedding, too (like how long you think it should take to move in, how you'll split household duties, etc.) so you're not overwhelmed the minute you get back from your honeymoon.
Don't judge what you think your whole sex life will be like based on the first few sexual experiences you and your new husband share. It's all normal, and you will learn so quickly.
Write your thank-yous as wedding gifts come in. As stressed as you already are with wedding planning, taking 2 minutes to write a thank you note now is better than writing literally 100 later.
Take people up on their offers to help; they mean it! Delegate all the small, annoying tasks that you can. People will feel honored to help.
The last tip I will leave you with is to write everything you remember down as soon as possible after your wedding day! Of course, photos will help you remember your day, but they won't capture exactly what you saw, thought, or felt on that day. Your future self will thank you for these intimate details of one of the greatest things God has ever done for you!
Celebrate this time, beautiful bride. God loves you so much and can't wait to show you through this entire chaotic and stunning experience.
Photo credit: ©Unsplash/David Thomaz
Kelly-Jayne McGlynn is a former editor at Crosswalk.com. She sees the act of expression, whether through writing or art, as a way to co-create with God and experience him deeper. Check out her handmade earring Instagram and Etsy for more of her thoughts on connecting with God through creative endeavors.