December 21
"I am the true vine, and My Father is the vinedresser." - John 15:1
How does a stingy person become generous, a fiery-tempered individual cool, and a proud person humble? We could visit the self-help section of a book store, and survey titles offering personal transformation through 10 steps or two, 18 principles or perhaps 12. The "spirituality" section offers the latest change techniques from gurus made famous on pop TV. But Jesus puts it simply. If we want to be transformed we must connect to Him. No steps, no magic, no mantras or secret rituals, just relationship with the Cosmic Person who became a Concrete Person.
Click here to sign up for your free Winning Walk newsletter!
OUR THANK YOU TO YOU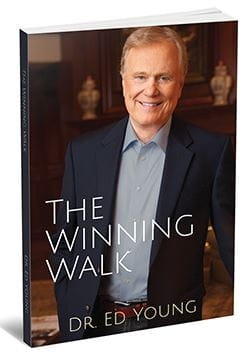 Discover God's Path for You!
Many people today live in defeat, never finding God's will for them. But God wants so much more for you!
That's why we're excited to reserve for you a special 35th Anniversary Edition of Dr. Young's book that started it all,
The Winning Walk,
scheduled for re-release later this year. In it, you'll discover what it takes to walk victoriously as you discover the path God has for you.
So be sure to reserve your copy of
The Winning Walk
when you give your gift below. And thank you for your support to share the proven truth of God's Word with more people around the world.