June 24
No temptation has overtaken you but such as is common to man; and God is faithful, who will not allow you to be tempted beyond what you are able, but with the temptation will provide the way of escape also, so that you will be able to endure it.
1 Corinthians 10:13
A test becomes a temptation when we internalize it. The Greek term refers to a challenge that is neither good nor bad. The Garden's fruit dangled before Adam and Eve daily. But when they began listening to the serpent and contemplating their own perversion of God's good creation, the Tree of Life became temptation to them. God's promise is that He knows your limits. He sees inside you, and won't allow you to be pressed to the breaking point, if you're in covenant with Him. God tempts no one with evil (James 1:13). If testing becomes temptation we can overcome it by setting our minds on things above (Colossians 3:2).
Click here to sign up for your free Winning Walk newsletter!
OUR THANK YOU TO YOU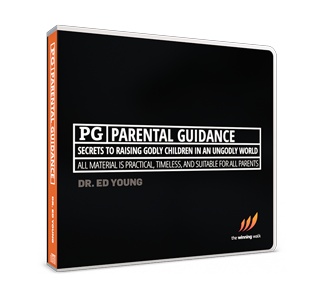 Most anyone can become a parent, but successful parenting eludes so many. Even many Christian families find themselves spiraling out of control as their children fall victim to drug and alcohol abuse, sexual promiscuity, and even suicide.
That's why Dr. Ed Young put together his easy-to-follow 3-message CD series,Parental Guidance. In it, Dr. Young reveals proven truth that every mother, father, and grandparent can immediately embrace in order to build and strengthen their family.