November 9
And not only this, but we also exult in our tribulations, knowing that tribulation brings about perseverance; and perseverance, proven character; and proven character, hope…
Romans 5:3-4
"Exult" means being "excited." How can we be excited in tribulations? Paul is no masochist, relishing pain. But he sees where tribulation leads. His eyes are stretched out to God's view of things, not the human perspective. For the person whose life belongs to God, there are no dead ends. Every road leads somewhere, event the rocky, dangerous, narrow paths. Paul has learned in his engagement with God that tribulation leads to staying power and staying power proves the quality of one's character, and that sparks hope that one will be able to meet successfully every challenge through God's power.
Click here to sign up for your free Winning Walk newsletter!
OUR THANK YOU TO YOU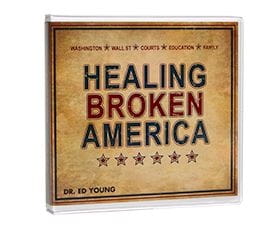 Be a Part of the Healing of Broken America!
A quick glance at the nightly news, the newspaper, or the Internet reveals that we are experiencing one crisis after another. Washington is broken, Wall Street is broken, the
courts are broken, the schools are broken. Even the
family
is broken!
In his 6-message CD series,
Healing Broken America
, Dr. Ed Young addresses head-on the major areas in our country that must change if we are to see our nation restored. He clearly defines the five areas where America is broken, and then offers common sense, biblically-based remedies for healing those wounded areas. Learn how to be part of the solution for America.