October 11
"But love your enemies, and do good, and lend, expecting nothing in return; and your reward will be great, and you will be sons of the Most High; for He Himself is kind to ungrateful and evil men."  - >Luke 6:35
Helen Thomas, long-time White House correspondent, became noted for her stinging sarcasm. Late in her career, she said, "I censored myself for 50 years when I was a reporter. Now I wake up and ask myself, who do I hate today?" Jesus tells His followers to scan the horizon daily and see who needs His love—even among a person's enemies. Thomas received notoriety, but Jesus' people practicing His love will get the only applause that matters, that from the Most High.
Click here to sign up for your free Winning Walk newsletter!
---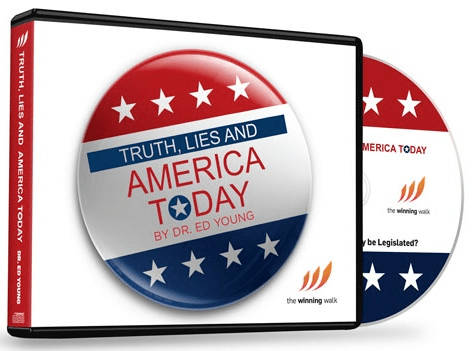 We've been told lies as a society, and many of us – even believers – have come to accept them as truth.
 
Dr. Ed Young exposes many of these lies in his 3-message CD series 'Truth, Lies, and America Today.'

You'll hear about steps you can take to:
       •Reestablish God's truth in your home and community
       •Rebuild our nation's moral foundation
       •Restore hope for future generations  

'Truth, Lies, and America Today' is our gift to thank you for your first monthly gift as a Winning Walk Pacesetter.
 
The faithful support of Pacesetters is crucial for helping proclaim proven truth on radio, television, and the internet – so please prayerfully consider becoming a Pacesetter today.
 
When you do, we'll send you 'Truth, Lies, and America Today' to help stand against the lies of our culture with the proven truth of God's Word.
 
We're so grateful for your partnership!