October 17
"For God did not send the Son into the world to judge the world, but that the world might be saved through Him … Christ Jesus, who is to judge the living and the dead… - John 3:17; >2 Timothy 4:1
A judge was driving to his court when a drunk driver suddenly veered off the road in front of him, and smashed into a tree. The jurist jumped from his car, and tried to rescue the man from his burning car. Instead, the uninjured drunk ran away. Police caught and arrested the drunk driver. Ironically, the man was brought before the very judge who had saved him. In one venue, the judge had come to save him, but in another, he was the man's judge. In His incarnation in the earth, Jesus came to save the world, but in eternity, He sits as the world's judge.
Click here to sign up for your free Winning Walk newsletter!
---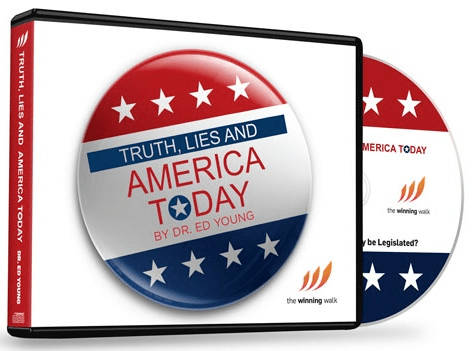 We've been told lies as a society, and many of us – even believers – have come to accept them as truth.
 
Dr. Ed Young exposes many of these lies in his 3-message CD series 'Truth, Lies, and America Today.'

You'll hear about steps you can take to:
       •Reestablish God's truth in your home and community
       •Rebuild our nation's moral foundation
       •Restore hope for future generations  

'Truth, Lies, and America Today' is our gift to thank you for your first monthly gift as a Winning Walk Pacesetter.
 
The faithful support of Pacesetters is crucial for helping proclaim proven truth on radio, television, and the internet – so please prayerfully consider becoming a Pacesetter today.
 
When you do, we'll send you 'Truth, Lies, and America Today' to help stand against the lies of our culture with the proven truth of God's Word.
 
We're so grateful for your partnership!