October 17
"For God did not send the Son into the world to judge the world, but that the world might be saved through Him … Christ Jesus, who is to judge the living and the dead… - John 3:17; 2 Timothy 4:1
A judge was driving to his court when a drunk driver suddenly veered off the road in front of him, and smashed into a tree. The jurist jumped from his car, and tried to rescue the man from his burning car. Instead, the uninjured drunk ran away. Police caught and arrested the drunk driver. Ironically, the man was brought before the very judge who had saved him. In one venue, the judge had come to save him, but in another, he was the man's judge. In His incarnation in the earth, Jesus came to save the world, but in eternity, He sits as the world's judge.
Click here to sign up for your free Winning Walk newsletter!
OUR THANK YOU TO YOU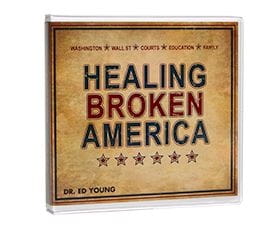 Be a Part of the Healing of Broken America!
A quick glance at the nightly news, the newspaper, or the Internet reveals that we are experiencing one crisis after another. Washington is broken, Wall Street is broken, the
courts are broken, the schools are broken. Even the
family
is broken!
In his 6-message CD series,
Healing Broken America
, Dr. Ed Young addresses head-on the major areas in our country that must change if we are to see our nation restored. He clearly defines the five areas where America is broken, and then offers common sense, biblically-based remedies for healing those wounded areas. Learn how to be part of the solution for America.