God is Calling You
by Berni Dymet
Psalm 51:10-12 Create in me a clean heart, O God, and put a new and right spirit within me. Do not cast me away from your presence, and do not take your holy spirit from me. Restore to me the joy of your salvation, and sustain in me a willing spirit.
It's easy to have a vague, distant belief in God - you know, like a bit of an insurance policy. Just in case. Maybe we cry out to God in times of trouble. But that's it.
If that's you, I believe that there's something that God wants to say to you today.
He's not looking for some vague, distant thing. When you were formed in your mother's womb He was there, He saw you. In fact, even before time began, He'd already planned your life. Who you'd be and every moment of every day.
Including this moment. Right now. To tell you this.
I love you. I don't want you a million miles away. I want you close. And that….that's why I sent my Son. Jesus. You've heard the story. You know how He suffered on the cross, how He cried out in pain.
That was my cry. That was me crying out to you. I love you. Don't turn your back on me another time. Today. Now.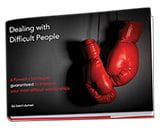 Get a Free eBook from Berni Dymet, Dealing with Difficult People. This timely and relevant eBook contains 6 powerful principles guaranteed to improve your most difficult relationships. And you can download it FREE, right now.