Loving People
by Berni Dymet
Rom. 12:9-10 Let love be genuine; hate what is evil, hold fast to what is good; love one another with mutual affection; outdo one another in showing honor.
"Love" is an easy thing to say, but it can be much harder to do. We all want to be loved, but mostly; we're a bit lazy when it comes to living love.
Living love? What does that look like?
Let's say it's cold and you have a nice warm coat. And you meet someone on the street who - well - they clearly can't afford a coat. And - and so you give them yours.
Or - ah - someone you know, they're struggling to make their next car payment. And instead of saying - well, I'll pray for you friend - no, this time, you write the check to meet the payment.
Or there's this guy - who by the way has never been that very nice to you, you never really liked them - he's completely alone. So you invite him home for dinner.
Or…HANG ON A MINUTE. THAT'S ALL A BIT OVER THE TOP ISN'T IT? Give away the coat. Pay the car loan. Invite That person over for dinner?
I mean what a load of rubbish. Who came up with that?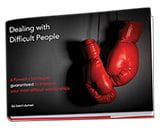 Get a Free eBook from Berni Dymet, Dealing with Difficult People. This timely and relevant eBook contains 6 powerful principles guaranteed to improve your most difficult relationships. And you can download it FREE, right now.