A Group of Men
by Berni Dymet 
2 Cor. 5:7 ...for we walk by faith, not by sight.  
A few nights ago, I had the opportunity to spend some time with a bunch of business men. Over a simple meal, we shared our lives and our stories. 
And as I sat and listened ….you know what struck me about these men? Their faith - it was real. It was vibrant. There was John - he owns a real estate company. "I'm in the ministry business" he said as he wrapped up a story about helping one of his staff through a deep hurt and struggle. 
And another one, Tim, he shared how God had called him to full time ministry, in his business. And you read their mission statement, and it speaks for itself. 
Sometimes, my hunch is we put our faith in a box and we leave it on the shelf and then head off to work. It's easy to do. 
For them though - they brought their faith to work with them. And my hunch is - that's why they were so vibrant in what they believed. You see, for them - Jesus is real.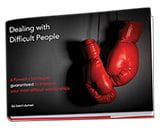 Get a Free eBook from Berni Dymet, Dealing with Difficult People. This timely and relevant eBook contains 6 powerful principles guaranteed to improve your most difficult relationships. And you can download it FREE, right now.