A Recipe for Rest
"Come to Me, all you who labor and are heavy laden, and I will give you rest. Take My yoke upon you and learn from Me, for I am gentle and lowly in heart, and you will find rest for your souls. For My yoke is easy and My burden is light." - (Matthew 11: 28-30)
Jesus loves to give invitations. He addresses this one to people who are loaded with problems and are working themselves to exhaustion trying to solve their problems. Jesus promises that if we come to Him He will give us rest. If you look closely at this invitation He is inviting us to come to Him and learn about His heart, His burden and His yoke. It is what we learn that will lead us to this rest.
Jesus wants burdened people to learn that His burden is light, His heart is humble and His yoke is easy. There is a sense in which Jesus had the weight of the world on His shoulders and yet He claimed that His burden was light. His burden was light because He let the Father carry the load.
The most important part of His recipe for rest is what Jesus wants us to learn about His yoke. A yoke is not a burden. It is an instrument that makes it possible to bear a burden. When a cart is piled high with cargo it is the yoke that makes it possible for an ox to pull a great load with ease. It is the yoke of Jesus that shows us how to pull our heavy burdens of life.
The yoke of Jesus was that He let His Father carry the burdens. We take His yoke upon us when we let the Holy Spirit carry the load.

---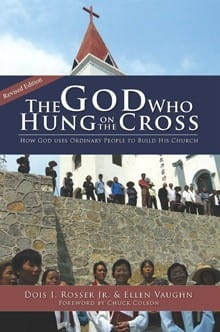 Free Book: The God Who Hung on the Cross
This newly revised paperback edition features reflections on 25 years in ministry by Dois Rosser. The book details the history and vision of ICM, the parent organization for the Mini Bible College, and the vehicle for distributing MBC to congregations around the world. Dois' story is an inspiration, encouraging Christians to give of their time and resources to experience the abundant power of God at work. Journey around the world with Dois and discover that you too can be a part of something bigger than yourself!