A Measure of Our Grace
 "And God is able to make all grace abound to you, so that in all things at all times, having all that you need, you will abound in every good work." (2 Corinthians 9:8 NIV)
Those who are wealthy enough to own a Rolls Royce automobile realize how secretive the manufacturer of those extraordinary automobiles can be. One man sent a telegram to the manufacturer and asked "What is the horse power of my Silver Cloud Rolls Royce? The return telegram in typical British fashion was just one word: "Adequate."
When the Apostle Paul writes the words quoted above it is almost as if someone had asked the question "What is the measure of our grace as authentic disciples of Jesus Christ?" The response of the great apostle was more than the word "Adequate."
This verse is the most superlative verse in the New Testament on the subject of the grace that is available to us as we follow Jesus Christ. Mercy is God withholding from us what we deserve while grace is God lavishing on us all kinds of wonderful blessings we do not deserve. We're saved by grace but we are also given grace that makes it possible for us to live a life that glorifies God, exalts the risen, living Christ and holds forth the Word of God to people who desperately need it.
As you read this verse, realize that he is talking about all grace, all things, at all times, all that you need, abounding in every good work – and twice he writes that it is for you. Has God oversold the product in this verse or do we have a flawed access into this grace?

---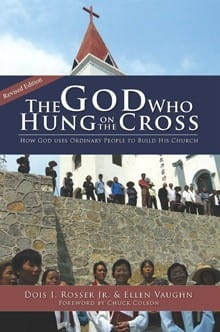 Free Book: The God Who Hung on the Cross
This newly revised paperback edition features reflections on 25 years in ministry by Dois Rosser. The book details the history and vision of ICM, the parent organization for the Mini Bible College, and the vehicle for distributing MBC to congregations around the world. Dois' story is an inspiration, encouraging Christians to give of their time and resources to experience the abundant power of God at work. Journey around the world with Dois and discover that you too can be a part of something bigger than yourself!