11-02 Dare 2 Share - un. Tour – Teen Training Conference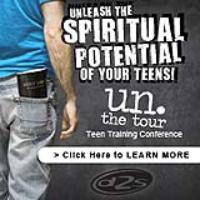 Don't miss the Dare 2 Share's teen evangelism training conference coming this spring to these cities:
Lincoln, NE - Pershing Center - February 25-26, 2011
Twin Cities, MN - Grace Church - March 11-12, 2011
St. Louis, MO - Chaifetz Arena - March 25-26, 2011
Chicago, IL - Sears Centre Arena - April 1-, 2011
Click for more information and to register - http://www.dare2share.org/campaign/40024
Un. It's where teens live. Often unappreciated, unloved and deemed unworthy.
But God flips that idea on its head. He uses unlikely teenagers to do unbelievable things for His Kingdom. Like David. No one gave him a chance, not even his own family, yet he faced a giant unafraid while an entire army trembled.
At the un. Tour, David's life will highlight what it means to be un:
un.cool - God using uncool people to accomplish his mission
un.alone - always in fellowship with the Trinity
un.afraid - taking a stand & defeating giants in their lives
un.leashed - motivated & mobilized to share the unstoppable Gospel message
This high impact training will inspire and equip your teenagers to begin sharing Jesus with their friends, and your youth group will never be the same as they witness the unstoppable power of the Gospel.
Check it out! http://www.dare2share.org/campaign/40024