God is Here: Connecting with Him in Everyday Life (A Modern Look at Brother Lawrence's The Practice of the Presence of God)
Steve Case

2006

1 Jan

COMMENTS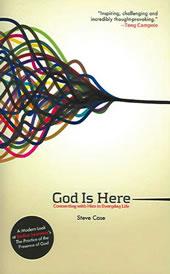 Relevant Books, 2005, 199 pp., discussion
guide included, $12.99,
www.relevantbooks.com
The gist of this book is:
pray without ceasing
; be aware of God continually. In transferring the rich writing of the famous 17th century monk to the postmodern shelf, this is beautifully written, fresh encouragement for consistent God-connections in un-monk-like ways. (e.g., "Most of us are perfectly willing to invite Jesus to come and live in our hearts, but how many of us would be willing to invite Him into the minivan?") Reliably witty, Case's imaginable analogies, sprinkled with Dave Barry-like one-liners, endear readers to a God with whom we can enjoy "open-hearted conversation." On that count, I loved this book. However, there are several spots where Case made statements that had me asking, "Is this really what Brother Lawrence would say to us today?" I wish he would've stuck primarily to the
prayer
focus. Nonetheless, mature, hungry-for-God readers will find it palatable for reigniting quiet times.
_____________________
Review by: Danette Matty, freelance writer and 18-year youth ministry volunteer in Minnesota.