Reconnecting with … Rachael Lampa
Andy Argyrakis

CCMmagazine.com

2009

11 Jun

COMMENTS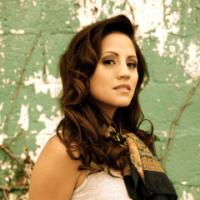 Fame at a young age can come with several price tags, including partial abandonment of one's childhood, recording music that might not be one's personal preference and never having any privacy. Though pop star turned singer/songwriter Rachael Lampa has no regrets about springboarding her way into the spotlight at a mere 14 years of age, the current 24-year-old is much happier in her artistic and even spiritual walk these days.
"I really needed to take a breather," explains Lampa of her under-the-radar status as of late. "I had been recording records, touring and repeating the process. Then the hits CD [Blessed: The Very Best of Rachael Lampa (Word)] came out in 2006 to tide listeners over, but I had to figure out what to do next. I sensed God telling me to slow down, so I did; and I really stopped for about a year. I enjoyed friends and family because I realized [before] I had no friends outside of touring, and I needed to see what that felt like. I needed to have something consistent with people around me living normal lives. Of course, I couldn't stay away from music for too long!"
Fans may have caught Lampa's acting debut in the film Hidden Secrets (alongside The Dukes of Hazzard star John Schneider), plus an appearance at the 2008 Republican National Convention in St. Paul, Minn. And while it was pleasant to catch the singer in unusual avenues, the resounding question from all her appreciators was, "When will new music be available?"
"I met my two hero producers in Nashville—Drew Ramsey and Shannon Sanders—but I realized I had a big spiritual, personal and musical journey to figure out," she admits of the initial sessions from two years ago. "Almost a year later, I think I hit a stride, and I knew I had time, not having to turn in a record 13 months later [as was the case at former label Word Records]. Even though it's been awhile, I'd say I'm about halfway through it because I'm constantly re-evaluating and changing things. In six months, I'll probably change my mind again, but right now, the project will be an EP; and we're getting really close on all those songs!"
When Lampa debuted to the world at large nearly a decade ago (backed by the glossy singles "Live For You," "Blessed" and "Savior Song"), her sound was a mash-up between contemporary pop and smooth soul with ever so slight Latin influences. Now that she's in her 20s, those sounds and her subsequent songwriting have evolved, though fans won't have to worry about feeling ostracized with the upcoming material.
"We've been trying to figure out a [way to describe] these songs, and the closest [description] I can come up with is a pop/soul sort of thing," hints Lampa. "We've also got some guitars, but it doesn't quite hit the pop/rock edge because we really wanted to keep it more as a soul kind of thing. I feel like I can really sing and not have to hold back!"
Like so many artists in the modern era, Lampa has abandoned major label life altogether and is now recording and touring on her own terms. However, she never disses her previous days at Word. Instead, she seems genuinely thankful for the opportunity and is using the knowledge gained to spread her own wings.
"I think some artists have different phases of what kind of machine they need behind them and what kind of team they need for support," she suggests. "When I first started, I had the all-star team of people who came up with this vision together. But as business always goes, people start to leave the company, move on to other things; and you can sort of get lost in the shuffle as things merge. I slowly started to feel like the passion for my project was getting lost, but I understand that because I realize how [the industry] turns. But it was awesome because we were in a long-standing relationship, and parting was a cool understanding of letting me do my own thing. And that's been so cool because I can take my time, really focus on writing songs and stay in touch with my fans on Facebook. I know they've been patiently waiting, but I promise new music is coming soon!"

For more info, check out myspace.com/rachaellampa.

© 2009 CCMmagazine.com. All rights reserved. Used with permission.

**This interview first published on June 11, 2009