The Christian's Declaration of Independence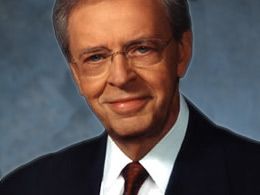 It is always my honor to meet someone who has fought for this country. Perhaps you have served in the military as well. You may even have a loved one who made the ultimate sacrifice on the field of battle.
Since July 4, 1776, more than a million brave, American men and women have died to defend our freedom, and the freedom of other nations.
The price of freedom is expensive. The most important freedom-our inner, personal freedom- is the most expensive of all, because it was bought with the blood of Christ.
In Galatians 5:1 we are told:
"It was for freedom that Christ set us free; therefore keep standing firm and do not be subject again to a yoke of slavery."
Yes, Paul is talking here about freedom from sin. But he is also referring to a freedom from needless laws and regulations within the church itself!
In many of the churches Paul planted, new believers from the pagan world were being told that to be truly Christian, they must follow all the strict ritual and dietary laws of Judaism. It was against these "Judaizers" that Paul was making his stand.
Of course, we don't have Judaizers today-but we have no shortage of legalistic Christians!
I was saved at the age of 12. I knew that I was saved by the goodness, grace and love of God, but as soon as I testified to that in front of the church, they placed me in bondage with their list of rules.
At that church, you couldn't listen to music on Sunday. That was no problem, because I didn't have anything to play music on anyway. But the second rule was a lot harder-you couldn't read the funny papers!
I was a paperboy. I loved nothing more than to get a fresh stack of Sunday papers, cut the cord, open one up and read Dick Tracy. So that was a huge problem for me.
Every time I turned around, the list of rules grew. No swimming on Sunday. No playing ball on Sunday. Don't do this, you must not do that. Getting saved actually took the joy out of my childhood-because there was no way I could live up to all the rules.
I felt guilty, of course. Every night I'd get on my knees and ask God to forgive me for silly things that I believed could actually take away my salvation. I lived in a climate of anxiety and fear.
That, my friend, is bondage. In Galatians 5:1, Paul calls it "slavery," and challenges us to put it aside. After all, you cannot add one single thing to grace. Our salvation comes through the death of Christ. It's not about what we do or don't do-it's about what He did for us.
That's why I like to think of Galatians 5:1 as the believers own Declaration of Independence!
But our spiritual freedom is not just from bondage; it is freedom to become something-to live a righteous, godly life in the power of the Holy Spirit.
Does this mean that I am free to do anything I want to do? Of course not. But it does mean that instead of obeying the "law" in a spirit of fear, I am walking in the Spirit, enjoying life, loving God-and letting the Lord show me what I should and should not do.
Isn't that a freedom worth defending? In the same verse, Paul tells us to "stand firm." Do not let anyone load you down with rules and regulations, with what you can and cannot do to be made acceptable in God's sight.
In Ephesians, Paul again tells us to "stand firm"-this time by putting on the "whole armor of God." We must defend our spiritual freedom, not just from the misplaced legalism of our fellow Christians but from the direct attacks of the devil.
This Independence Day, I hope you will honor the many men and women who have fought to give us freedom as a nation. But even more important, I encourage you to honor, worship and celebrate the One who died to set you truly free-free from the penalty of sin, free to become everything you were meant to be...and, ultimately, free to spend eternity in the glorious presence of the Lord.
*********************************