The Naked Christian —Taking Off Religion to Find True Relationship
Craig Borlase

2006

1 Jan

COMMENTS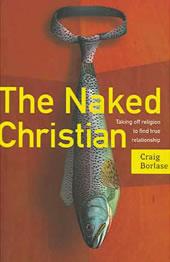 Relevant, 2005, 197 pp., $12.99,
www.relevantstore.com
If you're so enmeshed in church life so that you only see unchurched folk when you have no choice, Borlase makes the argument that you need to get out more. He balances the scriptural, personal responsibility case for getting what you need in church ("recuperating, refueling, repairing, preparing, and engaging…all functions within the body") with getting out and doing what you normally do, or at least talk about doing, in church. While we're at it, he suggests we value the good works other people do, whether they're Christian or not (no, not just tolerate — value). Beyond church life, Borlase gets personal, constantly asking smart, relevant questions — not to guilt readers so much as move them from timidity, confusion, or pride in church life vs. real world life, to confidence in both. He balances his criticisms with sharp humor and self-deprecation. A cleverly written message for all church leaders who desire to pursue God and be a blessing to the world, not just the church.
_____________________
Review by: Danette Matty, freelance writer and 18-year youth ministry volunteer in Minnesota.