I looked into sweet faces as they seemed to hang on every word, so eager to know Truth. Teaching a well-known story of Jesus feeding the 5000, one that I'd heard and read for so many years, suddenly became powerful again. In my heart. In my soul.
I grew up knowing of the miracles of Jesus. Flannel board stories had come to life in my heart at a very early age. Yet sometimes, if we're not careful, such popular stories we've heard for so long can almost lose part of their significance in being so common. We hear the words but don't really hear them anymore. Maybe because we've heard it so much before.
But I was again reminded, along with these little 3rd graders, of just how amazing He is. And how He's able to take whatever we offer, however small it seems, and do the mighty through it all. Let's first read the Scripture passage again that tells us the miracle of Jesus feeding the 5000 -
"When Jesus landed and saw a large crowd, he had compassion on them and healed their sick. As evening approached, the disciples came to him and said, "This is a remote place, and it's already getting late. Send the crowds away, so they can go to the villages and buy themselves some food." Jesus replied, "They do not need to go away. You give them something to eat." "We have here only five loaves of bread and two fish," they answered. "Bring them here to me," he said. And he directed the people to sit down on the grass. Taking the five loaves and the two fish and looking up to heaven, he gave thanks and broke the loaves. Then he gave them to the disciples, and the disciples gave them to the people. They all ate and were satisfied, and the disciples picked up twelve basketfuls of broken pieces that were left over. The number of those who ate was about five thousand men, besides women and children." Matthew 14:14-21
Here are 5 things from the miracle of Jesus feeding the 5,000 that can encourage us still today when the problems we're facing seem too big:
Jesus moves with compassion
Jesus performed this miracle on the heels of facing great grief. He had just lost his beloved cousin and friend John the Baptist who had been killed at the order of Herod. Yet Matt. 14:14 says he had compassion on the people who had followed him, he had such great love, even in the midst of facing his own loss. He knew his time on earth was short, he pressed forward to do all that God had called him to do, even when it seemed difficult. And He's still the same today. He knows the pain and struggles we face. He understands. He's never too busy, or too distant to care. He knows the grief we feel today, for He felt it too. His Word says "He is near to the brokenhearted, and saves those who are crushed in spirit." Ps. 34:18
Jesus is bigger than any problem we face
When his disciples came to him with the problem, he instructed them to "give them something to eat," v.16. In other words, he encouraged them to look for a solution, to take their eyes off the pressing problem and put them on the Answer. Jesus is still the Answer, to every problem we face today. In a world filled with darkness and fear, He is the only solution for the troubles that surround. And He sends us out, in His power and His Spirit, He instructs us today to be salt and light, to "give them something," the very Bread of Life, who can make an eternal difference in their souls. This Truth remains, "Greater is He who is in you, than he who is in the world." 1 John 4:4
Jesus asks us to bring Him all we have
He asked the disciples to give him what they had, v.18. The little boy whose very smart mom had packed his lunch that day, gave all he had, 5 loaves and 2 fish. Offered it all up, though it seemed so meager. The disciples must have thought Jesus was crazy to even ask for it. Among 5000+ people, this would hardly feed even one family. But they still obeyed, they still brought it all to him. And this single obedient act ushered the way for Jesus to perform that amazing miracle story still talked about today. This truth remains, obedience paves the way for great things to happen. He desires our hearts to be fully yielded to Him, and great miracles can occur as a result. "Love the Lord your God with all your heart and with all your soul and with all your mind." Matt. 22:37
Jesus can bring blessing and life from what is broken
Jesus, worker of miracles, loving Provider, took what they gave and offered it before God. He gave thanks, blessed it, and broke it, v. 19. Such powerful words, because if we've walked through broken times, we know that however hard it is at the time, there's also great blessing and power that can come through it. He offers our lives, broken pieces and all, and brings us before the Father. That's the grace and favor that He alone can bring into our lives in the midst of dark places. Fast forward some months, there was another time Jesus gave thanks before the Father and broke bread with his disciples, it was the Last Supper. And it was the very picture of what He was willing to endure on our behalf - the brokenness of the cross, and the blessing and power of the Resurrection. "While they were eating, Jesus took bread, and when he had given thanks, he broke it and gave it to his disciples, saying, "Take and eat; this is my body." Matt. 26:26
Jesus multiplies what we give to Him
And there was enough to feed all, which in reality was probably more like 10,000 - 15,000 people when you count all of the women and children too. It even says they were all "satisfied," full, content. That's a lot of mouths to feed on such a small offering of food. But with God, it was enough, it was more than enough. And surely in our lives, when we feel inadequate or what we have to offer seems so small, through Christ, it is enough. He makes it more than enough, v. 20. He is able to multiply our efforts, our gifts, our offerings, and bring complete satisfaction to the deepest places of our souls. So interesting to note that there were 12 baskets left over. And there were 12 disciples too, who quite possibly each picked up one of those baskets, and carried it back with amazement and wonder at this miracle He had done. His hope is this, "He is able to do immeasurably more than all we ask or imagine, according to his power that is at work within us." Eph. 3:20
Praying today that no matter where we are in life right now, He would take what we offer up to Him, all of our brokenness and pain, all of our loss and short supply, all of our inadequacies and doubt, and that He would breathe His blessing and favor over it, multiplying greatly all that we offer.
He is Able.
To make it more than enough.
And to bring life and blessing to all those around us.
Our Lord of miracles is more than Able.
Grace.
Debbie McDaniel is a writer, pastor's wife, mom to three amazing kids (and a lot of pets). Join her each morning on Fresh Day Ahead's facebook page, DebbieWebbMcDaniel, for daily encouragement in living strong, free, hope-filled lives. Find her also at Twitter and Web Site.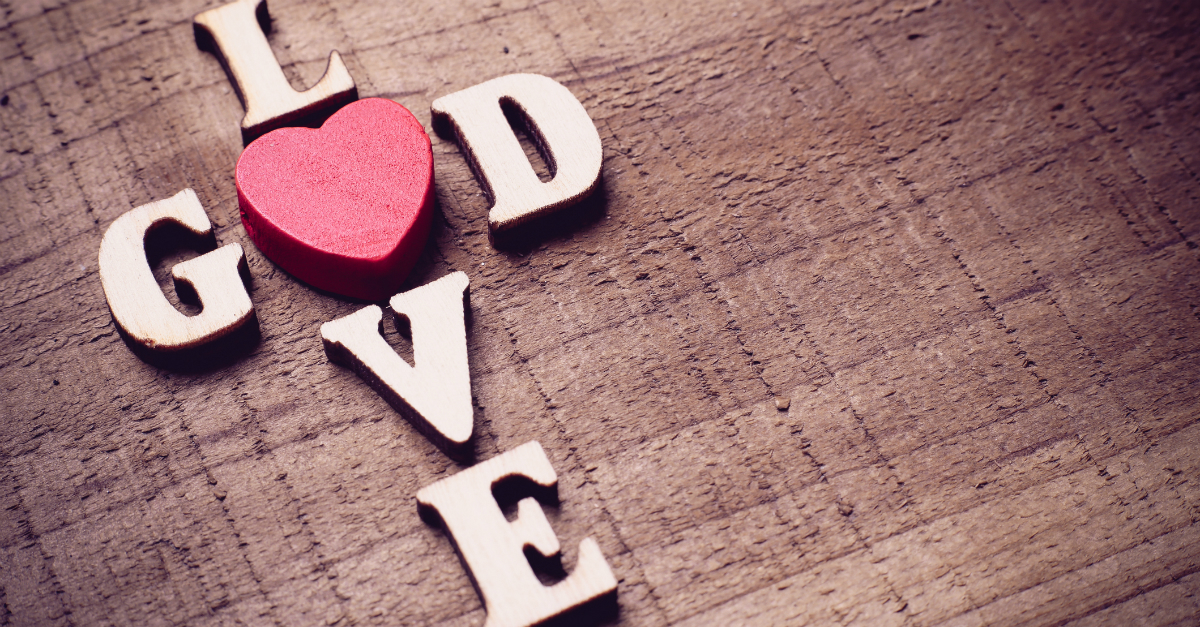 Photo Credit: ©GettyImages/ChristianChan
Find the best Bible verses about love for inspiration to love God and your neighbor in this collection of scripture quotes. The Bible has so much to say about love! God's love is perfect, faithful, unconditional, forgiving, all-encompassing, pure, lasting, sacrificial, strong, enduring, refreshing, redeeming, everlasting, lavish, full, inspiring, hope-filled, gracious, and so much more. It's never based on us, our abilities, or striving to ever be good enough. It's found in Him, His character, and a huge capacity to give. It knows no boundaries and has no limits. There's no place too deep that His love can't reach us still.
God's love teaches us how to love - it is the one and only example that we should follow. Whether you are seeking Scripture quotes to remind yourself about God's love, for advice on love within a relationship, or how to love your enemies, we have collected all of the verses about love to help you in one place.
Contents
His love letter, the Bible, breathes grace, strength, hope, and peace. Believe the truth He speaks over you in these Scriptures and 50 Bible verses about love, from God's heart to ours.
Bible Verses About God's Love
"For God so loved the world that he gave his one and only Son, that whoever believes in him shall not perish but have eternal life." John 3:16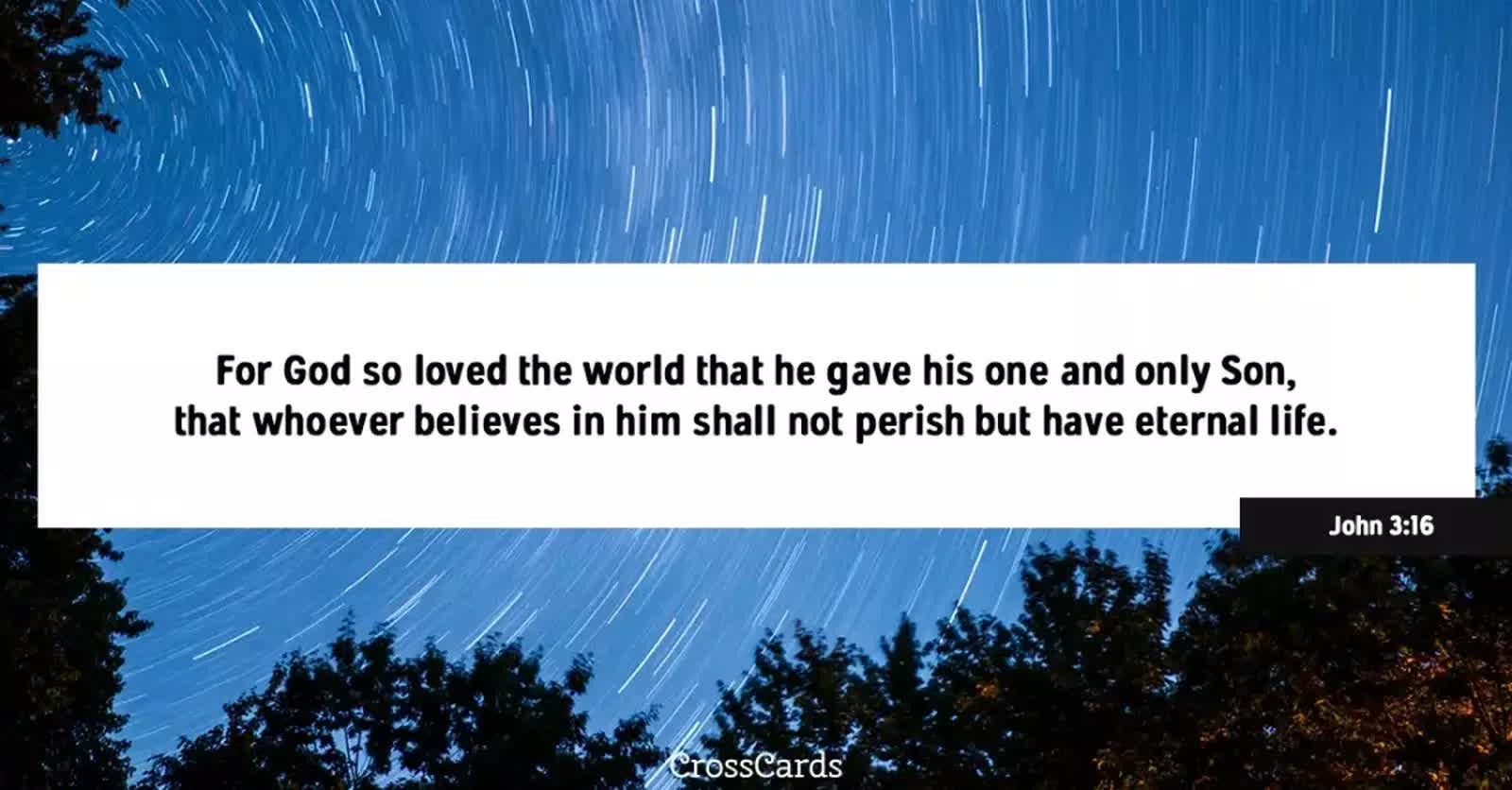 "Greater love has no one than this: to lay down one's life for one's friends." John 15:13
"How great is the love the Father has lavished on us, that we should be called children of God!" 1 John 3:1
"His banner over me is love." Song of Songs 2:4
"Above all, love each other deeply, because love covers over a multitude of sins." 1 Peter 4:8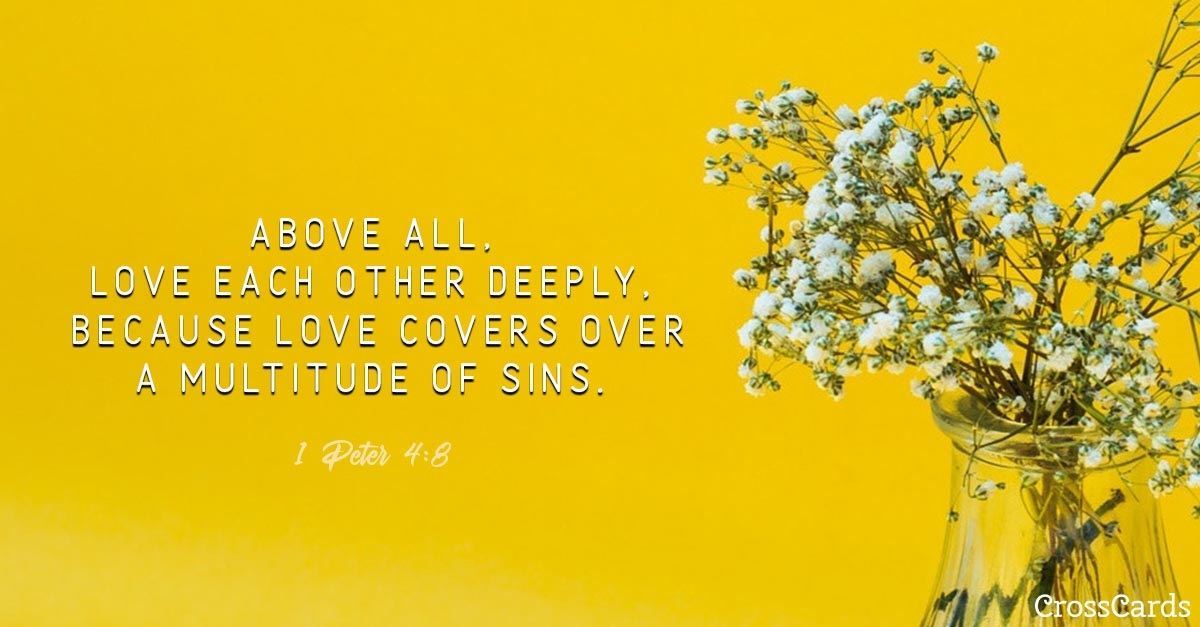 "But God demonstrates his own love for us in this: While we were still sinners, Christ died for us." Romans 5:8
"But you, O Lord, are a compassionate and gracious God, slow to anger, abounding in love and faithfulness." Psalm 86:15
"Give thanks to the Lord, for he is good; his love endures forever." 1 Chronicles 16:34
"The Lord your God is with you, he is mighty to save. He will take great delight in you, he will quiet you with his love, he will rejoice over you with singing." Zephaniah 3:17
"Let them give thanks to the Lord for his unfailing love and his wonderful deeds for men, for he satisfies the thirsty and fills the hungry with good things." Psalm 107:8-9
"Your love, O Lord, reaches to the heavens, your faithfulness to the skies. Your righteousness is like the mighty mountains, your justice like the great deep." Psalm 36:5-6
"But you are a forgiving God, gracious and compassionate, slow to anger and abounding in love…" Nehemiah 9:17
Bible Verses About Love and Loving Others
"Let all that you do be done in love." 1 Corinthians 16:14
"Love is patient, love is kind. It does not envy, it does not boast, it is not proud. It is not rude, it is not self-seeking, it is not easily angered, it keeps no record of wrongs. Love does not delight in evil but rejoices with the truth. It always protects, always trusts, always hopes, always perseveres. Love never fails…" 1 Corinthians 13:4-7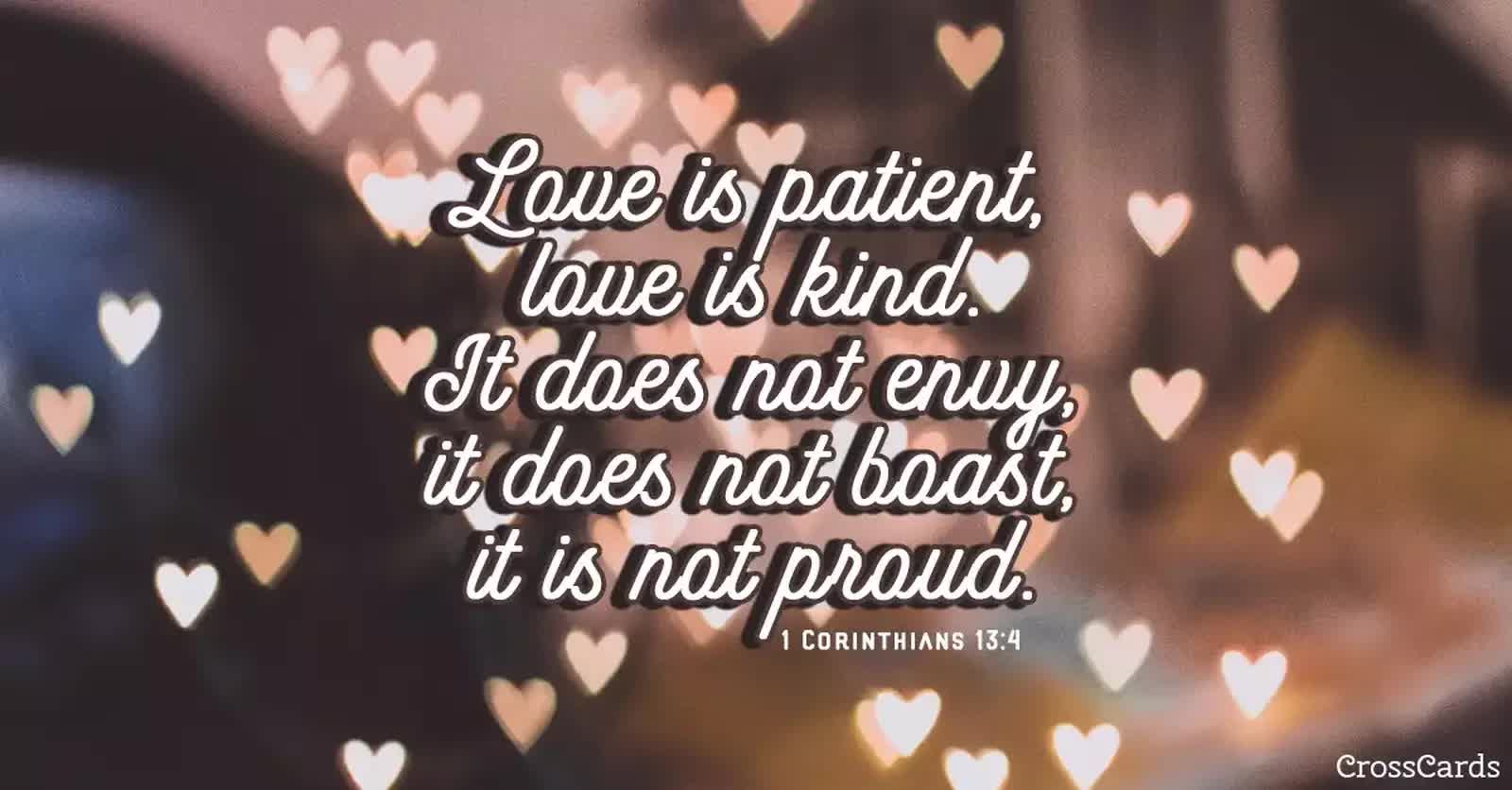 "So now I am giving you a new commandment: Love each other. Just as I have loved you, you should love each other. Your love for one another will prove to the world that you are my disciples." John 13:34-35
"So now faith, hope, and love abide, these three; but the greatest of these is love." 1 Corinthians 13:13
"If you love me, you will obey what I command." John 14:15
"Above all, be loving. This ties everything together perfectly." Colossians 3:14
"Dear friends, let us love one another, for love comes from God. Everyone who loves has been born of God and knows God. Whoever does not love does not know God, because God is love." 1 John 4:7-8
"Hate stirs up trouble, but love forgives all offenses." Proverbs 10:12
"Love must be sincere. Hate what is evil; cling to what is good. Be devoted to one another in brotherly love. Honor one another above yourselves." Romans 12:9-10
"There is no fear in love. But perfect love drives out fear, because fear has to do with punishment. The one who fears is not made perfect in love. We love because He first loved us." 1 John 4:18-19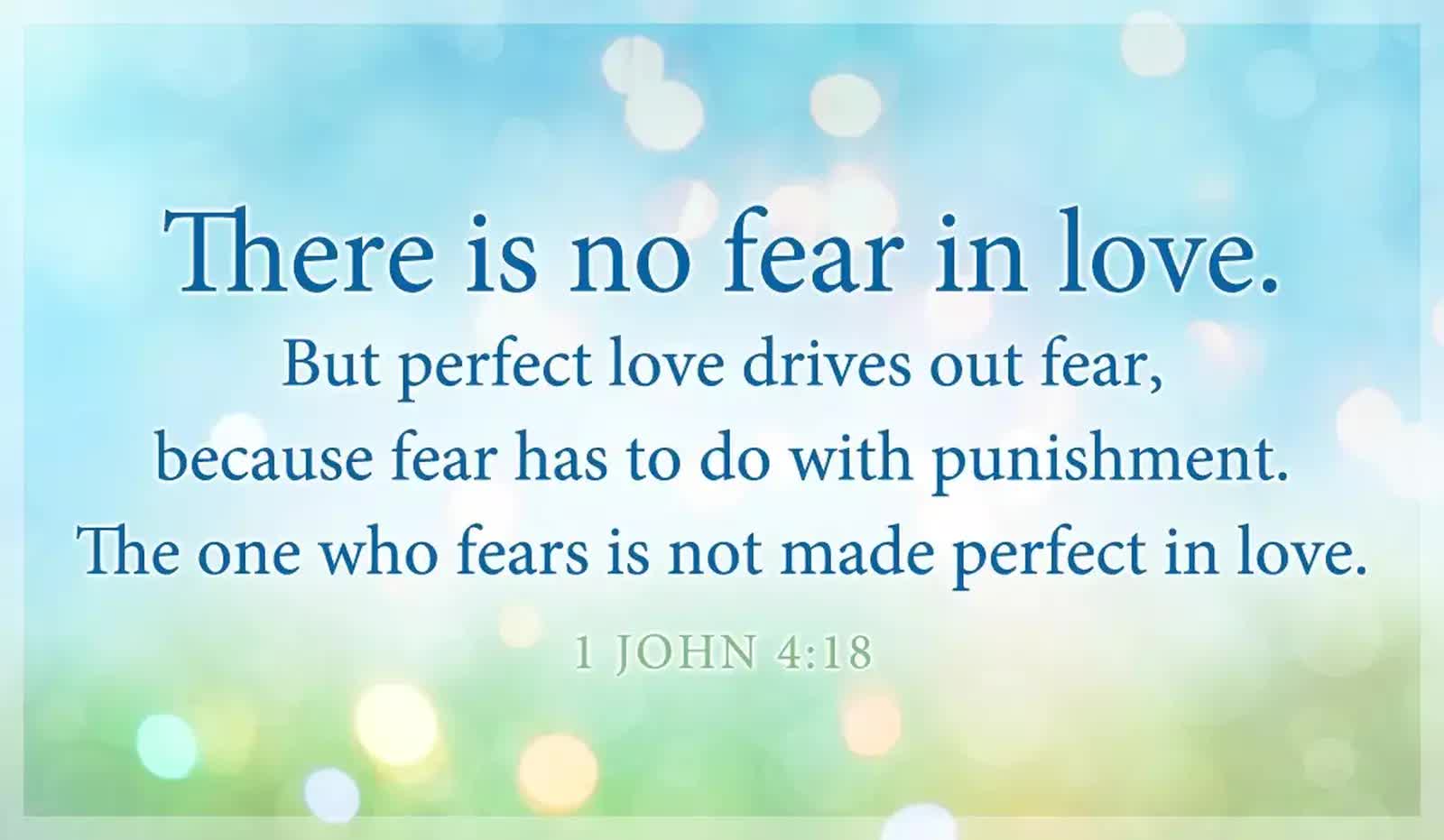 "A friend loves at all times, and a brother is born for a time of adversity." Proverbs 17:17
"He has shown you, O man, what is good. And what does the Lord require of you? To act justly and to love mercy and to walk humbly with your God." Micah 6:8
"Be completely humble and gentle; be patient, bearing with one another in love." Ephesians 4:2
"For Christ's love compels us, because we are convinced that one died for all, and therefore all died." 2 Corinthians 5:14
"But love your enemies, do good to them, and lend to them without expecting to get anything back. Then your reward will be great…" Luke 6:35
"Husbands, love your wives, as Christ loved the church and gave himself up for her." Ephesians 5:25
"For you have been called to live in freedom, my brothers and sisters. But don't use your freedom to satisfy your sinful nature. Instead, use your freedom to serve one another in love. For the whole law can be summed up in this one command: 'Love your neighbor as yourself.'" Galatians 5:13-14
Bible Verses on Love in Relationships
"But the fruit of the Spirit is love, joy, peace, patience, kindness, goodness, faithfulness, gentleness and self-control." Galatians 5:22-23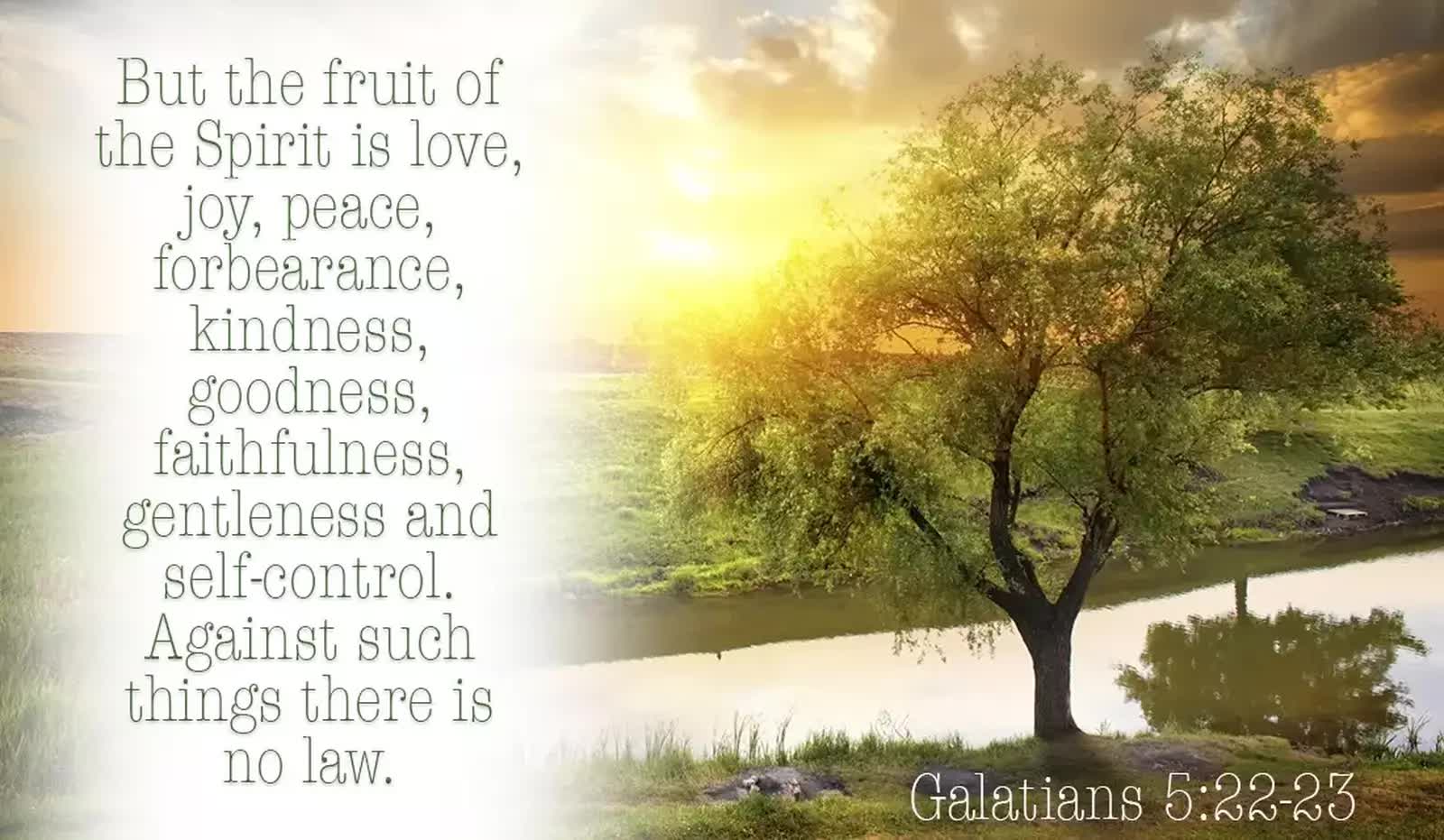 "Owe no one anything, except to love each other, for the one who loves another has fulfilled the law." Romans 13:8
"Live a life of love, just as Christ loved us and gave himself up for us as a fragrant offering and sacrifice to God." Ephesians 5:2
"Anyone who claims to be in the light but hates his brother is still in the darkness. Whoever loves his brother lives in the light, and there is nothing in him to make him stumble." 1 John 2:9-10
"This is how we know what love is: Jesus Christ laid down his life for us. And we ought to lay down our lives for our brothers. If anyone has material possessions and sees his brother in need but has no pity on him, how can the love of God be in him? Dear children, let us not love with words or tongue but with actions and in truth." 1 John 3:16-18
"This is how God showed his love among us: He sent his one and only Son into the world that we might live through him. This is love: not that we loved God, but that he loved us and sent his Son as an atoning sacrifice for our sins. Dear friends, since God so loved us, we also ought to love one another. " 1 John 4:9-11
"The commandments…are summed up in the one command, 'Love your neighbor as you love yourself.' If you love others, you will never do them wrong, to love, then, is to obey the whole Law." Romans 13:9-10
"Place me like a seal over your heart, like a seal on your arm; for love is as strong as death… Many waters cannot quench love; rivers cannot wash it away." Song of Songs 8:6-7
"I have been crucified with Christ and I no longer live, but Christ lives in me. The life I live in the body, I live by faith in the Son of God, who loved me and gave himself for me." Galatians 2:20
"I will declare that your love stands firm forever, that you established your faithfulness in heaven itself." Psalm 89:2
"The earth is filled with your love, O Lord…" Psalm 119:64
"You were cleansed from your sins when you obeyed the truth, so now you must show sincere love to each other as brothers and sisters. Love each other deeply with all your heart." 1 Peter 1:22
"Jesus replied: 'Love the Lord your God with all your heart and with all your soul and with all your mind.' This is the first and greatest commandment. And the second is like it: 'Love your neighbor as yourself.'" Matthew 22:37-39
"In all these things, we are more than conquerors through him who loved us. For I am convinced that neither death or life, neither angels nor demons, neither the present nor the future, nor any powers, neither height nor depth, nor anything else in all creation, will be able to separate us from the love of God that is in Christ Jesus our Lord." Romans 8:37-39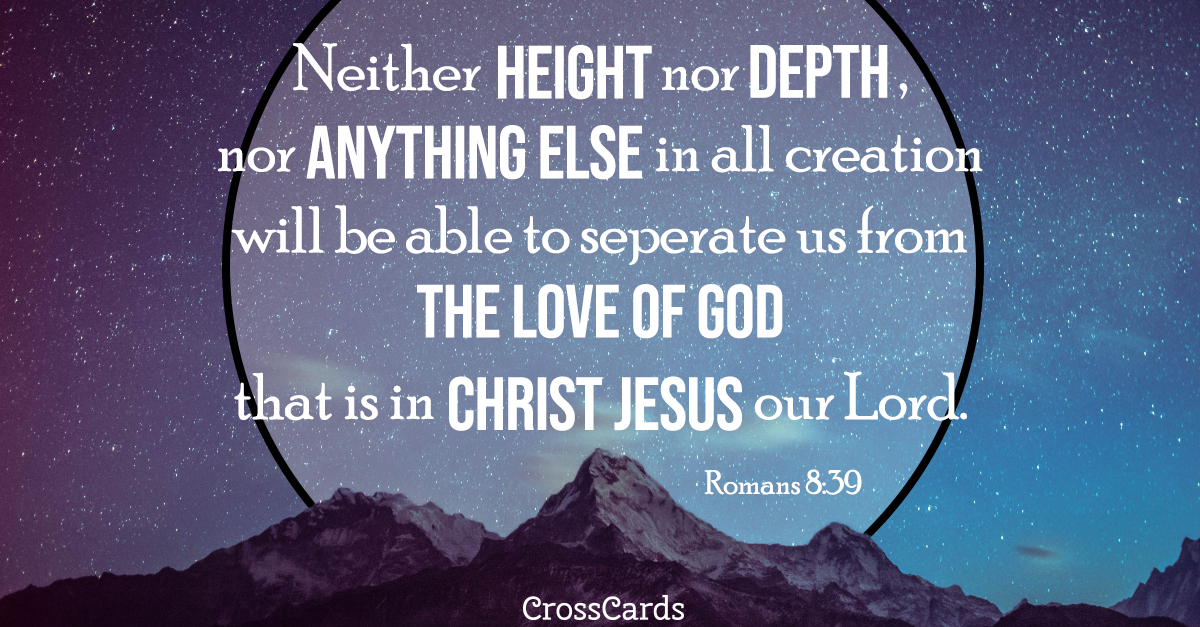 "For God did not give us a spirit of timidity, but a spirit of power, of love, and of self-discipline." 1 Timothy 1:7
"Show proper respect to everyone: Love the brotherhood of believers, fear God, honor the king." 1 Peter 2:17
"But be very careful…to love the Lord your God, to walk in all his ways, to obey his commands, to hold fast to him and to serve him with all your heart and all your soul." Joshua 22:5
"'Though the mountains be shaken and the hills be removed, yet my unfailing love for you will not be shaken nor my covenant of peace be removed,' says the Lord, who has compassion on you." Isaiah 54:10
"Let love and faithfulness never leave you; bind them around your neck, write them on the tablet of your heart. Then you will win favor and a good name in the sight of God and man." Proverbs 3:3-4
"May the Lord make your love increase and overflow for each other…" 1 Thes. 3:12
"Because your love is better than life, my lips will glorify you." Psalm 63:3
Don't let the enemy steal your joy this week. He'll try you know. He despises everything about real love because real love starts with God. He's a liar and a deceiver. He rejoices when we choose pathways of grey, eyes blinded to the truth laid out in black and white. He loves to incite evil and hate. Because he wants nothing more than to keep us pursuing things swaddled up in lies, farther and farther away from God.
He'll remind you again of your struggles. He's an expert in our weaknesses, and whispers lies of defeat. Making us feel all alone. Heaping on condemnation, guilt, and shame. He hisses our way, words straight from the pit, "You'll never change," "You'll never get past what you did," "You'll never be able to forgive," "You'll never be loved..." He works hard in our marriages, creating distance, fueling quarrels, getting us overly focused on our "own needs," that we lose sight of the other. That pressure of getting it all exactly right, to meet every need, is a hard burden to carry, and one we were never intended to. We feel let down. Neglected. Unloved. Comparing our spouse and what they did or didn't do, with what everyone else did or didn't do.
He steals away our attention from the most important. For even he knows the truth, that God is the only One who can meet our deepest needs. And he'll do anything to keep us from Him. He'll keep us so busy, hurried, and distracted, that we never have time to show love and care for another. He loves it when we never get around to spending time with God. The devil desires to keep us going everywhere but getting nowhere, and certainly nowhere close to Truth.
But no matter what our situation or the hard times we might be facing, we can choose to focus on what God says. He reminds us, "Love covers a multitude of sins." Love covers any shade of grey, every uncertainty, and all worries or fears. It's greater than any obstacle or struggle we face in this life. The powerful love of Christ wins every time against the enemy's lies of defeat. We don't have to let him win. We can choose the better way. We can choose whose voice we listen to. We can choose to walk in truth. We can choose to walk in love.
Live aware. Stay alert to the enemy's schemes. Choose whose voice you listen to. Keep close to the One who loves you more than you could ever imagine. Meditate on His words. Spend time in His Presence. And live a life of love.
Also be encouraged by reading our Christian Love Quotes - powerful verses and quotes on how to give and receive love between your family, friends, God, enemies, and even yourself.
Debbie McDaniel is a pastor's wife and mom to three amazing kids (and a lot of pets). Join her each morning on Fresh Day Ahead's Facebook page for daily encouragement in living strong, free, hope-filled lives.
Find her also at http://www.freshdayahead.com and on Twitter.
The very purpose of this Easter weekend reminds us, no matter what we face today, what we've been through, or what uncertainties tomorrow may hold, Christ is risen and is our Hope. He conquered death, He makes all things new.
He has risen!
He has risen indeed!
He breathes new life, so that we can live…free.
You can try to bury Power, but it won't stay there. You can try to bury Truth, but it is not dead. You can try to bury Love, but it cannot be contained.
God's not dead. And we're not alone. Not ever.
He lives!
May we allow that truth to soak in deep as we read these reminders from God's Word…
25 Resurrection Scriptures to Celebrate: He is Risen!
"As they entered the tomb, they saw a young man dressed in a white robe sitting on the right side, and they were alarmed. "Don't be alarmed," he said. "You are looking for Jesus the Nazarene, who was crucified. He has risen! He is not here. See the place where they laid him. But go, tell his disciples…'" Mark 16:5-7
"He is not here; he has risen! Remember how he told you, while he was still with you in Galilee: 'The Son of Man must be delivered into the hands of sinful men, be crucified and on the third day be raised again.'" Luke 24:6-7
"He is not here; he has risen, just as he said. Come and see the place where he lay." Matt. 28:6
"Jesus said to her, "I am the resurrection and the life. Whoever believes in me, though he die, yet shall he live," John 11:25
"And God raised the Lord and will also raise us up by his power."  1 Cor. 6:14
"We were buried therefore with him by baptism into death, in order that, just as Christ was raised from the dead by the glory of the Father, we too might walk in newness of life. For if we have been united with him in a death like his, we shall certainly be united with him in a resurrection like his." Romans 6:4-5
"Blessed be the God and Father of our Lord Jesus Christ! According to his great mercy, he has caused us to be born again to a living hope through the resurrection of Jesus Christ from the dead," 1 Pet. 1:3
"For this is the will of my Father, that everyone who looks on the Son and believes in him should have eternal life, and I will raise him up on the last day." John 6:40
"For since we believe that Jesus died and rose again, even so, through Jesus, God will bring with him those who have fallen asleep." 1 Thess. 4:14
"If the Spirit of him who raised Jesus from the dead dwells in you, he who raised Christ Jesus from the dead will also give life to your mortal bodies through his Spirit who dwells in you." Rom. 8:11
"For I know that my Redeemer lives, and at the last he will stand upon the earth…" Job 19:25
"That you may know what is the hope to which he has called you, what are the riches of his glorious inheritance in the saints, and what is the immeasurable greatness of his power toward us who believe, according to the working of his great might that he worked in Christ when he raised him from the dead and seated him at his right hand in the heavenly places, far above all rule and authority and power and dominion, and above every name that is named, not only in this age but also in the one to come." Eph. 1:18-21
"That I may know him and the power of his resurrection, and may share his sufferings, becoming like him in his death," Phil. 3:10
"He was buried, and he was raised from the dead on the third day, just as the Scriptures said." 1 Cor. 15:4
"Blessed be the God and Father of our Lord Jesus Christ! According to his great mercy, he has caused us to be born again to a living hope through the resurrection of Jesus Christ from the dead, to an inheritance that is imperishable, undefiled, and unfading, kept in heaven for you." 1 Pet. 1:3-4
"And with great power the apostles were giving their testimony to the resurrection of the Lord Jesus, and great grace was upon them all." Acts 4:33
"Now if we died with Christ, we believe that we will also live with him. For we know that since Christ was raised from the dead, he cannot die again; death no longer has mastery over him. The death he died, he died to sin once for all; but the life he lives, he lives to God. In the same way, count yourselves dead to sin but alive to God in Christ Jesus." Rom. 6:8-11
"And Jesus Christ our Lord was shown to be the Son of God when God powerfully raised him from the dead by means of the Holy Spirit." Rom. 1:4
"Christ Jesus is the one who died—more than that, who was raised— who is at the right hand of God, who indeed is interceding for us." Romans 8:34
"He will swallow up death in victory; and the Lord God will wipe away tears from off all faces." Isaiah 25:8
"For as by a man came death, by a man has come the resurrection of the dead. For as in Adam all die, so in Christ shall all be made alive." 1 Corinthians 15:21-22
"We know that Christ, being raised from the dead, will never die again; death no longer has dominion over him." Romans 6:9
"He was delivered up for our trespasses and raised for our justification." Romans 4:25
"Having been buried with him in baptism, in which you were also raised with him through your faith in the working of God, who raised him from the dead." Col. 2:12
"If you confess with your mouth that Jesus is Lord and believe in your heart that God raised him from the dead, you will be saved." Romans 10:9
Dear God,
Thank you that you make all things new. Thank you for the victory and power in your Name. Thank you that you hold the keys over death, that by your might, Jesus was raised from the grave, paving the way for us to have new life with you. Thank you that you had plan, that you made a way. 
We praise you for your great strength, we praise you for your lavish love. We praise you that you are Conqueror, Victor, Redeemer, and Friend. We praise you that you are Deliverer, Worthy One, Everlasting Father, Great and Awesome God.
We confess our need for you…fresh…new…again. We ask that you renew our hearts, minds, and lives, for the days ahead. We pray for your refreshing over us.
Keep your words of truth planted firm within us, help us to keep focused on what is pure and right, give us the power to be obedient to your word. And when the enemy reminds us where we have been, hissing his lies and attacks our way, we trust that your voice speaks louder and stronger, reminding us we are safe with you and that your purposes and plans will not fail. We ask that you will be our defense and rear guard, keeping our way clear, removing the obstacles, and covering the pitfalls. Lord, lead us on your level ground.
Shine your light in us, through us, over us. May we make a difference in this world, for your glory and purposes. Set you way before us. May all your plans succeed. We may reflect your peace and hope to a world that so desperately needs your presence and healing.
Thanks be to you God, for your indescribable gift!
To you be glory and honor, on this Resurrection Day, and forever.
In Jesus' name,
Amen.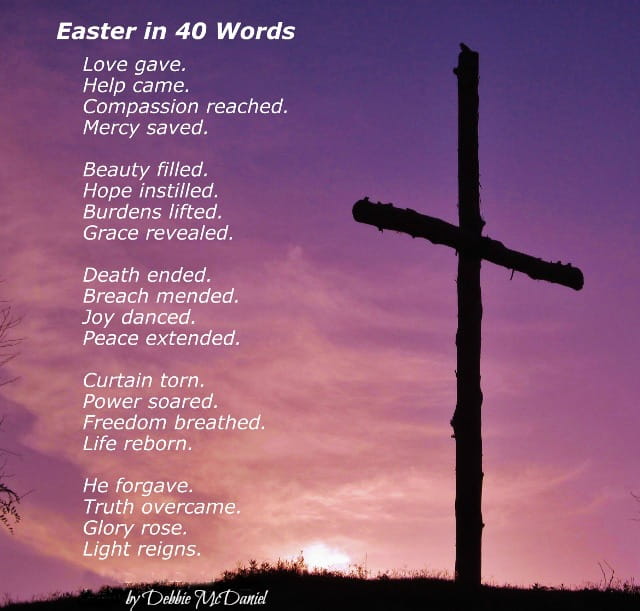 Debbie McDaniel is a writer, pastor's wife, mom to three amazing kids (and a lot of pets). Join her each morning on Fresh Day Ahead's facebook page, DebbieWebbMcDaniel, for daily encouragement in living strong, free, hope-filled lives. 
Find her also at Web Site and Twitter.