5 Things to Remember from D-Day
71 years ago today, history was made during WWII, when more than 150,000 Allied forces stormed the beaches of Normandy. This courageous event led to the beginning of liberation from Nazi forces in Western Europe.
Brave men stood strong for freedom, fighting hard for what they believed in. Sadly, many never returned home. They sacrificed greatly for the freedoms we enjoy today.
General Eisenhower said this in a broadcast message to the troops before they left, "The tide has turned! The free men of the world are marching together to victory.... We will accept nothing less than full victory!" Such a strong courageous statement, leading the charge that changed the course of history. Striking down evil, prejudice, and cruel hate, standing for freedom and victory.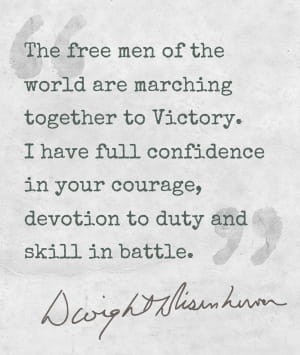 In a speech given by President Ronald Reagan at the 40th Anniversary of D-Day, he shared these inspiring words,
"For 4 long years, much of Europe had been under a terrible shadow. Free nations had fallen, Jews cried out in the camps, millions cried out for liberation. Europe was enslaved, and the world prayed for its rescue. Here in Normandy the rescue began. Here the Allies stood and fought against tyranny in a giant undertaking unparalleled in human history…The men of Normandy had faith that what they were doing was right, faith that they fought for all humanity, faith that a just God would grant them mercy on this beachhead or on the next. It was the deep knowledge -- and pray God we have not lost it -- that there is a profound, moral difference between the use of force for liberation and the use of force for conquest. You were here to liberate, not to conquer, and so you and those others did not doubt your cause. And you were right not to doubt.
You all knew that some things are worth dying for. One's country is worth dying for, and democracy is worth dying for, because it's the most deeply honorable form of government ever devised by man. All of you loved liberty. All of you were willing to fight tyranny, and you knew the people of your countries were behind you.
The Americans who fought here that morning knew word of the invasion was spreading through the darkness back home. They fought -- or felt in their hearts, though they couldn't know in fact, that in Georgia they were filling the churches at 4 a.m., in Kansas they were kneeling on their porches and praying, and in Philadelphia they were ringing the Liberty Bell.
Something else helped the men of D-day: their rock hard belief that Providence would have a great hand in the events that would unfold here; that God was an ally in this great cause. And so, the night before the invasion, when Colonel Wolverton asked his parachute troops to kneel with him in prayer he told them: Do not bow your heads, but look up so you can see God and ask His blessing in what we're about to do. Also that night, General Matthew Ridgway on his cot, listening in the darkness for the promise God made to Joshua: "I will not fail thee nor forsake thee.''
These are the things that impelled them; these are the things that shaped the unity of the Allies."
What it still means for us today - 5 things to remember from D-Day:
There's power in unity and standing strong together.
There's power in fighting on behalf of humanity, for those who can't fight for themselves.
There's power in rising up in courage, pursuing victory for what is right.
There's power in knowing God Himself fights on our behalf.
There's power in prayer and in the One who sets us truly free.
Remembering today. And thankful that so many were willing to pay a great price for freedom. May God help us to live so bravely today, "free men (and women) of the world...marching together...to victory..."
"So if the Son sets you free, you will be free indeed." John 8:36
"For freedom Christ has set us free; stand firm…" Gal. 5:1
"Even though I walk through the valley of the shadow of death, I will fear no evil, for you are with me;" Ps. 23:4
"The Spirit of the Lord God is upon me, because the Lord has anointed me to bring good news to the poor; he has sent me to bind up the brokenhearted, to proclaim liberty to the captives, and the opening of the prison to those who are bound." Is. 61:1
For the Lord your God is the one who goes with you to fight for you against your enemies to give you victory." Deut. 20:4
"If God is for us, who can be against us?" Rom. 8:31
"Have I not commanded you? Be strong and courageous. Do not be afraid; do not be discouraged, for the Lord your God will be with you wherever you go." Josh. 1:9
"Blessed be the Lord, my rock, who trains my hands for war, and my fingers for battle; he is my steadfast love and my fortress, my stronghold and my deliverer, my shield and he in whom I take refuge..." Ps. 144:1-2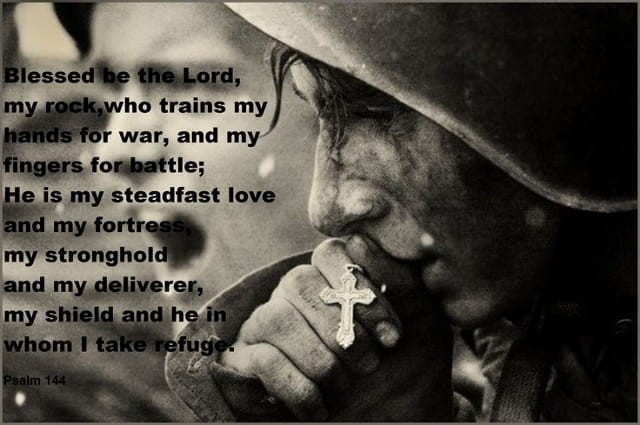 Debbie McDaniel is a writer, pastor's wife, mom to three amazing kids (and a lot of pets). Join her each morning on Fresh Day Ahead's facebook page, DebbieWebbMcDaniel, for daily encouragement in living strong, free, hope-filled lives.
Find her also at http://www.freshdayahead.com and Twitter.
---