When You Need a Reminder that God Is Really with You
Don't ever doubt that God doesn't know what He's doing, in this life, in the world. That's a lie straight from the enemy. What He's allowed in our lives, even the most difficult of things, He will use for good somehow.
As much as we can wish it were so, God doesn't always take us around our troubles. Sometimes He leads us straight through. Into the darkness, into the fire, into the deep. Or it might seem that we're left stranded in the middle of some wilderness, stuck in a deep pit, and He's forgotten us there.
But He's faithful...to carry us through.
We're not meant to stay stuck in the trial. He won't let the hardships define us. For when we belong to Him, He's the only One who has the power to define our days. He breathes life and meaning. And He says we're set free, redeemed, He says He gives us a future and a hope.
We may not see it, we may not even be aware of His Presence on the toughest days. But He hasn't left us, not ever.
This season of the year, can remind us more than anything, that God made a way, to be right here "with us."
We don't have to figure everything out on our own. We don't have to pretend that we're OK, put on a smile and fake our way through. But we can have peace. We can rest in knowing that He knows our way, He understands, He cares, and He has a plan to lead us out of even the fiercest of days. He's able to see what we can't see. He's able to know what we don't fully know. And He works on our behalf, through every difficult trial and storm-tossed time, bringing us through to the other side.
He is "God with us," our Refuge and Strength, our Savior and Lord.
9 Verses to Remind Us, He Is Always with Us, and He Has a Plan:
"...She will give birth to a son and will call him Immanuel (which means 'God is with us')." Is. 7:14
"But he knows the way that I take; when he has tested me, I will come forth as gold." Job 23:10
"Have I not commanded you? Be strong and courageous. Do not be frightened, and do not be dismayed, for the Lord your God is with you wherever you go." Josh. 1:9
"Even though I walk through the valley of the shadow of death, I will fear no evil, for you are with me; your rod and your staff, they comfort me." Ps. 23:4
"When you pass through the waters, I will be with you; and through the rivers, they shall not overwhelm you; when you walk through fire you shall not be burned, and the flame shall not consume you. For I am the LORD your God, the Holy One of Israel, your Savior." Is. 43:2-3
"Fear not, for I am with you; be not dismayed, for I am your God; I will strengthen you, I will help you, I will uphold you with my righteous right hand." Is. 41:10
"You intended to harm me, but God intended it for good to accomplish what is now being done, the saving of many lives." Gen. 50:20
"For I know the plans I have for you," declares the LORD, "plans to prosper you and not to harm you, plans to give you hope and a future." Jer. 29:11
"…And surely I am with you always, to the very end of the age." Matt. 28:20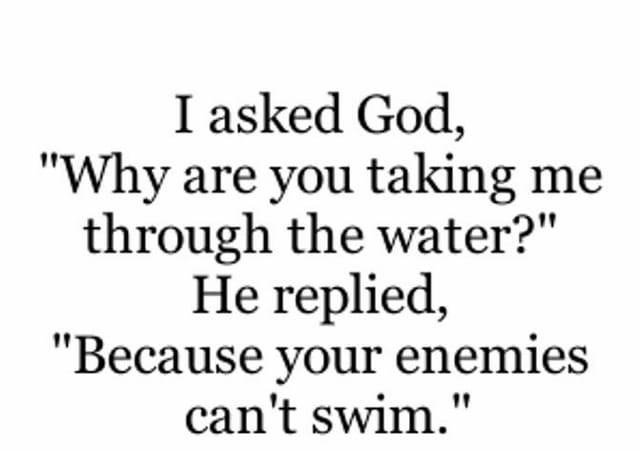 I love this quote, for it reminds us that even when we can't see what God is doing, He knows, He's working on our behalf, carrying us through the deep, protecting, covering, and He has a plan.
Peace.
Debbie McDaniel is a writer, pastor's wife, mom to three amazing kids (and a lot of pets). Join her each morning on Fresh Day Ahead's facebook page, DebbieWebbMcDaniel, for daily encouragement in living strong, free, hope-filled lives. Find her also at Twitter.
---