A Letter to My Son on Your Graduation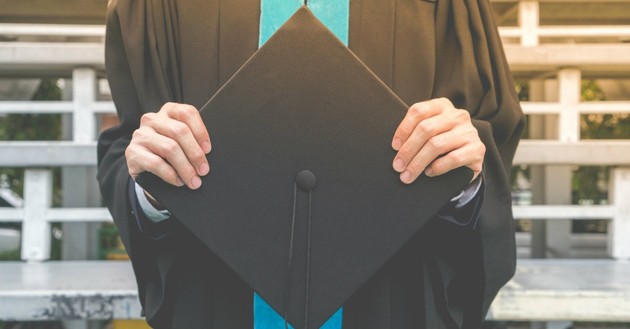 Dear Blake,
It's been almost 19 years since the nurses placed you in my arms, that precious little preemie who was struggling to breathe. The weeks before your birth were tumultuous as we discovered a problem with your kidneys and watched my health deteriorate. Your birth definitely wasn't what we planned, but in that moment the only thing that mattered was you. You were here. You were beautiful. You were breathing. You were perfect.
"Hi, Punkin."
I still remember the words falling off my lips. I still remember the nurses looking on in amazement as your breathing calmed and became less labored. I still remember the peace that came over me as I held you close for those few minutes before they whisked you back to the nursery where the oxygen tent awaited.
Now, I look up at you, towering over me with a beard covering your face. What happened to all those years? What happened to that precious baby who was completely dependent upon me, that baby who was suddenly calmed simply by the sound of his mother's voice? What happened to the two-year-old who boldly proclaimed, "I don't like him," when you met your little brother for the first time…and yet became his best friend as the days passed? What happened to the toddler who taught his grandma how to use the computer? What happened to the awkward toddler running around in his blue glasses? What happened?
I close my eyes and the last 19 days flash before my eyes, flying by just as the years have. When I open my eyes, there you stand, a young man ready to leave the nest and make a difference in this world. How could it happen so quickly?
The tears stung my eyes as I watched you walk across that stage Friday night and accept your diploma. You not only graduated, buy you graduated at the head of the class! I always knew you would. These last three weeks have been rough as you mourned your fallen classmate, a life lost too soon. But that heart of yours. That desire to somehow honor her, to do what you could to comfort her family and her friends. I couldn't have been more proud. And, to hear you offer the closing prayer, standing before all your classmates and calling on God to lead you, to guide you, to comfort the family whose daughter wasn't there… There are no words to explain the pride that welled up inside me.
Yes, you are no longer that little boy, the one so dependent upon me. You are a man. An amazing young man with a heart as big as the world you are entering. You are a man with a desire to change this world, to make a difference for so many. You are a man with a lifetime in front of you.
I look back and wonder if I did enough. If I loved enough. If I taught enough. If I was present enough. This life definitely didn't turn out the way I planned; I would have given anything to be a full-time mom and part-time career woman. I can only pray God picked up and filled all the gaps, all the places I wasn't enough. He's a much better parent than me anyway.
But as I send you out into this world, here's a few reminders of some of the most important lessons I hope I taught you well.
I love you, but He loves you more. I can't even put into words how much you mean to me, how much you are a huge piece of my heart. You gave me the title Mom. You showed me what it means to truly love someone. I don't think I fully grasped how much God loved us until I had you, my firstborn son. I promise, He must love us more than I can fathom because I could never give up my firstborn son for a sinner such as I.
No matter how much I love you, God loves you more. He is the ultimate parent, and His love is without compare. He would withhold nothing for you…even his only child. I'm not sure you truly grasp the depth of His love for you, but I pray you will one day because it is far greater than anything you could ever imagine.
He is with you…always. I'm so excited that you are going to my alma mater! I believe it will be a great place for you to grow in your walk with God. I know His presence is so strong on campus and you will be surrounded by people of like faith. I know you will find Him, know His presence over the next few years.
But one day you will leave that campus, that sheltered place where His presence is obvious. It doesn't matter where you go. He will be with you. He will walk beside you, guiding your steps. He will walk in front of you, leading you in His path. He will walk behind you, watching over your journey. He is with you…always and forever.
Your faith will be tested and tried…but He will be faithful through it all. Sometimes this life has felt like a cruel joke. You've been through so much in your short life. You've experienced the pain of divorce, the sting of death. You've walked through rejection and bitterness. You've seen the worst come out in so many people.
In some ways, I'm thankful you have experienced some pain while in this life. You know how to cope, how to pull yourself back up and keep going in this life. I know it's seemed unfair, but you are so far ahead of where I was at your age because you've been through the fire…you are in the fire.
I know you've struggled with your faith, but I know He will be faithful. I know you will find the joy of a relationship with the Father. I know you will experience His healing, His comfort. I know He will have you put together and on your feet for good one day (1 Peter 5:10). Just don't give up. Let go of the pain, the anger, the bitterness. Let go of the many burdens you carry. Give them to Him and let Him show you how easy His way is.
Have fun. I've told you this many times, but I'll say it again. Don't get so caught up in your schoolwork that you forget to have fun and enjoy college.
Don't get me wrong: you are going to school to learn, to get an education, to prepare for the future. But, college is so much more. Take time to make friends, to build friendships that will last a lifetime. Go out and enjoy life. Laugh. Be silly. Enjoy these carefree years.
Forgive. I know this one is hard. You've been wronged. You've seen the damage sin does to relationships. You know what it is to be hurt by people, people who should love you the most.
Please don't hold onto that pain, that bitterness. There's nothing more freeing than releasing the pain, than forgiving those wrongs. And, it's only in releasing someone else from the chains of their sins that we understand the magnitude of what God has done for us.
Forget those things that are behind and look forward to what is ahead. You are about to embark on a new journey, a new chapter of this life. You've learned some powerful lessons!
Now it's time to put the past behind you, to let go of anything that might hold you back. It's time to focus on the life He has for you, the good things He has planned. Hold onto all you have seen and heard and learned. Let your past and the lessons you've learned guide you into the future, but make sure you don't allow the pain to hold you back. Remember that His plans for you are good, plans to give you a hope and future. Focus your eyes on the goal, the goal of becoming more like Christ each and every day. As long as you are being conformed to His image, there's no way you can lose.
My precious son… I simply can't believe this day has come. I am beyond proud of you, of the young man you have already become. But I know there's so much more! No matter where you are, know you have my unconditional love and support. And, you always have a safe place to land no matter what this life throws your way.
I love you forever and always,
Mom
Photo courtesy: ©Thinkstock/Wittayayut
---