A Prayer for Single Moms on Mother's Day
Jennifer Maggio

Jennifer Maggio is a mom to three, wife to Jeff, and founder of the national nonprofit, The Life of a Single Mom Ministries. She is author to four books, including The Church and the Single…

More

2016

Apr 27
Father God, we thank you for each and every woman you have blessed with the privilege of motherhood. We thank you that every single mother is a Godly steward of each of their children and that they raise them in the ways of the Lord. Father, we pray and ask that You continue to give them the grace to walk out being a single parent with kindness and generosity. We pray that each single mother has a relationship with You, and worships You in spirit and truth.
Help each of your precious daughters to remember that although they are parenting alone, You have not left them nor forsaken them. We thank You that You see each of them and love them. Lord, if they are weary, we pray and ask that You send them a Godly sister in Christ to hold up their arms in the battle, just as Aaron did for Moses. Lord, thank you that You care about every big or small thing that concerns them. Place a hedge of protection around each single mother and her children, Father. We thank you that You alone are their Provider. Where there is lack, Father, we pray that it be Your will, and You will bring abundance. We pray and ask these things in your name, Amen.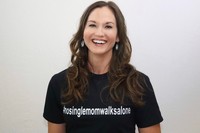 Jennifer Maggio is an award-winning author and speaker, whose personal journey through homelessness, abuse, and multiple teen pregnancies is leaving audiences around the globe riveted. At 19, Maggio was pregnant for the fourth time, living in government housing on food stamps and welfare. She shares with great openness, her pain, mistakes, and journey to find hope in Christ. She ultimately became an 11-time Circle of Excellence winner in Corporate America. While a vocal advocate for abstinence, and sustaining today's marriages, Maggio recognizes that single parenthood exists and is passionate about seeing these parents thrive. She left her corporate successes behind to launch a global initiative to see single moms living a life of total freedom from financial failures, parenting woes, and emotional issues. Her passion is contagious, and her story has been used to inspire thousands around the globe. Today, Jennifer works to ensure that no single mom walks alone as the founder of the national profit, The Life of a Single Mom. For more information and resources, visit the website HERE.
This article is part of our larger Prayers resource meant to inspire and encourage your prayer life when you face uncertain times. Visit our most popular prayers if you are wondering how to pray or what to pray. Remember, the Holy Spirit intercedes for us, and God knows your heart even if you can't find the words to pray.
Prayer for Healing
Prayer for Strength
Prayer for Sick
Morning Prayers
Thanksgiving Prayer
---