Fathers Day As a Single Mom
Jennifer Maggio

Jennifer Maggio is a mom to three, wife to Jeff, and founder of the national nonprofit, The Life of a Single Mom Ministries. She is author to four books, including The Church and the Single…

More

2020

Jun 17
I recognize that holidays can be a difficult time for anyone, but particularly if you are parenting alone. My hope is to equip you with tools that will encourage you along your journey.
If not careful, Father's Day for a single mom can be a disaster. What is often a celebration in May on Mother's Day can become a tragedy in June on Father's Day, unless we are mindful of our thoughts and actions. Mother's Day is a celebration of all things, mom. It is a time to focus on the great mothers in our lives – mom, grandmother, sister, friend, or aunt. It is a time to give thanks to God for those precious kids He has blessed us with.
Sadly, Father's Day can be a time for single moms to focus on lack, e.g., lack of an active father in their children's lives, lack of what you had hoped would be a forever-marriage, etc. Now, of course, this isn't all single mothers, but if you do happen to find yourself there today, here are a few tips to encourage you:
- Focus on what you do have. Maybe your children do not have an active father in their lives. Do they have a male mentor? A grandfather? A youth group leader? A pastor? A neighbor? Choose to focus on the positive male role models in your children's lives and honor them. And if there is a shortage of male role models, we can absolutely turn the focus on an amazing Heavenly Father!
- Your Heavenly Father fills the gap. Maybe Father's day is hard because you know that you couldn't possibly fill the role of mom and dad. And frankly, you are exhausted from trying! Know that God is an amazing Father, and He is strong, where we are weak. He can and will fill in the gaps in your home, in your children's lives, and in your weaknesses.
- Don't discount the value of your child's father. Okay, so this one is a toughie. Maybe your child's father isn't Father of the Year. Maybe you are really struggling with forgiveness because there have been times (maybe many) when your children have been disappointed by a missed visit or broken promise. If their father is in their life, even if the situation isn't great, choose to honor their father's position in their life. Your children love their dad, even if he has made some poor choices and disappointed them, and even if they are older and act out! He is part of them. And there is little worse you could do than destroy their father verbally in front of them. Choose the high road, even if the same courtesy hasn't been given to you. God (and your children) will honor you for it.
- Be active today. Maybe your children are with their father today, and you are alone. Do something worthwhile. Invite friends over for a barbecue. Read a good book, that you wouldn't otherwise have enjoyed with the kiddos there. Clean out a flower bed or rearrange your living room. Don't sit by and let the day pass you by feeling sorry for yourself. The same can be true if your children aren't with their dad. Choose to make this day a great one!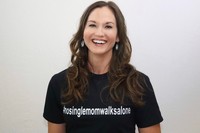 Jennifer Maggio is an award-winning author and speaker, whose personal journey through homelessness, abuse, and multiple teen pregnancies is leaving audiences around the globe riveted. At 19, Maggio was pregnant for the fourth time, living in government housing on food stamps and welfare. She shares with great openness, her pain, mistakes, and journey to find hope in Christ. She ultimately became an 11-time Circle of Excellence winner in Corporate America. While a vocal advocate for abstinence, and sustaining today's marriages, Maggio recognizes that single parenthood exists and is passionate about seeing these parents thrive. She left her corporate successes behind to launch a global initiative to see single moms living a life of total freedom from financial failures, parenting woes, and emotional issues. Her passion is contagious, and her story has been used to inspire thousands around the globe. Today, Jennifer works to ensure that no single mom walks alone as the founder of the national profit, The Life of a Single Mom. For more information and resources, visit the website HERE.
---