6 Good Gifts God Gives His Children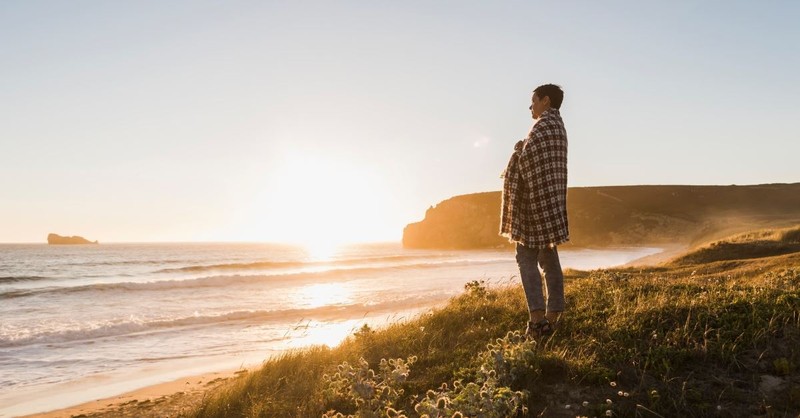 I recently turned forty-nine years old and am not ashamed to admit to having daddy issues in my past. My parents separated before I was three. I didn't realize just how much I missed due to my father's absence until I accepted Christ when I was nineteen. It was then I realized the depths of daddy's absence.
The Lord has given me more than my earthly father could have ever given me. God has showered me with love and acceptance. He invited me into a loving, long-lasting relationship and given me a level of confidence I never had before. The Lord encouraged me and gave me a new family that enhances and completes my biological family.
Here are 6 good gifts my Heavenly Father has given me. If you are a child of God, know these gifts are for you, too.
1. Love
"But in all these things we overwhelmingly conquer through Him who loved us. For I am convinced that neither death, nor life, nor angels, nor principalities, nor things present, nor things to come, nor powers, nor height, nor depth, nor any other created thing, will be able to separate us from the love of God, which is in Christ Jesus our Lord." (Roman 8:37-39)
I believe my father loves me. However, I never felt that love from him. God, however, not only loves me, but He shows it every single day. From saving me and healing me to chastising and correcting me, God's love shows in everything He does for me. Thus, I don't need to question the Lord's love for me. And you don't need to question His love for you. God's love, that agape love, is unconditional. No matter what we do, His love surrounds us and protects us. We can rest assured that He loves us, and nothing will stop Him from loving us.
2. Acceptance
"To the praise of the glory of His grace, wherein He hath made us accepted in the beloved." (Ephesians 1:6).
Everyone wants to be accepted. When acceptance isn't given, it leaves us feeling rejected, discouraged, and disapproved. No child wants to feel that way. Yet that's how I felt for many years, even after I became a Christian. Over time, the Holy Spirit showed me that I was accepted and approved by God. He also showed me that, although I always strive for my father's approval, I didn't need to strive for God's because He accepted me when His Son died on the cross for me. I'm accepted in the beloved, and so are you. We needn't work to make God love or accept us. He just does.
3. Relationship
"For all who are being led by the Spirit of God, these are the sons of God. For you have not received a spirit of slavery leading to fear again, but you have received a spirit of adoption as sons by which we cry out, 'Abba! Father!'"(Romans 8:14-15).
Whenever I scroll through social media and see pictures of fathers and their daughters, I feel a wee bit jealous. I wish I'd had that kind of relationship with my dad. When I was a little girl, I yearn for the type of relationship where I could sit on my dad's lap, hold his hand, kiss his cheek, tell him my secrets. Some little girls had that type of relationship with their fathers, and some girls didn't. Although I missed out on that type of relationship with my earthly father, I do have it with my Heavenly Father, Abba. I can sit on His lap, hold His hand, kiss His cheek, and tell Him all my secrets without fear of judgment. You can have that kind of relationship with God, too, because He is beckoning us into an intimate relationship with Himself. He wants us to know Him and trust Him.
4. Confidence
"Though a host encamp against me, my heart will not fear; though war arise against me in spite of this I shall be confident." (Psalm 27:3).
My daughter has a beautiful relationship with her father. He nicknamed her, Chip, meaning she's a "chip off the old block." My daughter is a lot like her father. It never ceases to amaze me that she picked up a lot of attributes, although he was raised in Brooklyn, NY, in the '70s and '80s, while our daughter was raised in Maryland suburbs. Our daughter has complete confidence in my husband. If he tells her he can or will do something, it's as good as done in her eyes. She has confidence in him and herself that I didn't have growing up. I attribute her confidence to the relationship she's had with her dad since she was born. That's the same type of confidence I always wanted to have in my father. Fortunately for me, God taught me that I could trust Him, that I can place my confidence in Him. God won't leave us nor forsake us. Knowing we have that kind of support in our lives should be a huge confidence booster.
5. Encouragement
"Have I not commanded you? Be strong and courageous! Do not tremble or be dismayed, for the Lord your God is with you wherever you go." (Joshua 1:9).
Encouragement in a child's life is essential to their development and future confidence. I received a lot of encouragement from my mother and siblings, but I wanted encouragement from my father. Thankfully, my siblings did an excellent job encouraging me when our mother died shortly after my 18th birthday. God did an even better job. When I was asked to pray in church the first time, I said no. When I was asked to teach, I said no. When I was asked to sing and preach in church, I said no. Slowly but surely, over the years, God encouraged me to pray out loud, preach, teach, and sing in the church. God even encouraged me to share my writing publicly. Perhaps there are things God requires of you, but you're too afraid to do them. Let me encourage you – God will help you accomplish the things He's commanded you to do. He will be with you the entire way, giving you ideas and boldness. Trust Him.
6. Completion
"And in Him you have been made complete, and He is the head over all rule and authority." (Colossians 2:10).
I grew up in a great family. My mother was a wonderful woman. My sister became a second mother to me when our mother died. My four brothers were amazing as well. Although I had my mother and siblings, my family was incomplete. My relationship with God completes me. My family is complete now, even with my mother being deceased for thirty years, and my oldest brother being deceased for almost five years. I'm loved, accepted, encouraged, confident, and complete – all things I didn't feel before Christ came into my life. If you grew up without your father, embrace the comfort in Colossian 2:10. You are complete in Christ. Don't let the devil or low self-esteem tell you otherwise.
"When my father and my mother forsake me, then the Lord will take me up." (Psalms 27:10, KJV).
Psalm 27:10 has become one of my favorite verses since discovering it some years ago. No matter the relationship we have with our parents, God promises to take us up. The Lord gathers us, pulls us close. He nurtures, protects, heals, and loves us. Perhaps you've had a good relationship with your earthly father. Maybe you didn't. There are healing and hope in our relationships with the Lord. Press into Him and let Him love you as only He can.
Aretha Grant serves her local church as a bible teacher and elder. She loves writing and is the author of Overcomer: 25 Keys to Walking Victoriously. Aretha resides in Hagerstown, MD with her husband and two youngest children. You can read Aretha's blog at www.arethagrant.com.
---
Aretha Grant serves her local church as a bible teacher and elder. She loves writing and is the author of Overcomer: 25 Keys to Walking Victoriously. Aretha resides in Hagerstown, MD with her husband and two youngest children. You can read Aretha's blog at www.arethagrant.com.