When Passing the Offering Plate Brings Shame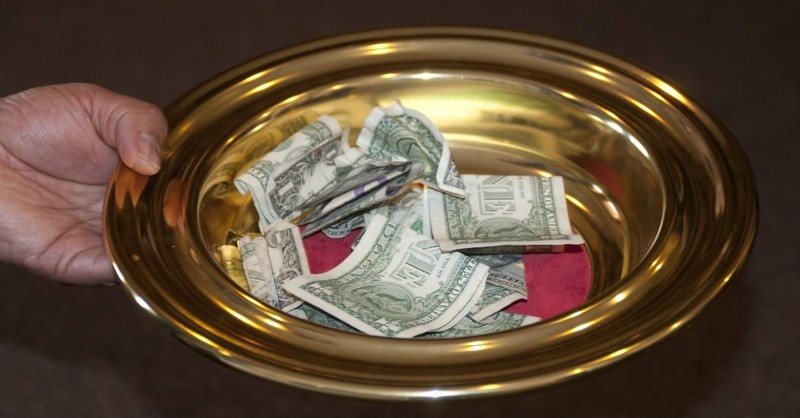 Many of us have memories, some as recent as last Sunday, of getting flustered at the sight of the offering plate, weaving its way in and out of church rows before heading down ours. And if we happened to be sitting far from where the plate began its journey across dozens of laps, we were glad, for we had time to drum up some sort of plan: Write a quick check? Drop in a twenty? Throw in some change? Make a mental note to give online? Or head to the nearest restroom?
But no matter our plan—or rather, lack of plan—we experienced shame. Especially if the pastor taught from 1 Corinthians 16:2: "On the first day of every week, each one of you should set aside a sum of money in keeping with his income."
Because so often we sit, no sum set aside, surrounded by a sea of givers. And we wonder how many fellow churchgoers are methodical, precise, ten-percent-of-gross-income tithers. Real tithers, we tell ourselves, The truest and most faithful of Christians. Or, like the widow from Mark 12:41-44, we wonder how many are giving everything they have. 
Then, when we're done wondering about everyone else's giving record, we often turn inward and shamefully assess our own. We might even think, Is everybody wondering about my giving record too?
Why does passing the offering plate bring shame?
Although online giving helps with the "anonymous" factor, most churches still pass the offering plate—a visual, for-all-to-see reminder that we are called to be a generous people. And when it seems we've fallen short of this calling, shame rises to the surface—a complex shame that bubbles up whenever a "give this much, in this way, at this time and place" standard isn't met. This could be a standard we've set for ourselves, a standard our parents, siblings, pastors, or neighbors from 30 years ago have set, or a standard we think God has set. 
It's no surprise we struggle to make sense of it all. Everyone seems to have an opinion about what goes into the offering plate. There are dozens of books, commentaries, and podcasts, each one spouting their own take. 
Some believe the Old Testament tithing laws required of the Israelites are still the giving standard for Christians today. Others believe, because we are under a new covenant in Christ, we are free to give generously in response to His love for us, regardless of the dollar amount. It turns out the enemy has no problem using both viewpoints to his shame-filled advantage.
How does the enemy do this?
Take the first viewpoint. If a person comes to the conclusion that 10 percent is the proper amount to give, but for whatever reason only puts six percent of her income into the offering plate, Satan is sure to taunt and accuse. He might even throw Scripture at her: "Seriously? Don't you realize you're robbing God? It's right there in Malachi 3:8: Will man rob God? Yet you are robbing me. But you say, 'How have we robbed you?' In your tithes and contributions." He might even suggest she owes God back-money!
Then comes the day she gives 10 percent. Maybe even a little extra to make-up for her chintzy six percent days. It's likely the shame she felt for not tithing will get replaced with some secret form of self-righteous pride now that she did tithe. And which is better, shame or pride? They are equally tragic, for they both take the focus off of God and onto self.
Or let's look at the person who believes Christians are not required to tithe. Rather, he feels they should give from the overflow of God's love, clinging to verses such as 1 Corinthians 9:7: "You must each decide in your heart how much to give. And don't give reluctantly or in response to pressure. 'For God loves a person who gives cheerfully.'" 
Then comes the day he doesn't give very cheerfully, and what he does give is given "reluctantly [and] in response to pressure." If only he could blame this change of attitude on losing his job. Maybe then his guilt wouldn't weigh so heavy. But reality is, he made some lousy decisions with his money, causing him to focus on his inadequacy instead of God's sufficiency.
Isn't that what the devil wants us to do? To look inward... and stay looking inward, rather than upward to God? Whether we self-loathe over our giving habits, or pat our own backs because of our giving habits, shame sneaks in and diminishes our vibrancy. That's what shame does: it shrinks us, takes our eyes off the greatness of Jesus, and lessons our effectiveness. 
What was meant to be sweet—the passing of the offering plate from hand to hand, from broken person to broken person, all to the glory of God and to the furtherance of the gospel—the enemy has a knack for turning sour.
What should we do with the shame that surrounds the offering plate?
Let's put our shame to work for us, not to strive harder and do better "next time," but to remind us of our need for a Savior. Even if we find ourselves tithing without neglecting "the more important matters of the law: justice, mercy, and faithfulness" (Matthew 23:23), we are powerless to do any of it on our own. Our ability to be generous in the first place is because Christ was first generous with us. It all starts with Him and is about Him.
So let's run to God, not away, when the offering plate makes us uncomfortable. Let's tell Him about our desire to give, and ask Him for wisdom regarding where, when, and what to give. Let's also tell Him about our days when we have no desire to give, and ask Him to make us more generous. Or about the days we are scared to give, and ask Him to make us fearless. 
If we've allowed a certain friend or pastor drag us down with legalism, let's hand it over to the Son who has set us free (John 8:36). If we struggle to rely on God's unmerited grace, let's choose to stand on it (Romans 5:2). If we find ourselves saying, "I am right with God because I tithe," let's ask forgiveness for thinking we can somehow add to what Jesus did on the cross, where He said, "It is finished" (John 19:30).
Lastly, let's thank Him for removing all of our shame, not just the kind that surrounds the offering plate, making it possible for us to "approach God's throne of grace with confidence, so that we may receive mercy and find grace to help us in our time of need" (Hebrews 4:16).
Molly Parker cherishes her role as contributor and editor for Anchored Press Devotional Planners and for Sacred Holidays Bible studies. When Molly's not French-braiding hair or scolding her basset hound, she's eating cake, baking a cake, or thinking about cake, which is surprising considering she's worked in the fitness industry 25 years. Molly lives in Southern California with her husband and three children.
Photo courtesy: ©Thinkstock/MARIAMARTAGIMENEZ