How We Draw Near to God and Experience His Promise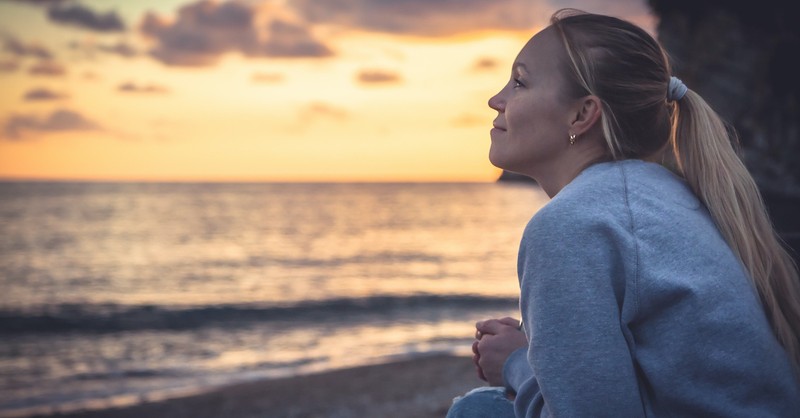 "Draw near to God, and he will draw near to you." James 4:8
James beckons us to draw near to God just as the priests in the Old Testament would draw near to God in the temple sanctuary. The priests would approach God in worship - with faith and fear.
When we draw near to God, the promises of God can become real in our lives. Peace, strength, hope, joy, love...will begin to characterize our living.
What Does it Mean to Draw Near to God?
We draw near to God through prayer and worship. When we come before him with a humble heart, in submission to His will, and with a desire to glorify Him as Lord over our lives, we are able to experience the closeness of God and all the blessings that follow.
"Let us draw near to God with a sincere heart and with the full assurance that faith brings, having our hearts sprinkled to cleanse us from a guilty conscience and having our bodies washed with pure water". In Hebrews 10:22, we are given an outline for how to draw near to God. We are called to draw near to God in worship—together—with others who love Christ. The basis for this call to worship is the sacrificial work of Christ, the Savior—we have confidence to enter the holy place by the blood of Jesus (v. 19), and His ongoing intercession as our great High Priest (v. 21). But how are we to draw near to God? The Scripture says, "let us draw near with a sincere heart in full assurance of faith, having our hearts sprinkled clean from an evil conscience and our bodies washed with pure water."
John Gills Commentary tells us this about drawing near: "This must be understood consistently with the perfection of God's immensity and omnipresence: the saints draw near to God when they present their bodies in his sanctuary; when they tread in his courts, and attend his ordinances...they draw near to him when they come to the throne of his grace, for grace and mercy to help them; when they draw near to him in prayer with true hearts, and lift them up with their hands to God; when in the exercise of faith and hope they enter within the vail, and come up even to his seat, and lay hold on him as their covenant God and Father; and he draws near to them by granting them his gracious presence, by communicating his love to them, by applying the blessings of his grace, by helping them in times of need and distress, and by protecting them from their enemies; the contrary to which is expressed by standing afar off from them. Now this is not to be understood as if men could first draw near to God, before he draws near to them; for as God first loves, so he first moves; he takes the first step, and, in conversion, turns and draws men to himself; though this does not respect first conversion, but after acts in consequence of it; nor is it to be considered as a condition of the grace and favor of God, in drawing near to his people, but is expressive of what is their duty, and an encouragement to it".
For God to be pleased with our worship, we must draw near to Him while meeting four conditions. As believers, we must meet the first two demands, but Christ has already satisfied the latter two. Let's look first at the requirements that we must meet.
1. Draw Near With a True Heart
We must first draw near "with a sincere heart." The word sincere means true or dependable.It is more than simple sincerity, though it includes this. Many religious people come to God in sincerity, but not in truth. Our God demands both. A true heart is every believer's responsibility when gathering together with other believers as a church family. Therefore, before we worship, we ought to make sure that we come to our local assembly with a genuine heart that has confronted our own hypocrisy and known sin. If conflict exists between another believer and us, we must take the initiative to make it right, even on the way to the corporate worship service (Matt. 5:23–24; Rom. 12:18).
A true heart is also undivided. The psalmist asked, "Who may ascend into the hill of the Lord? And who may stand in His holy place? He who has clean hands and a pure heart" (Ps. 24:3–4). First Chronicles 12:33 mentions 50,000 soldiers who drew up in battle array and helped David "with an undivided heart." A true heart is not divided between God and the world, but is wholly dedicated to Him alone. In repentance, David prayed, "Behold, You desire truth in the innermost being" (Ps. 51:6). True worship begins with truth in the inner man.
2. Draw Near With Confident Faith
The second condition to acceptable worship is coming to God "in full assurance of faith" (Heb. 10:22). The first readers of the book of Hebrews were lacking assurance because of their waning faith. Consequently, growth was needed to increase the assurance of their fellowship with God. In a later chapter we read, "without faith it is impossible to please Him, for he who comes to God must believe that He is and that He is a rewarder of those who seek Him" (11:6). To worship in faith is to come with a seeking heart that rests in the merit of Christ alone.
Drawing near to God in worship contains conditions that every believer is responsible for meeting. There are two more conditions; however, but the word "having" (Heb. 10:22) indicates that they have already been met by the atoning work of Jesus Christ.
3. Draw Near With a Clean Conscience
We can only come to God in sincerity of faith if our hearts have been "sprinkled clean" (10:22). The word "sprinkle" speaks of the purging of our hearts from an evil conscience. It is in the perfect tense in the Greek, which indicates a completed state or condition; in other words, guilt is gone. In Christ, the believer's conscience has already been cleansed of guilt. When a sinner comes to Jesus and receives salvation, guilt is removed.
Even if feelings of guilt remain, the actual legal guilt is gone because, in the body of His Son, God judged the sin that caused our guilt. "Therefore there is now no condemnation for those who are in Christ Jesus" (Rom. 8:1). Sometimes we as believers still experience guilty feelings over our past because we do not fully realize the extent of our cleansing. Therefore, we must continually speak the truth of the gospel to ourselves and to one another, so that we will learn to live in the freedom that already belongs to us in Christ. "He has not dealt with us according to our sins, nor rewarded us according to our iniquities" (Ps. 103:10).
4. Draw Near With a Clean Body
The word "washed" (10:22) is also in the perfect tense, indicating that it too is a requirement that has already been met. This condition, as well as the previous one, speaks of the Levitical ceremonies that prepared priests for service and both are symbolic of the process whereby they were sprinkled with the sacrificial blood and thoroughly washed before ministering to others. Whereas the priests had to repeat their cleansing annually on the Day of Atonement, believers now have permanent and direct access to God through Christ because we have been thoroughly cleansed by Him.
Jesus said to Peter, "He who has bathed needs only to wash his feet, but is completely clean" (John 13:10). The atoning work of Christ is so complete that it continues to cleanse us. "If we say that we have fellowship with Him and yet walk in the darkness, we lie and do not practice the truth; but if we walk in the light as He Himself is in the light, we have fellowship with one another, and the blood of Jesus His Son cleanses us from all sin" (1 John 1:6–7). There is power in the blood of the Lamb of God. There is no sin that God will not wash away when we come to Him on His terms. To come to Him by faith means to relinquish all trust in self, realizing that there is no other hope for forgiveness. This is what God requires. "Now to the one who works, his wage is not credited as a favor, but as what is due. But to the one who does not work, but believes in Him who justifies the ungodly, his faith is credited as righteousness" (Rom. 4:4–5). When this empty-handed faith exists, complete cleansing becomes reality.
Therefore, as believers, we must remind ourselves, and encourage one another, with an understanding of the fullness of our forgiveness in Christ. Without it, we cannot truly approach God in truth, sincerity, and confidence, and fully participate in the corporate worship of the church.
A Prayer to Draw Near to God
Father, Thank You for giving us Your Word so that we can learn about You. Thank You that You are loving, faithful, constant, and all-powerful. Thank You that you make all things work together for our good, even when we don't make the best choices. Thank You for Jesus, who justifies us and makes it possible for us to have a relationship with You. Thank You for the Holy Spirit who intercedes for us. Thank You for letting us be part of the body of Christ, sharing our burdens together to Your glory. Please help us to draw closer to You every day. In Jesus' Holy Name, Amen.
Paul Tautges serves as senior pastor at Cornerstone Community Church in Mayfield Heights, Ohio, having previously pastored for 22 years in Sheboygan, Wisconsin. Paul has authored eight books including Counseling One Another, Brass Heavens, and Comfort the Grieving, and contributed chapters to two volumes produced by the Biblical Counseling Coalition. He is also the series editor of the LifeLine Mini-books from Shepherd Press. Paul and his wife Karen are the parents of ten children (three married), and have two grandchildren. Paul enjoys writing as a means of encouraging spiritual growth among believers and, therefore, blogs regularly at Counseling One Another.