The Biggest Differences in Sermons and Delivery in the Past 20 Years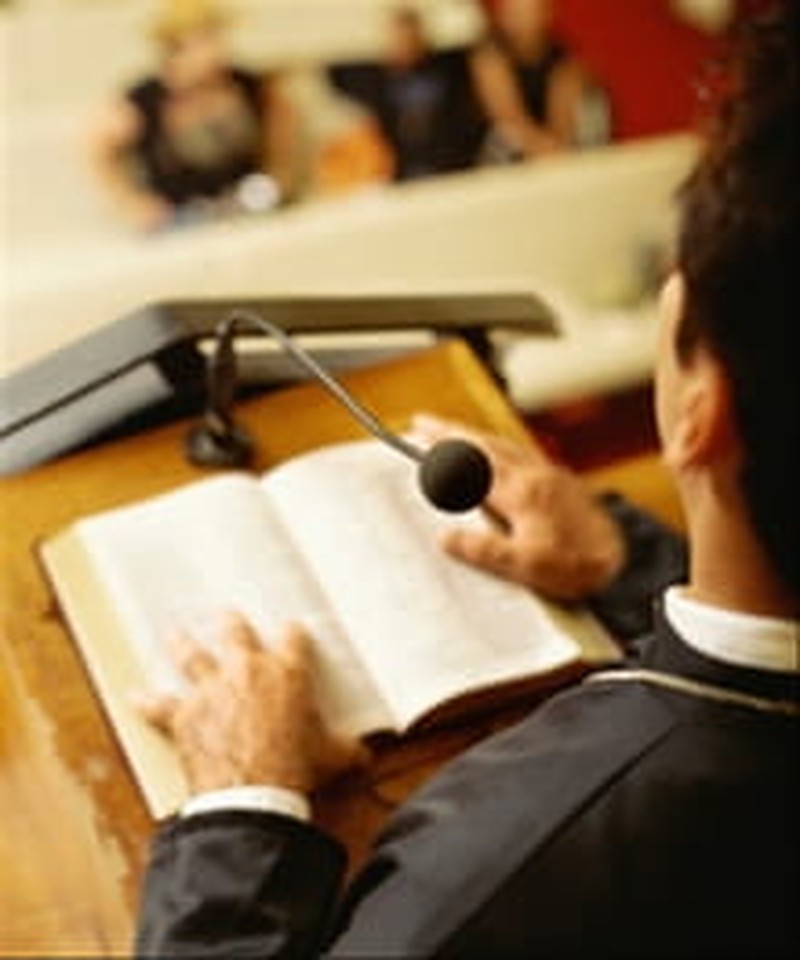 I'm betting you don't preach like Jesus.
Jesus stood up to read His text, then sat down to preach (Luke 4:16,20).
When I preach, I stand up to read and remain standing for the sermon.
Some say that in New Testament days, the congregation stood while the preacher sat.
Customs change.
Sermons change and how sermons are delivered is constantly evolving.
The pulpit, we're told, which had been around since the days of Greek orators, came into its own during the Reformation when leaders wanted to establish the centrality of preaching over the serving of the Eucharist. So, reformers tore out the altars and set up the pulpits.
These days, pulpits are harder and harder to find. No wonder preachers wear sneakers: instead of stationing themselves behind the 'sacred desk," most log a mile or more walking around the platform as they preach.
Recently, while in another state visiting relatives, I worshiped with a nearby church that was pastorless. The interim minister, now almost 80 years old, was well known as a gracious gentleman, a godly leader, and an effective preacher.
His sermon that morning lived up to the billing: it was biblical, well-developed, effectively presented, and well-received by the congregation made up primarily of longtime members.
The sermon was straight out of 1959.
The preacher was immaculately turned out in a sharp suit and expensive tie, he stood behind an ornate pulpit, he wore no microphone at all, and he never strayed. There were no screens, no choruses, no drama, nothing surprising. The sermon had no contemporary illustrations; every allusion was to biblical stories and texts; there was nothing personal or current in its content or presentation.
In fact, that sermon could be moved to 1959 (the year I was baptized as a college student and began paying attention to sermons) without a single tweak.
I told my wife later, "It was a great sermon except for one thing: it never touched the ground."
That is, it did not connect with anyone other than mature believers who are already highly motivated to appreciate Scripture and dig into its riches.
Sermons and sermon delivery have always been fluid, changing and adapting to trends and needs, to doctrinal ebbs and denominational flows.
As one who began preaching in 1961 and pastoring the first of six churches the following year-and who is still at it, let me hasten to add-I have seen many changes in pulpit ministry. After polling a number of friends of all ages and experience, here are five visible changes in sermons and sermon delivery we have observed over the past two decades.
1) MORE VISUAL
On the giant screens behind the choir -- which, following the sermon, has gone down into the congregation, another innovation from the last 20 years -- the audience can see points from the pastor's message. Often his scripture is projected on the screen, and frequently the sermon is introduced by a short film clip. Some of these clips are professionally produced for this purpose, while others may be excerpts from a movie and a television show.
The pastor may interrupt his sermon to present an audience member who walks up and performs a monologue or shares an experience. Recently, in our church, the pastor brought up two deacons to relate in a conversation how one led the other to the Lord some years back.
Posters and banners around the worship center carry out the theme of today's sermon or the title of the sermon series.
2) MORE CASUAL
Fifteen years ago, I introduced a rare phenomenon into the church I was serving. During August, I would wear no tie at all..on Sunday nights. The rest of the year, every man in a leadership position in our church was fully decked out in suit and tie every Sunday.
These days, in the same church and with a congregation numbering several hundred, a half-dozen men may wear suits and ties. But the pastor and staff wear comfortable casual clothes -- khakis, pullovers, slip-ons and even sneakers. And the congregation is fine by that.
Our entire culture is becoming more casual.
Here in New Orleans, fewer and fewer restaurants insist on diners dressing up.
The local churches of our denomination where every man wears suit-and-tie I can count on one hand.
3) MORE PERSONAL
There was a time when pastors apologetically introduced a personal reference into the sermon. I can hear them now: "Please pardon this personal reference."
No more.
The fact is the collective ears of the congregation perk up when the preacher begins a story, particularly one that happened to him. Hearers who had been drifting off come awake when they hear, "The other day I walked out of Wal-mart and..." They know this will be something they can identify with.
Formerly, stories were told to illustrate points of the message. These days, stories help to define the message, connect the preacher with his audience, redirect listeners, introduce new insights, and a hundred other benefits.
In modern preaching, stories often carry the freight.
My pastor, Mike Miller, says, "Terms like transparency, confessional, and dialogical are in vogue. Preaching is not as much a man behind a pulpit speaking 'to' people as a man talking 'with' people." He says, "The structure is more inductive than deductive. Pastors share their own spiritual struggles, showing themselves as fellow pilgrims on the journey."
4) MORE EXPOSITORY
My friends disagree. Some point out that sermons are getting shorter -- 20 to 25 minutes -- while others insist that 45 minutes to an hour has become the norm.
Some say preaching has become more topical and that expository preaching is a thing of yesteryear. The next email states the opposite.
I suppose it depends on who you've been hearing.
Pastor Mike said, "When I was in seminary (early 1990s), the preachers held in high esteem were Adrian Rogers, Charles Stanley, Jerry Vines, and W.A. Criswell. These days, the trend has moved to guys like Rick Warren, Matt Chandler, Andy Stanley, Mark Driscoll, John Piper, and Tim Keller."
Mike adds, "What's interesting is that with the exception of one or two, they are all preaching theologically rich, lengthy, expository sermons."
5) MORE FLEXIBLE AND FLUID
Randy Hales said, "For me, [preaching has gone from] a formal stylized three points and a poem to more story-telling and using props and other attention retaining techniques."
"At the same time," he says, "I see a strong emphasis toward a recommitment to exegetical preaching as well, so go figure!"
Go figure indeed.
Don Mabry points out that very few pastors any more keep files of illustrative materials and stories. (I suspect they do, but not in those green metal cabinets that used to dominate church offices.)
Several friends have colleagues in the ministry who do all their research online, and some preach entire messages they find there. (That was bound to happen. Twenty years ago, lazy preachers were lifting sermons from books, so it only makes sense that they would find them online today.)
A few pastors I know are involving their staffs in sermon planning. The different perspectives help the preacher to see what he might have overlooked and, from all reports, end up making the messages stronger. In the old days, sermon-building was as lonely a craft as was the preaching of them.
Have we arrived at the Promised Land in the building and preaching of sermons?
Not in this lifetime.
So long as new generations come onto the scene with their unique lingo and slang, their technical inventions and gadgets, their peculiar way of dressing and acting and buying and learning, the task of reaching them with the gospel of Jesus Christ will be to find the language and the methodologies to accomplish that.
I told Pastor Mike, "Twenty years from now, you will be writing the article on how preaching has evolved since the ancient days of 2012. I can't wait to read it!"
Dr. Joe McKeever is a preacher, cartoonist, and the Director of Missions for the Baptist Association of Greater New Orleans. Visit him at joemckeever.com/mt. Used with permission.
Publication date: March 20, 2012