7 Crucial Reasons We Need to Remember God's Word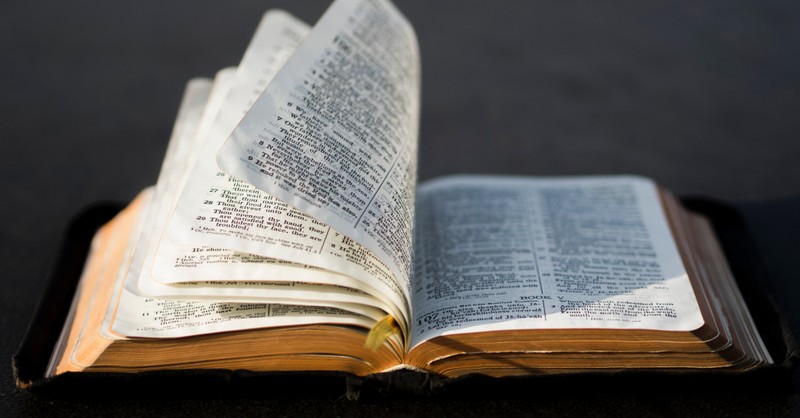 Remembering the truth found in the Bible can be a challenge, but when we take time to know the Scriptures, with the help of the Holy Spirit, we are enabled to remember it throughout our lives. This can help us in the decisions we make and sustain us through trials. We also see God's goodness, faithfulness and how He remembers His people from beginning to end throughout its pages. It's where we get to know the Lord and find out more of who we are in relation to Him. The Lord speaks to us through the Bible - it is living and active, discerning the thoughts and intentions of the heart (Hebrews 4:12).
If we forget to spend time in God's Word, we are missing out on a deepening relationship with Jesus, we can lose our confidence in our identity as children of God and our understanding of the purpose of our lives is skewed. Here are a few reasons to encourage us to know and remember God's Word:
1. It Is How God Speaks to Us
"All Scripture is breathed out by God and profitable for teaching, for reproof, for correction, and for training in righteousness, that the man of God may be complete, equipped for every good work" (2 Timothy 3:16-17).
We need to remind ourselves to spend time reading the Bible because it is God's Word for us today. It is where we can be encouraged, directed and challenged as we follow Jesus and it helps us to abide in Him. The Word of God endures forever (1 Peter 1:25), it is at work in the hearts of believers (1 Thessalonians 2:13), and it is the sword of the Spirit (Ephesians 6:17).
If we are to abide in Jesus, obey His words in our daily lives and overcome the enemy by the power of the Holy Spirit, we need to be rooted and grounded in the truth of God as revealed in the Bible.
2. To Glorify God
"Remember the former things of old; for I am God, and there is no other; I am God, and there is none like me…" (Isaiah 46:9).
As we come to read and study the Bible, we are able to see how the Lord has been faithful to His promises and how all things come together in Him. There are no other gods that can be honored or praised because there is only one God who has made a way for sinful humanity to be in relationship with Him. This is through the blood of Jesus Christ who died on a cross for the sin of the world.
The God we read of in the Bible is worthy of all glory, honor and praise. He is the one who creates and sustains life. We can know Him, be in relationship with Him and worship should be directed to Him alone: "Worthy are you, our Lord and God, to receive glory and honor and power, for you created all things, and by your will they existed and were created" (Revelation 4:11).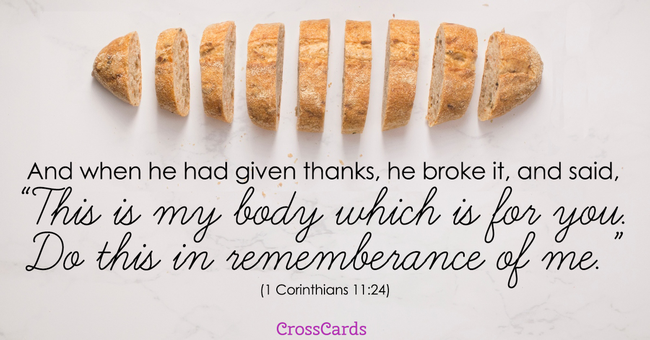 Photo credit: Bethany Pyle/Crosscards.com
3. Jesus Asks Us to Remember Him
"And when he had given thanks, he broke it, and said, 'This is my body which is for you. Do this in remembrance of me"' (1 Corinthians 11:24).
As we partake in the Lord's Supper by taking bread and wine, we are actively remembering and obeying what Jesus had asked of His disciples. The broken bread is Christ's body that was broken for us. The wine is a reminder that it was His blood that was given for us and purchased our freedom from sin and death. We take bread and wine to remember all that it cost Jesus and that He willingly died on the cross for our sins.
4. Memories Can Help Us to See and Remember God at Work
"I remember the days of old; I meditate on all that you have done; I ponder the work of your hands" (Psalm 143:5).
Throughout the Bible, we see God's people reflecting and recalling the wondrous deeds of the Lord. Moses told the Israelites "watch yourselves closely so that you do not forget the things your eyes have seen or let them fade from your heart as long as you live" and to "teach them to your children and to their children after them" (Deuteronomy 4:9). There is a need to be careful not to forget the truth of God and be intentional in remembering and passing on that truth to future generations.
The Psalms were written to be sung and music is a great way to remember. In Psalm 111 there is praise to the Lord who "has caused his wonders to be remembered" through his works, deeds and wonders (v. 4). The world is a canvas painted by an eternal Artist and "since the creation of the world God's invisible qualities - his eternal power and divine nature - have been clearly seen, being understood from what has been made, so that people are without excuse" (Romans 1:20). When we gaze at rolling hills, towering peaks and stretching canyons, we may remember how we felt as we admire the view. The Lord has created and shaped it all and it all points to who He is. When we are amazed at an aspect of creation, we are looking at a work of art from the Creator Himself.
As Christians, we are on a journey to become more like Jesus as the Holy Spirit works in our lives. Many of us will share our testimony of how we became a Christian and tell others how we have seen God at work in our experiences and in ourselves. There are times when it can be really hard to follow Jesus, but in those times, we have our memories of God's grace and power in our lives to remind us that He is good. We can draw upon those times to help us remember Almighty God when we are feeling fragile and weak in our faith.
5. The Lord Remembers Us
"Can a woman forget her nursing child, that she should have no compassion on the son of her womb? Even these may forget, yet I will not forget you. Behold, I have engraved you on the palms of my hands; your walls are continually before me" (Isaiah 49:15-16).
God promised Noah that He would not flood the earth again. He remembered His promise to Abraham and Sarah of bringing numerous offspring through them. In Psalm 105:8 it says "He remembers his 'covenant forever, the promise he made, for a thousand generations." When God destroyed Sodom and Gomorrah, He remembered Abraham and protected Lot from being destroyed (Genesis 19:29). God remembered Rachel and opened her womb (Genesis 30:22). The Lord also remembered Hannah (1 Samuel 1:19). We are not forgotten by God. He cannot forget us. He is faithful to keep His promises and He is a God who sees us (Genesis 16:13).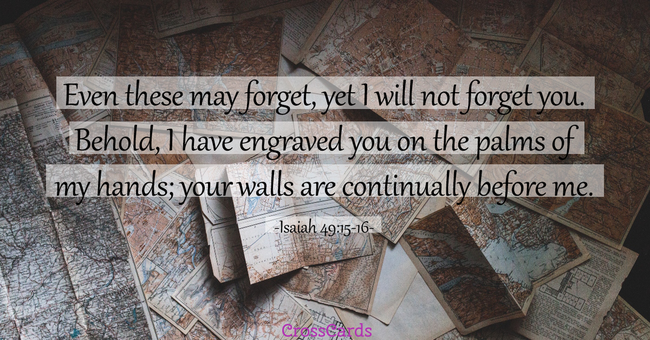 Photo credit: Bethany Pyle/Crosscards.com
6. The Holy Spirit Helps Us to Remember
"But the Helper, the Holy Spirit, whom the Father will send in my name, he will teach you all things and bring to your remembrance all that I have said to you" (John 14:26).
The Spirit helps us to recall all of the truth found in God's Word. He lives in believers and teaches and brings them to remember the words of Jesus. The minds of Christians are transformed as He works within their lives, leading them into all truth as they follow Jesus: "Do not conform to the pattern of this world, but be transformed by the renewing of your mind. Then you will be able to test and approve what God's will is — his good, pleasing and perfect will" (Romans 12:2).
Jesus used the Scriptures when He was tempted in the wilderness. The Son of God knew Scripture well and it was a weapon to withstand the tactics of the enemy. The sword of the Spirit is the word of God (Ephesians 4:17). We are engaged in spiritual warfare and the Holy Spirit brings to remembrance words of life and truth that can take down the attacks of the evil one.
7. Navigating Life's Decisions
"Your word is a lamp for my feet, a light on my path" (Psalm 119:105).
Big and small decisions have to be made in our lives and the Bible gives us the wisdom to make right choices. The more we make the decision to be in the Word of God, the more our minds will be renewed, which will prepare us for the bigger decisions that come our way. When we come to know Jesus by spending time with Him, we come to know His voice. Jesus said "My sheep listen to my voice; I know them, and they follow me" (John 10:27).
Photo credit: Unsplash/Aaron Burden
---
Ruth Clemence is a wife, mom, writer and Premier Digital award-winning blogger based in South West England. Read more at: ruthclemence.com and follow her on Twitter: @ruth_the_writer.
Ruth Clemence is a wife, mom, writer and award-winning blogger based in Cardiff, Wales. Read more at: ruthclemence.com and follow her on Twitter: @ruth_the_writer.