Encourage Your Church to Pray for Persecuted Christians
Janet Chismar

Senior Editor, News & Culture

Published

Nov 10, 2005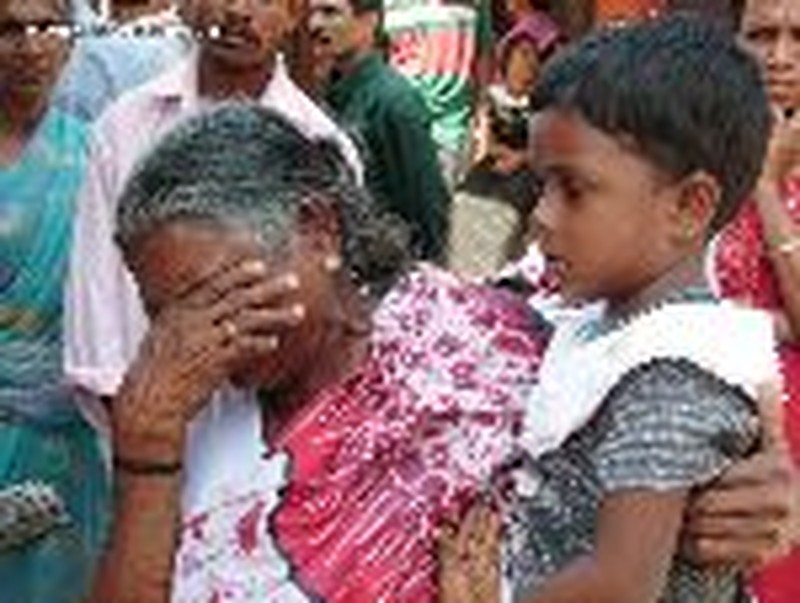 With each new report, the evidence is mounting: Christians around the world – and even in our backyards – are being persecuted for their faith. But, according to a Christian Freedom International poll, although most Americans know about persecution, they either believe they don't have a personal responsibility to help, or they don't know how.
For those who do wish to help their persecuted brothers and sisters, prayer is the strongest weapon. This year, Christians in more than 100 countries will join in prayer to strengthen those who are persecuted for their faith and to comfort those who are overcoming the great losses wrought by the Southeast Asian tsunami, Hurricanes Katrina and Rita, and the 7.6-magnitude earthquake in South Asia.

"In the context of His own life, Jesus demonstrated the tremendous importance of prayer," said Johan Candelin, global coordinator for the International Day of Prayer (IDOP) and director of the World Evangelical Alliance's Commission for Religious Freedom. "We therefore want to transform our longings into prayer and ask God to transform the world through the prayers of his people."
The 2005 IDOP week begins on Sunday, Nov. 13 and ends on Nov. 20.  While churches are encouraged to pray throughout the week, they are specifically urged to take part in the unified act of advocacy through prayer on either Sunday. 
According to organizers of IDOP, more than 200 million men, women and children in more than 60 countries face discrimination, persecution and even death for their Christian faith. 

Special Focus
Open Doors USA is focusing on Sri Lanka, India and Indonesia during IDOP. Their website includes a sermon outline and other helpful material. The following is a synopsis of these three countries and some of the prayer needs.

Sri Lanka – A long stretch of Sri Lanka's coast was devastated by the killer tsunami waves last December, leaving almost 40,000 dead and 2.5 million people displaced. Among the displaced were 1,060 children who lost both parents and 3,414 children who lost one parent. It is the worst human disaster in the history of Sri Lanka, a large island of 20 million located off the southeast coast of India.
Persecution of Christians has increased in Sri Lanka over the last several years. Statistics from the World Evangelical Alliance show that from January 2003 to March 2004 more than 140 anti-Christian incidents were recorded. These incidents ranged from mild threats to death warnings, arson and the destruction of church buildings. There are currently efforts by Buddhist monks to pass an amendment to the Constitution that would make Buddhism the state religion and enact anti-conversion laws.
Indonesia – Some Muslim leaders want to implement nationwide Shariah (Islamic) Law. Congresses held in Jakarta in 2004 and Sulawesi in March 2005 recommended that Shariah principles be introduced through a revision of Indonesia's criminal law. Meanwhile, provincial councils are including more Shariah principles in local bylaws. In some provinces, governors have restricted freedom of worship for Christians.
In September, Indonesian judges sentenced three women to three years in prison for allowing Muslim children to attend a Christian education  program. Rebekka Zakaria, Eti Pangesti and Ratna Bangun remain in jail – under brutal conditions – awaiting appeal. However, Rebekka is leading a Sunday worship service in the prison courtyard.

India – There has been an increase in the severity of persecution in India this year. According to Compass Direct, Hindu fundamentalists attacked the Gospel Echoing Missionary Society (GEMS) compound twice in the last three months, leaving several Christians severely injured.
Just as alarming is the efforts of Hindu leaders to enact a comprehensive law to ban religious conversions in India as part of a new campaign to stem the "increasing" number of conversions from Hinduism to Christianity.
India has 25 million Christians, who represent 2.4 percent of the population. India is 83 percent Hindu and 11 percent Muslim. Open Doors has trained hundreds of pastors in India over the past several years.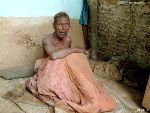 Gospel for Asia Affected

While conditions have been improving in recent weeks, Christians have been the targets of renewed bloodshed in the Indian state of Assam, and at least three members of Gospel for Asia-affiliated churches have been killed in the last two months, ministry officials said.
While the level of violence has declined for now, GFA leaders in the northeastern Indian state are praying that the continued skirmishes will not lead to all-out war. "We still hear reports daily of a village being burned or raided, or a few people being attacked here and there," said Pastor Benjamin, whose name has been changed for safety reasons. "Still the situation is much better than before because of all the prayers of the Lord's people."
Despite the threat of violence and unstable situation, missionaries with Gospel for Asia continue the work God has called them to do. At last report, nearly 300 GFA workers have planted more than 100 Believers Churches in Assam. Many of the new church members are actually former insurgents who have laid down their arms to follow God.
"We as a Body of Christ of Christ can stand in the gap and pray and believe for the peace of God to come to the land of Assam," said Gospel for Asia founder and President Dr. K.P. Yohannan.
Giving Hope
Following an alarming surge of anti-Christian violence and organized harassment of minority groups in India, Archbishop M.A. Thomas, head of the Emmanuel Fellowship churches, has called for worldwide prayer for both the victims and the terrorists.
"Our best response to the new violence is a spiritual one," says the Bishop who founded the Hopegivers International humanitarian charity to help the homeless poor, sick and needy of India.
A calculated terror campaign, led by the militant anti-Christian elements, has led to hundreds of new human rights violations and violence against innocent civilians. Decisive police and government action has often been slow against the five Hindu nationalist groups that are seeking to use terror to re-impose ancient Hindu caste restrictions and culture on non-Christians through a campaign known as Hindutva.
During August, in another desperate attempt to stem the enormous momentum Buddhist and Christian conversion movements have generated, the Vishwa Hindu Parishad (VHP) called for a law to ban all religious conversions in India.
"The situation is far too severe to be ignored any longer," comments Hopegivers President Samuel Thomas. "Religious persecution is never an acceptable practice and is even more egregious when it is done to peace-loving, community-building groups."
Hindu nationalists fear that Christianity will upend their age-old power structure in which the subordinate Dalit castes or "untouchables" were kept as a permanent underclass. They want to continue the arbitrary system based on birth and religious practice that ensures that everyone in classes above the Dalits are entitled to better jobs, more money, food, power and simply better lives in general.
They are especially afraid of the Christian Dalits who are coming to realize that they are just as valuable as anyone else in society and now aspire to freedom of choice in education and vocation.
On Sept. 5, over 250 homes of Dalits in Gurgaon, Hariyana were burned in a terrorist attack. "The condition of the Dalits and their persecution is a very serious human rights violation the Dalit people need our special prayers," M.A. Thomas said.
In His Name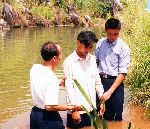 Court Wood, director of In Jesus' Name Ministries, is using IDOP to raise awareness about Christian persecution in the Muslim, Hindu, Buddhist and Communist nations.

According to Wood, "The Western Church has been painfully slow to realize the extent of harm done to Christians and other innocent people throughout the ages-and continuing today-especially in the name of religion. One of the purposes of In Jesus' Name Ministries is to educate the Church about what is happening and how we can help."
In this effort, Court is distributing free copies of the book, Slavery, Terrorism & Islam: The Historical Roots And Contemporary Threat by Peter Hammond. This book reveals the historic and appalling truth about the Islamic slave trade, which has lasted fourteen centuries and in some areas, is still continuing to this day. It also delves into the roots of Islam, the doctrine of jihad, the oppression of women in Islam, and a comparison between the Bible and the Koran.
Court Wood will be in Myanmar this November, and India in January, aiding the persecuted church and building relationships between those believers and their brethren in America. He is an expert on the Dalits (untouchables of India) and their growing response to the Gospel.
Wood points out that American Christians are not immune from the danger. "We need to become connected with the global community of our Christian brothers and sisters, helping them in their time of need, knowing that persecution is increasing in America, and during our time of need, they will pray for and encourage us."
IDOP, which began in 1996 by the World Evangelical Fellowship – now known as the World Evangelical Alliance (WEA), has gained tremendous support from countries and church groups around the world.

What began as a core group of about 7,000 churches, the IDOP has grown to be the largest prayer day event of its kind in the world. Last year, an estimated 200,000 churches experienced the spirit of unity by taking part in this Day of Prayer.
"It is a great blessing for everyone to pray together on the same day, for it helps remind us how big the Church of Jesus Christ is and how many brothers and sisters we have," said WEA's Candelin.  "The least we can do is the most we can do: pray!"
---
For more information on the International Day of Prayer, visit: www.idop.org or www.worldevangelicalalliance.com

You can order IDOP materials or learn more about Open Doors by going to www.odusa.org/IDOPinfo or calling 1-888-5-BIBLE-5. Click here to access the sermon outline.
For more information on Hopegivers International or to support one of their humanitarian efforts, go to www.hopegivers.com or call 866-373-4673.

See www.InJesusName.org for more information and to get a copy of the book, Slavery, Terrorism & Islam: The Historical Roots And Contemporary Threat.