4 Fears Pastors' Wives Face and How to Overcome Them with Faith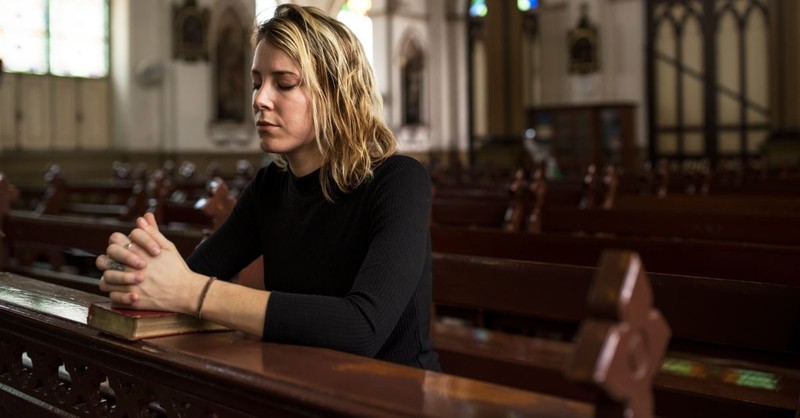 I've heard it said many times, in one version or another, that being a pastor's wife is "an incredible privilege" or "the privilege to stand alongside your husband and support him in this unique calling."
Why didn't I feel this way? Why was one of the greatest challenges in my marriage my husband's ministry? I love that my husband is a pastor, and I can see the evidence of God's calling on his life every day. So why did I struggle so deeply with how his calling impacted my life?
If I'm being honest, I was filled with a lot of fear about being a pastor's wife. If you are a pastor's wife, or love someone who is, I hope you can relate to my fears and find comfort in our shared truth. Here are four fears you may struggle with, as I did, along with encouragement to exchange those fears for faith.
1. Replace the fear of not belonging with the call to build relationships.
The transition into being a pastor's wife was very hard for me. When we got engaged, I left my church that I had attended since I was 12 years old—a church where I was known, loved, and adored. A church filled with countless people who had left everlasting impressions on my faith. They had been with me through some of the darkest hours of my life and had seen me grow into who I am today.
I was uprooted and placed into a new church that didn't feel like home. I was supposed to love this new family that didn't feel like family at all.
This hurt began to warp my perception of this new church, and my heart grew cold. All I could see was a place that continued to pull my husband away from me. A place where his life, time, energy, and efforts were consumed—where the calendar was filled with meetings, events, and other church activities.
I had a hard time seeing where my place was in a congregation that I didn't know. I wanted so desperately for this new place to be everything I loved about church. All of my memories of church were filled with comfort, acceptance, care, and love.
I was ashamed of how I felt and questioned my ability to love others who weren't in my comfort zone. I sensed that I was equally outside theirs.
Even in the midst of feeling like an outsider I knew I couldn't remain there. I had to make every effort to connect and knit myself into my new family.
I pushed forward and prayed for Christ to give me the strength to attend events and be involved in ministry in spite of my fear.
It hasn't been easy, but God has truly allowed me to create deep friendships that would have never happened if I stayed at home and only showed up on Sunday mornings.
2. Replace the fear that you weren't meant to be a pastor's wife with a willingness to embrace every calling God has given you.
I had hoped this struggle was partially related to our dating stage of life. But my heart only grew sulkier after marriage. I felt more entitled now that I was his wife, so I began to dig my heels in. I let my heart continue to grow harder still.
It's as if I were Pharaoh: I couldn't see past my desire to have things the way I wanted them.
It didn't take long for me to see that my lack of subtlety in how I felt was beginning to damage our marriage. Every commitment related to my husband's job filled me with anger.
My boisterous complaints filled the air like a heavy fog.
I prayed throughout our dating relationship and into our marriage for my attitude and my heart, but I just couldn't shake it. Let's just say I didn't deal with the transition to a new church and the unique demands of being married to a pastor well.
I wrestled with the uncertainty of whether or not I was meant for this. I had seen other wives talk so highly about their calling to be a pastor's wife and I couldn't relate. I just wasn't made for this and honestly, I didn't like it.
I'm not sure if anyone is really made to be a pastor's wife, though some might adapt to this new lifestyle better than others.
One thing I know is true: God knew I would marry a pastor and that He would walk with me through it.
My prayer, day and night, became for me to embrace being married to a pastor and all that comes with it. This is where God has placed me and I don't want to live like Jonah.
I want to be faithful here because it is where God has placed me.
3. Replace the fear of losing who you are with a renewed sense of identity in Jesus.
After a series of events (and really after three years of this), the pressure built. It was devastating for me when my husband expressed how unsupportive I was being. How could I be working against him? I was just so focused on the way I wanted our lives to be.
But I didn't realize that my grip on how things should be resulted in a lack of support for my husband.
Talk about a blow to the heart. Pastor's wife or not, this was not the kind of wife I wanted to be. I feared that the new expectations this role required of me would change who I was.
But in the end, my very resistance was actually changing who I was—into someone I didn't want to be. I felt like I was losing my identity.
I needed to give myself grace.
This was a massive life transition for me, and change isn't always easy. Instead of clutching the stance of being who I am no matter what, I needed to surrender my heart, expectations, and desires to Christ.
Everything we endure in life has a way of changing us in some way. Being married to a pastor will probably change me, but it doesn't mean it is at the expense of who I am. God is using this to grow me and shape me into the person He designed me to be.
4. Replace the fear of losing your own calling with the expectation that God is making your calling even greater.
I have always been very passionate about ministry. I knew right out of high school that I wanted to invest my entire life in ministry. But I wanted my own ministry, not one I received by default through my husband.
Yes, the ministry of a pastor's wife is important, and I would never want to portray it as anything less than that.
My battle was the fear of losing my own calling because I was married to a pastor.
In a moment of clarity, I saw God's miraculous and sanctifying work in my heart. I was literally on the floor crying and pleading with God to do a desperately needed work in my life. I knew this struggle within me was driving a huge wedge in our marriage. It would end up leading us down a road of turmoil where I truly didn't want to go.
God's grace and loving desire to grow me have transformed my heart and perspective. We are both sorting through our calling as a family into ministry and learning how to balance the many moving pieces.
We have most definitely not figured that out yet, but God had to do this work in me before we could even begin moving forward.
God continues to show me time after time, in all facets of my life, that I can trust Him. I can trust Him with the major things of life, as well as the little things—even the trivial things.
I don't want a season of change to sweep me away. Instead, I want to invite change to allow me to be like a tree planted by the water where my roots are buried deep into Christ and His faithfulness.
Even if life catches me by surprise and I don't respond the way I thought I would, I can trust that Christ is in control.
I am so thankful that God never leaves me the way He found me.
---
Tamara Chamberlain and her husband Dale are authors and speakers who are passionate about loving and serving Jesus together. They love having conversations and creating community around the abundant life that Jesus promised us. You can connect with Dale and Tamara at herandhymn.com.
Photo Credit: GettyImages/rawpixel