How Churches Can Address the National Issue of Fatherlessness
Quick quiz question: What's the second largest city in Michigan?
It's Grand Rapids, with a population of 200,000.
Located on the western side of the state, 30 miles from Lake Michigan, Grand Rapids has a booming economy but the same problems that other U.S. cities have: chronic poverty, substandard public schools, lack of affordable housing, racism, crime, and gang violence.
And fatherlessness.
Filling the father void is a national issue.
"Fatherlessness is one of our top national social issues," says Joel Shaffer, who lives in Grand Rapids. "Kids growing up without a father are four times more likely to live in poverty, nine times more likely to be raped or sexually abused, two times more likely to commit suicide, 20 times more likely to become incarcerated, and two times more likely to drop out of high school. Girls without a dad are seven times more likely to become pregnant as a teen."
Contrary to what many people believe, the cause of fatherlessness is not deadbeat dads. "The overwhelming majority of young fathers in our urban context will do just about anything to be involved in the lives of their children," Joel says. "That's because many of today's dads grew up without a father at home. Young dads today realize how negatively they were affected by fatherlessness, and they want to do all they can not to repeat the same mistake."
But many urban youth still grow up without a dad at home. For over 20 years, Joel, his wife Sherilyn, and others have been working to fill the father void in Grand Rapids.
How does a church initiate urban transformation? One person at a time.
"Right after we were married, Sherilyn and I saw the impact of fatherlessness in our neighborhood," says Joel.
The couple responded by starting a youth enrichment program at a local elementary school and a sports program at a local church. These programs enabled the couple to connect with and form friendships with many of the youth, with friendships leading to discipleship and mentoring opportunities.
"The students, and their parents, became family to us, and vice versa," Joel recalls.
After eight years, the parent organization for the Shaffers' youth ministry programs decided to focus only on the homeless population of Grand Rapids. Wanting to stay focused on fatherless youth, Joel formed Urban Transformation Ministries (UTM) in 2004. He has been running the non-profit ministry ever since.
Here are the four goals of Urban Transformation Ministry (UTM):
Fill the "daddy gap" by having UTM staff members and volunteers form mentoring relationships with fatherless youth.
Teach young men and fathers the life skills they need to break the fatherless cycle, through a two-year discipleship and leadership program called ManUP.
Create social capital for fatherless youth and young adults by connecting them with influential members of the community – such as small-business owners, counselors, and educators – who are willing to share their skills and resources.
Equip churches to minister to the fatherless by offering churches consulting and workshops.
The mission is teaching young men how to 'ManUP.'
How do you teach young men the life skills they need to break the fatherless cycle? UTM's ManUP program has two components: required classes and mentoring.
Taught by knowledgeable and experienced men, required courses include:
- financial management
- housekeeping
- job resume/interview skills
- relationship and communications skills
- vehicle maintenance
- home maintenance
- buying a house
- entrepreneurship training (80% of ManUP graduates have started their own businesses).
Classroom learning is augmented by mentoring. Each ManUP participant meets weekly with his own personal coach, who makes sure that the participant makes progress.
Underlying the ManUP program is a strong spiritual component. "We teach our guys Jesus," says Joel. "They learn how the Gospel applies to every area of life, the spiritual disciplines, Bible doctrine, how to live a Spirit-filled life, and what a Christian family looks like, including dating, marriage, and parenting."
Former gang members become mentors.
One of the things that warms Joel's heart is the fact that several members of the UTM leadership team had their lives transformed by the ManUP program.
"A little over 10 years ago, some gang members in Grand Rapids became Christians," he recalls. "They left their life of gang-banging and drug-dealing, but they needed an alternative to living with their girlfriends, surrounded by the temptations of the street."
Joel adds, "By entering the ManUP house and program, they had regular discipleship and reinforcement of their new lives in Christ. After graduating from the program, they got married, and today they have beautiful families."
He continues, "These men comprise the core of our leadership at UTM. They have embraced the mission wholeheartedly are are discipling fatherless youth, including their own nephews and nieces and close friends of their own children."
Other fatherless young men and women who were discipled by Joel and Sherilyn have graduated from college and are serving in different non-profit organizations and churches throughout Michigan. "Many of them are serving disadvantaged youth in their communities," says Joel.
There are many ways churches can be key partners:
Partnering with churches has been a key to the success of UTM. Churches provide UTM with volunteers, resources, space, and support.
Berean Baptist provides a ManUP house.
The first partnership was with Berean Baptist, which brought on Joel and Sherilyn as urban missionaries long before UTM was formed.  "Berean has been very generous in allowing us to use their gym and youth room for free since the beginning," says Joel.
"Over the years, we've created some programs together," explains Joel, "and many Berean volunteers have ministerially 'adopted' fatherless students from our programs into their own families. When the ManUP house that we were renovating burned down, Berean practically gave us the house next
door to them, which became the current ManUP house."
New City Church offers low-rent office space.
Another partner church, New City Church, is a multi-ethnic church launched by Calvary Church, a megachurch in Grand Rapids. Several of UTM's staff and volunteers attend New City and, because the church is in the same neighborhood as UTM, the ministry encourages participants to consider making New City their church home.
New City also provides UTM with low-rent office space and has served as a business incubator for UTM participants who want to become entrepreneurs.
Crosswinds Church helps teach financial management through its 'Hustle City' progam.
A third church, Crosswinds Church, is UTM's most recent partner. Crosswinds, which has several campuses in the Grand Rapids area, shares UTM's interest in urban church planting.
When Crosswinds launched a program called "Hustle City" at its main campus, the church partnered with UTM, even though that main campus is six miles from UTM. The program not only teaches financial management but also encourages participants to start side "hustle" businesses to get on a firmer financial footing.
"What drives the Hustle City program is the same thing that drives all of our programs: life-on-life relationships," says Joel.
Will your church partner?
When seeking partners, UTM looks for churches – or individuals – who understand the importance of such relationships. "Breaking the fatherless cycle requires more than a Gospel-centered approach and a passion for social justice," he adds. "You need to see the value in each person and develop that value through a relationship."
Not every church is cut out to be a UTM partner.
"We don't have the stereotypical inner-city kids' programs, where suburban teens or college
students serve for a season and get photo ops with needy black children," says Joel bluntly. "Fatherlessness takes years, often 10 years or longer, to overcome. We need volunteers who will be there on a long-term basis to mentor our students. That usually means urban Christian adults who grew up in or around our programs, or suburban folks who are serious about making a life-on-life impact."
Even the best volunteers can struggle with some fatherless youth. "Many of our students have endured a great deal of trauma," explains Joel. "They are quite resilient, but dealing with issues such as abuse, abandonment, loss of life among family members and friends, chronic hunger and poverty, and drug or alcohol addiction in a parent can have profound, long-term negative impacts."
Joel reminds his staff members and volunteers that breaking the fatherless cycle is a marathon, not a sprint.
"It took us about 15 years before we saw significant transformation in the lives of our fatherless students," he says. "And some young adults with whom you have worked for years will fall away. But, even then, their story is not over. God's timing isn't ours."
Joel tells the story of the very first convert in his ministry, who came to faith 22 years ago as a teenager but then distanced himself from the Shaffers and from God.
"Six months ago he moved back into the neighborhood, and this past week he reached out to me and to our ManUP director," says Joel. "Because we were family to him for so many years, he again is showing openness towards Jesus and church, and he wants to volunteer with some of UTM's sports programs."
The Shaffers and their team will continue being family to the fatherless of Grand Rapids, transforming lives the way Jesus did, and does: one person at a time.
---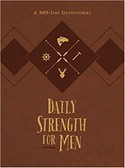 Chris Bolinger is the author of Daily Strength for Men, a 365-day devotional published by BroadStreet Publishing and available at Amazon, Barnes & Noble, Christian Book Distributors, DailyStrengthForMen.com, and other retailers.
Photo Credit: ©GettyImages/mdurson