How to Guard against Impressions That Endanger Community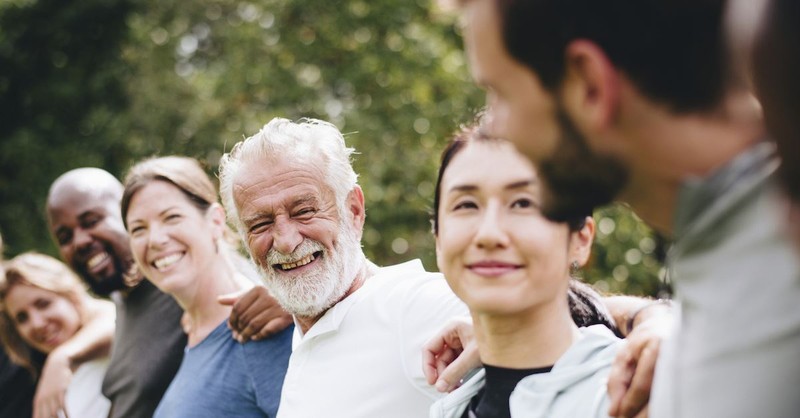 In preparing to graduate from business school and unleash our primed resumes into a competitive job market, my fellow classmates and I were taught basic tactics for making good first impressions with prospective employers: Make eye contact in demonstration of confidence. Establish grit with a firm handshake. Dress simply in a Wall Street white button down rather than a busy print or flashy colors.
We knew, of course, that handshakes, eye contact, and physical appearances alone would not guarantee us a job. They would, however, help us in avoiding various social faux pas that could potentially disqualify us from landing the position. We could be highly capable and yet never get the opportunity to prove it if the first impressions we make leave the interviewer disappointed or underwhelmed.
For good or for bad, momentary impressions so often have a lasting impact.
Don't we all know this from our own life experiences? Because we recognize the far-reaching consequences impressions may create, we tend to preoccupy ourselves with the pursuit of making good ones. Yet even as we may be perfectly justified, and even wise, to live in light of this reality, it is worth examining our own role in this two-sided cycle of judging-and-being-judged. While we each have only slight control over the lasting impressions others form of us, we have great control over the impressions we make of others. In order to exercise this control wisely, we must have proper understanding of ourselves. 
Shuffle through the pages of your mind and recall the interactions you've had in just this past week. You might consider the time paying for coffee, conversing with colleagues, or catching up with friends. How did your mood or circumstance affect your ability to engage? Were you able to demonstrate care and intentionality? Did you give the other person significance with your words? Did you inquire sincerely and listen patiently?
Lest we set the bar too low with our self-evaluation, pause here and remember that as Christ-followers, we are called to exemplify Christlikeness. Through his Spirit working and willing within us, we take on his characteristics: love, joy, peace, patience, kindness, goodness, self-control, and faithfulness (Gal. 5:22-23). Are these the characteristics that define our interactions with others?
Ultimately the question is this: Have you presented your best self in every interaction?
Of course not! Just think about how easy it is for busy schedules, work-related stress, or pure selfishness to weasel their way into quick contacts or long exchanges with both strangers and good friends alike. It is often in these moments that lasting perceptions are formed. We would cringe to think that others might apply the same standard to us as we often apply to them. This thought alone should give us great pause in holding on to impressions that negatively affect another person.
Producing the fruit of the Spirit such that others see and benefit from it requires far more than outward effort. It requires an identity change. Look at Paul's description of the transformation that happens in the life of a Christ-follower at the point of salvation. 
"Therefore, if anyone is in Christ, he is a new creation. The old has passed away; behold, the new has come. All this is from God, who through Christ reconciled us to himself and gave us the ministry of reconciliation; that is, in Christ God was reconciling the world to himself, not counting their trespasses against them, and entrusting to us the message of reconciliation." – 2 Cor. 5:17-19
The knowledge that we have been reconciled to Christ should produce in us tremendous humility because it shows us that we needed someone outside of ourselves to come to God. It means that our sin had produced a debt that could not be paid apart from Christ, but in Christ, we have exchanged our debt for his righteousness. In this, we become a new creation. We have a new identity. We are not what we were before. Paul goes on to tell us in his letter to the church at Colossae that we are to operate from this new self.
"Put on, then, as God's chosen ones, holy and beloved, compassionate hearts, kindness, humility, meekness, and patience, bearing with one another and, if one has a complaint against another, forgiving each other; as the Lord has forgiven you, so you also must forgive. And above all these put on love, which binds everything together in perfect harmony." – Col. 3:12-13
In the verses before this passage, Paul describes the selfish nature of our old identity. He lists products of the flesh such as sexual immorality, jealousy, slanderous statements, and the proclivity towards falsehoods (Col. 3:5-9). Compare these two lists. Each quality listed impacts relationships; they are not isolated to one person. Which list builds community and which list creates division?
We all recognize the desirability of the former and the danger of the latter, but what is their origin point? Where do these products come from? Paul shows us in these passages that our actions are a result of where we find our identity, in our old self or our new self in Christ. The attributes that we manifest to those around us are far more foundational than simply working towards some standard of goodness as opportunities arise. They begin with our very identity, the bedrock of what we believe ourselves to be.
How we think of ourselves will determine what we think of others. What we think of others will determine how we treat them.  
Impressions that we formulate in our minds have far greater implications than mere isolated thoughts or interactions. They are indicative of where we find our very identity.
If we are leaning into our old self, our identity prior to reconciliation in Christ, we think and act like it. We tend to judge others harshly, believing our limited perceptions to be indicative of their whole persons. We can easily decide that others are less deserving of kindness and therefore neglect to give it. We lack an ability to extend grace, though we ourselves are such in desperate need.  We prioritize our own emotions and desires, and believe them to be the best indication of what we need or should have, often at the expense of others. It is as if we put on a pair of glasses that tint the world with pride and we can no longer see others for who they truly are. We forget our own identity and in the process forget the identity of those around us as well.
We are called to more than this, because we are more than this. We are a new creation in Christ.
This is why Paul instructs us to set our minds on the knowledge of who we are in Christ before he shows us what it looks like to live like it (Col. 3:2-3). He recognizes that we cannot live as we should if we are still operating out of our old self. When we know we are new creations, by the power of the Spirit within us, we envelop ourselves in Christ's attributes as though they are a garment. We put on humility and let it be the guiding force in our daily interactions. We recognize our continuous need for God's grace because we know we are daily prone to error. We are lavishly enabled to give grace just as we ourselves have lavishly received it.
Who do you believe yourself to be today?
In order to answer that question with integrity, we must look not only at our minds, but at the fruit our lives are producing. The two always go hand in hand. May we understand that we are new creations in Christ and in living out of this truth, forge strong communities that love others as God intended.
Related: 
How Community Is More Than Showing Up
4 Ways to Be Part of a Community That Is Both Diverse and Unified
---
With a heart for teaching, Madison Hetzler is passionate about edifying fellow believers to be strong, confident, and knowledgeable in the Word of God. Madison graduated from Liberty University's School of Divinity and now instructs Bible courses for Grace Christian University. She cherishes any opportunity to build community around cups of coffee and platters of homemade food. 
Photo credit: ©GettyImages/Rawpixel