Needed: Healthy Churches and Healthy Disciples
Leroy R. Bartel

Global Pastors Network

2004

11 May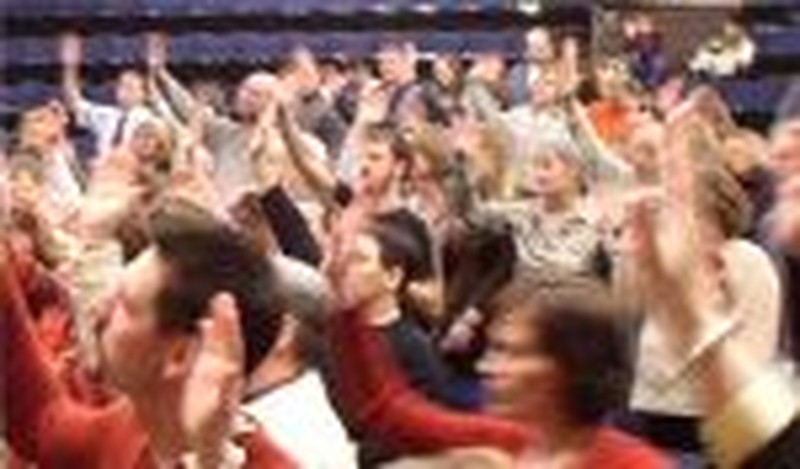 Everyone wants to be a part of a healthy, effective, growing church. Healthy churches are growing churches. Growth for these churches is not a program. It is the result of a natural life dynamic within the body of Christ that is birthed by God, but also nurtured by church leadership.

The church must never carry out its ministry based on hunches or guesses. It must not prize novelty or independent innovation. A church must not try to create its own self-understanding without consulting the clear teaching of Scripture. The ministry, programs, and strategy of the local church must be driven by biblical purposes.

What is a healthy church? It is a church in which all of the biblical purposes find expression in an appropriate equilibrium.

Healthy churches reproduce themselves. Healthy churches produce healthy Christians. And healthy congregations work hard to make disciples within a context where all of the biblical purposes find appropriate expression (Ephesians 4:14–16; Colossians 1:10–12).

What are the biblical purposes that find expression in a healthy church?

1. Fellowship—Membership

The basic meaning of the Greek word translated "fellowship" in our Bibles (koinonia) implies participation. The word was used to express the close-knit relationships that exist within the Spirit-filled membership of the body of Christ, the church.

Acts 2:42–46 expresses in exciting terms what fellowship generated by the Spirit meant for the Early Church. It was the context in which people learned the Christian life. It was the dynamic that characterized their Lord's Supper celebrations, fellowship meals, and prayer meetings. It produced a common and reciprocal attitude of selflessness and generosity within the church. Fellowship, for them, was not limited to a single day of the week, but characterized and seasoned all their relationships. Fellowship enriched their worship and provided the warm, caring context that attracted people and in which they discovered Christ (John 13:34,35).

The fellowship of the Early Church was not a blindly tolerant, anything-goes atmosphere. First John 1:6,7 clearly indicates it was characterized by tough love, truth, and practical discipleship. It required reconciliation and mutual concern. Fellowship is never easy. It never comes by accident. It always requires effort (Ephesians 4:3).

Fellowship has always characterized the church. The goal is that the unconverted will become a member of the family of God through new birth. The goal for the people who know Christ is for them to become a participating, growing members in a local congregation.

2. Discipleship—Maturity

It is not enough for people to come to know Christ as their personal Savior. Jesus calls them to discipleship (Luke 9:23,24). The church must do all it can to help new Christians develop the habits of life that will ensure their spiritual growth and victory (Bible reading and study, church attendance, prayer, financial stewardship, etc.). They must acquire a working knowledge of the Bible and basic Christian doctrine. Every believer needs to be involved in the kind of systematic Bible study, within a fellowship of friends, that Sunday school provides. Believers must acquire the knowledge that matters most—the knowledge of God—in increasing measure (Philippians 3:7–11; Colossians 1:9–11).

The local church today should be as intentional and earnest in its response to the teaching mandate (Matthew 28:18–20) as the Early Church. Just as earnestly as they preached, they taught. They did not let new believers drop through the cracks and out of sight in a few weeks. They monitored their spiritual development closely. Discipleship was not optional. Any talk of conversion without discipleship would have been incongruent and irrational to them. Discipleship involved all ages, groups, and stages of spiritual development (2 Timothy 3:14–16). Disciple-making involved everyone and continued "until . . . all reach unity in the faith and in the knowledge of the Son of God and become mature, attaining to the whole measure of the fullness of Christ (Ephesians 4:13*)."

3. Service—Ministry

Jesus taught His disciples that significance was to be found in serving. When the disciples exhibited a competitive spirit, Jesus insisted that greatness in His kingdom was not to be found in position, but service (Matthew 20:20–28). The word most often translated "ministry" in the New Testament does not have as its foundational meaning public performance in the church, but humble service, such as waiting on tables. Jesus, just before His death, provided a supreme display of the significance of service—He washed His disciples' feet. Then He told the disciples, "Now that I, your Lord and Teacher, have washed your feet, you also should wash one another's feet" (John 13:14). Discipleship is never complete until people are involved in service.

The New Testament clearly teaches that every believer has gifts and abilities given by God (Matthew 25:14–30; Romans 12:6; 1 Corinthians 12:4–7; 1 Peter 4:10). According to Ephesians 4:11–16, a key responsibility of church leadership is to help believers discover and identify their God-given abilities and gifts and then help them develop and use them in ministry. The church has a responsibility to assist with gift identification, training, and placement in ministry. Each believer, however, has a personal responsibility to develop and use God's gifts conscientiously, for the benefit of others and the welfare of the church (Romans 12:6–8; 1 Corinthians 12:7, 14–27; 1 Peter 4:10,11). When this happens, the entire church benefits. There is unity, blessing, and growth—in fact, the church increasingly becomes all that God intends for it to be (Ephesians 4:12–16).

4. Evangelism—Mission

Evangelism has always been esteemed as a central purpose within the Pentecostal church. It is the purpose on which all other purposes for the church are predicated. From the very beginning it seemed that every Holy Spirit-baptized believer viewed himself or herself as a preacher. It seemed as though the work of the Spirit in the life of the believer inevitably expressed itself in evangelistic fervor.

The evangelistic purpose of the Church is the direct consequence of the Great Commission given by Jesus (Matthew 28:18–20; Mark 16:15–20; Luke 24:46–49; John 20:21,22). Evangelism is rooted in the gospel—the marvelous story of Jesus (His life, death, burial, resurrection, and ascension to the Father's right hand). It is the story of Christ who "came to seek and to save what was lost" (Luke 19:10).

The Holy Spirit's empowerment is first and foremost an empowerment for effective witness (Acts 1:4,5,8). The Book of Acts in the New Testament is the exciting and incredible record of evangelism in the power of the Holy Spirit by the Early Church. The Pentecostal experience is as essential for effective evangelism today as it was in the first century.

The Great Commission, fueled by Pentecostal passion, has resulted in missionary enterprise and passion around the world. Pentecostal churches have always been missionary churches. Believers, regardless of age or vocation, should be led to missionary awareness. They should be encouraged to prayerfully consider the part they can play in taking the gospel to the ends of the earth (2 Corinthians 5:14–21).

5. Worship—Magnification

One of the central purposes of Pentecostal churches is worship. Pentecostals not only believe God should be worshiped because of who He is (i.e., His revealed character—according to truth), but also with a spirit motivated and guided by the Holy Spirit (John 4:19–24). This, for them, is much more important than location, physical position, set practices, religious formulas and liturgy, or set times (i.e., the religious calendar).

Our worship gatherings should be centered in Christ, and regardless of the nature of the occasion, characterized by an awareness and acknowledgement of God's presence among His people (Matthew 18:20; 1 Corinthians 5:4). There should always be an awareness and responsiveness to the presence of the Holy Spirit in Pentecostal worship. Gatherings should be highly participative and characterized by sensitivity to the outsider, appropriate controls, and Christ-honoring decorum (1 Corinthians 14).

Music and songs have been a worshipful expression to God from Old Testament times. The Early Church spoke to one another with "psalms, hymns and spiritual songs"—singing and making music in their hearts to the Lord (Ephesians 5:19; Colossians 3:16). We should follow their example.

Although music and singing is appropriately used in worship, it must never be considered synonymous with worship. Worship includes a wide variety of things—our words spoken to God in prayer and praise, our thoughts fixed upon His truth and character, our lives given to Him in worshipful commitment, our bodies lived in godly purity and service, our days and hours honoring His will, our gifts offered to God in loving praise and thanksgiving. May we never reduce the breadth and grandeur of worship by simply equating it with a single aspect of worship.

Prayer is a critical aspect of the local church's ministry. The quality and quantity of its prayer will become the measure of its spiritual vitality.

The Early Church was characterized by its prayer. They prayed about everything—the selection of leaders (Acts 1:24; 6:6; 13:3), during persecution (Acts 4:24–30; 12:5,12), and before they ministered to the sick (Acts 9:40; 28:8). They prayed continually. They prayed personally and corporately. Their leaders gave themselves to prayer (Acts 6:1–4). Paul believed the Holy Spirit would provide supernatural help when Christians were at a loss how to pray (Romans 8:26,27). If the church today is to impact its culture as the Early Church did, it must be a praying church.

Stewardship is a form of worship. However, it is also a responsibility. Stewardship begins with the acknowledgement that everything belongs to God (Psalm 24:1). It sees tithing (the return of 10 percent to the local church) as an appropriate and worshipful response to God (Malachi 3:8–10; Proverbs 3:9–10). Stewardship also extends itself beyond tithing, to generosity expressed in offerings given to meet special needs (1 Corinthians 16:1,2; 2 Corinthians 8:1–15; 9:6–15; Philippians 4:10–20). Stewardship falls short, however, if it does not ultimately honor God in everything (Colossians 3:17; 1 Corinthians 10:31).

None of the biblical purposes are negotiable—all are essential. Where they all find expression in a local church, they make that church healthy and effective. A church that emphasizes only one or two of the purposes limits its ministry and becomes dysfunctional. In the same way, an effective and maturing Christian is one in whom each of the purposes finds appropriate and balanced expression. On the other hand, a dysfunctional believer is one who has majored on a few pet purposes and neglected the others. What the local church is in macrocosm, individual believers become in microcosm. We need healthy churches in order to produce healthy, effective disciples.

LeRoy R. Bartel is the former commissioner of the Commission on Discipleship/We Build People for the Assemblies of God in Springfield, Missouri. He currently pastors Columbia Heights Assembly of God in Hunters, Washington.

*Scripture references are from the New International Version.


© Copyright 2001 by www.globalpastorsnetwork.org or Leroy R. Bartel from Enrichment Online