Sermon Notes: Embracing Prayer for Strength
Southeastern University Online

Sponsored Content

2019

17 Dec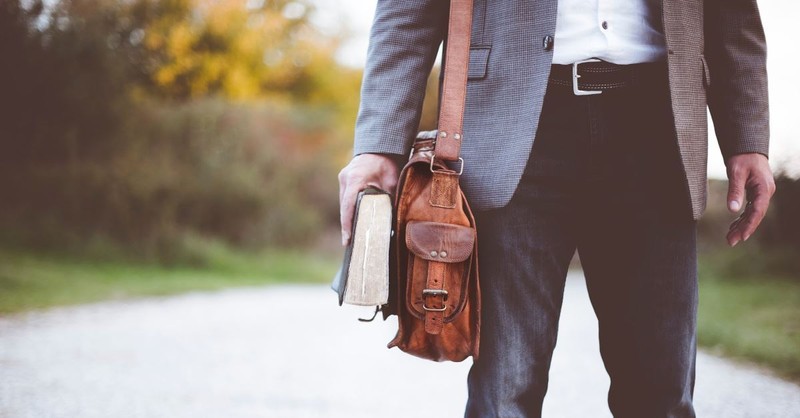 Reading sermon notes can be effective for church leaders who are crafting a sermon or Sunday school lesson. Lay people can benefit, too, by getting a "behind the scenes" look at how a message can come together.
The following sermon notes are for a message entitled "Embracing Prayer for Strength." This sermon concentrates on how God's children can approach prayer for strength in any time or season of life. Keep in mind that the sermon notes give several customization options, which can be helpful for tailoring it to the speaker's preferences and audience.
Introducing the Sermon "Embracing Prayer for Strength"
There are two primary objectives in this sermon's introduction: discussing the power of prayer and establishing examples illustrating the sermon's major points. Feel free to address these points in any order.
The Power of Prayer
Prayer is a large topic, and you can expand as much as you'd like to. Make sure you emphasize the simple, powerful fact that prayer is communication with God. We have the opportunity to talk to the One who created everything, He who knows all things, and He who sent His Son to die for us. Sometimes it's easy to take that for granted. It's natural to lose sight of how, through prayer, we can draw closer to God.
Another important topic is when to pray. And the answer, of course, is at all times. "Be anxious for nothing, but in everything by prayer and supplication, with thanksgiving, let your requests be known to God; and the peace of God, which surpasses all understanding, will guard your hearts and minds through Christ Jesus" (Philippians 4:6-7 NKJV). We should try to "Rejoice always, pray without ceasing, in everything give thanks; for this is the will of God in Christ Jesus for you" (1 Thessalonians 5:16-18).
If you'd like to elaborate more on prayer than what these sermon notes focus on, there are many subtopics that you can implement. For instance, you might consider discussing how you should pray, such as with the Lord's Prayer (Matthew 6:9-13). Another idea is to look at how prayer has been characterized biblically, as the following examples show.
"I bow my knees to the Father of our Lord Jesus Christ," Paul wrote in Ephesians 3:14.
Hannah prayed very strongly. "I have drunk neither wine nor intoxicating drink, but have poured out my soul before the LORD," (1 Samuel 1:15) she said.
Hezekiah and Isaiah were characterized as crying out to heaven in prayer (2 Chronicles 32:20).

You can discuss some of those topics or move straight to the next. At any rate, an important bridge to the introduction's second objective is what prayer can do. Solomon prayed for wisdom (1 Kings 3:9-12) and became who many people consider to be the wisest person in the Bible. Hannah received what she asked for with the birth of her son, Samuel (1 Samuel 1:19-20). Hezekiah and Isaiah also received what they requested; an angel came to fight against the King of Assyria, saving the two men and the inhabitants of Jerusalem (2 Chronicles 32:21-22).
It's important to note that God answers all prayers, as long as they abide in the will of God. "Now this is the confidence that we have in Him, that if we ask anything according to His will, He hears us," John wrote. "And if we know that He hears us, whatever we ask, we know that we have the petitions that we have asked of Him" (1 John 5:14-15).
When people need strength, they can receive that by calling on Him. As Paul said, "I can do all things through Christ who strengthens me" (Philippians 4:13).
Examples to Illustrate the Sermon's Primary Lessons
The other part of the sermon's introduction should bring up one or more examples that help reinforce the message's primary lessons.
If you can think of a time when you relied on prayer for strength, then that could be a strong way to walk your audience through the main points you'll make. In that case, you should give background on what you experienced. Then you can end the introduction with a transition to the first point that discusses how other people were present with you.
Of course, there are plenty of people in Scripture who can be used throughout the sermon. Those examples include Moses and Gideon, two biblical underdogs who, through God's help, were able to overcome their fears and respond to their callings. The sermon notes will offer some passages and ideas for both of those people in each of the sermon's primary sections. If you use them here, you can introduce their self-perceived weaknesses, with Moses being afraid to speak and lead God's people (Exodus 4:10), and Gideon hiding in a winepress (Judges 6:11).
Whether you're using one example or several to illustrate the sermon's primary lessons, outline how these will be woven throughout your message. Consider having one narrative that you concentrate on most.
1. You're Not Alone
The first main point of your sermon is that "you" are not alone. Each separate, individual person in your audience is not alone.
Other people are there for you. Recognizing that is important when you feel like you need strength. Embrace their support because we are all called to be there for each other. As the writer of Hebrews explained, "let us consider one another in order to stir up love and good words, not forsaking the assembling of ourselves together, as is the manner of some, but exhorting one another, and so much the more as you see the Day approaching" (Hebrews 10:24-25).
It's not good for you to be alone. That's what God told Adam after creating him (Genesis 2:18). Proverbs 18 begins by saying that a man who isolates himself seeks his own desire and "rages against all wise judgment." And Ecclesiastes describes that two are better than one, because, if one falls, the other will lift up his companion. "But woe to him who is alone when he falls" (Ecclesiastes 4:9-10).
Practical Advice
When you deliver this sermon or lesson, take some time to identify some practical advice for the people you're addressing.
Part of this should include psychological advice. In other words, there's no shame in asking for help. We all need someone to talk to, and that especially includes times and seasons of life when we need strength. Expand on how and why it's OK to ask for help and be sure to include easy-to-follow tips for doing so. It can be as simple as talking to a friend on the phone or meeting him or her for dinner to get some support.
Perhaps the most important takeaway point for the first part of the sermon is praying for one another. Part of how people can embrace prayer for strength is by receiving those prayers from others. Spend some time discussing how powerful it can be to have others pray for us. A passage from James illustrates that principle well.
Is anyone among you suffering? Let him pray. Is anyone cheerful? Let him sing psalms. Is anyone among you sick? Let him call for the elders of the church, and let them pray over him, anointing him with oil in the name of the Lord. And the prayer of faith will save the sick, and the Lord will raise him up. And if he has committed sins, he will be forgiven. Confess your trespasses to one another, and pray for one another, that you may be healed. The effective, fervent prayer of a righteous man avails much.
Example(s) to Illustrate the Lesson
Feel free to use your personal example or any examples from Scripture throughout this part of the sermon. The timing will depend on your example. For instance, if you're using a personal example, you might start and close the "you're not alone" part of the sermon with your story.
There are plenty of relevant illustrations for Moses. The very moment Moses proclaims his weakness to God, that he is "slow of speech and slow of tongue," God grants him a speaker in Moses' brother Aaron (Exodus 4:10-17). Additionally, Moses interceded for the people he was responsible for bringing out of bondage. Through prayer, Moses asked for God's protection (Exodus 32:9-14) and presence (Exodus 33:12-17).
Gideon certainly doesn't have as much space dedicated to him in Scripture as Moses, but there are a couple of passages that demonstrate how he wasn't alone. When Gideon destroyed Baal's altar, he did it with 10 men (Judges 6:25-29). Even more powerful is when Gideon's army is reduced from 22,000 to 300 valiant men, as told in Judges 7. God used a small number of faithful men to accomplish His purpose, overcoming the odds against an enemy "as numerous as locusts; and their camels were without number" (Judges 7:12).
2. We're Not Alone
The second main point of your sermon is that "we" are not alone. The people that make up the body of Christ are not alone.
God is with us, and that fact is echoed throughout Scripture. You can spend some time walking your audience through those passages. God told Joshua that He would be with him wherever he went (Joshua 1:9), and Jesus, at the end of the Great Commission, told the disciples that He would always be with them (Matthew 28:18-20). The Book of Isaiah includes a verse that directly intertwines God's everlasting presence and His willingness to provide strength: "Fear not, for I am with you; be not dismayed for I am your God. I will strengthen you, yes, I will help you, I will uphold you with My righteous right hand" (Isaiah 41:10). One chapter later, another powerful passage accomplishes the same objectives.
Have you not known?
Have you not heard?
The everlasting God, the Lord,
The Creator of the ends of the earth,
Neither faints nor is weary.
His understanding is unsearchable.
He gives power to the weak,
And to those who have no might He increases strength.
Even the youths shall faint and be weary,
And the young men shall utterly fall,
But those who wait on the Lord
Shall renew their strength;
They shall mount up with wings like eagles,
They shall run and not be weary,
They shall walk and not faint.
We should all recognize that we have the presence of God in our lives at all times. Prayer grants direct communication to God, and thus, His strength.
Practical Advice
The main point of the second lesson is how we have the presence and power of God in our lives. That's different than the first lesson of the sermon. There, the primary point was made in the practical advice section.
You can still offer some tips on recognizing and clinging onto the power and presence of God. Consider giving people advice on how they can enrich their prayer lives. For instance, you might examine a prayer list or maybe encourage people to dedicate even just a few minutes to seek God through prayer. After waking up, before going to bed, or during lunch are perfect opportunities for prayer. Those types of small steps can help build a foundation of continually praying to God throughout the day.
Example(s) to Illustrate the Lesson
If you're using a personal example, consider discussing how you prayed throughout your experience. You might discuss certain difficulties and successes that characterized how you grew in Christ during that time.
For Moses, there are many events that demonstrate how God was present with him and the Israelites. You can spend time detailing some of those examples, but one prayer is especially noteworthy. Psalm 90, Moses' only psalm, opens by identifying God as "our dwelling place in all generations." Then Moses emphasizes God's eternal nature and compares that to the fragile nature of humanity. Later verses in the psalm ask for God's grace, completing the prayer that emphasizes God's presence and power compared to humanity's need for Him.
Immediately after Gideon is introduced in Scripture, he asks God about His presence in his and the Israelites lives (Judges 6:13). God then tells Gideon that He will save the people from their enemy, the Midianites. However, Gideon wants a sign, and God grants that to him and promises to be with him (Judges 6:15-23). After Gideon destroys Baal's altar, God grants Gideon a second sign with a fleece of wool, and God grants a sign him once more (Judges 6:36-40). In those passages, the presence and power of God is clearly evident.
3. True Strength Comes from God
The third and final main point of your sermon is that true strength comes from God.
That point may seem simple, but it was far from straightforward for Paul. He described a "thorn in the flesh" (2 Corinthians 12:7) that isn't defined in Scripture. We don't know what it was, but what we know is that Paul pleaded with God three times for it to be removed. God didn't do that. "And He said to me, "My grace is sufficient for you, for My strength is made perfect in weakness'" (2 Corinthians 12:9).
What Paul learned from that moment, and then carried on throughout his life and sufferings (e.g., 2 Corinthians 11:16-33), is the point of this part of the sermon. "Therefore most gladly I will rather boast in my infirmities, that the power of Christ may rest upon me," he wrote. "Therefore I take pleasure in infirmities, in reproaches, in needs, in persecutions, in distresses, for Christ's sake. For when I am weak, then I am strong" (2 Corinthians 9-10).
Feelings of weakness are opportunities to come closer to Christ. They become times to rejoice and praise Him, for He provides strength (Psalm 28:6-7). That's why Paul tells Timothy to "be strong in the grace that is in Christ Jesus" (2 Timothy 2:1). When we stay close to Him in prayer, we become more like Him, and thus, we receive His strength.
Make sure you emphasize how this is all not simply about feeling weak and then receiving strength from God. It's much more than that. Being transformed by Christ changes our identity, and it changes us spiritually, which then alters what it means to receive strength. In other words, humanity doesn't battle against flesh and blood, as Paul wrote, but spiritual foes (Ephesians 6:12). But thanks to His grace, we have something greater, and that transforms our core. "For God has not given us a spirit of fear, but of power and of love and of a sound mind" (2 Timothy 1:7).
Practical Advice
Most of the content in this part of the sermon comes in the theological points made previously.
However, you can consider implementing some practical points. For instance, how can people listening to your message begin to see everyday things differently? After all, it can be difficult to see trials and hardships as opportunities to glorify, worship, and pray to God. Plenty of people know the verse about counting trials as joy (James 1:2), but how can they put that into practice? Passages like James 1:12 and 1 Peter 5:10 can be helpful to examine.
Example(s) to Illustrate the Lesson
If you're using a personal example, here's where you can tie in the ultimate realization about your experience. You can discuss how you understood, on a greater level, what God was showing you about relying on Him for strength.
After leaving Egypt and passing through the Red Sea, Moses proclaimed his faith in God.
The Lord is my strength and song,
And He has become my salvation;
He is my God, and I will praise Him;
My father's God, and I will exalt Him.
Exodus 15:2
Once Gideon defeated the Midianites, the Israelites wanted him to become king over them. "But Gideon said to them, 'I will not rule over you, nor shall my son rule over you; the LORD shall rule over you'" (Judges 8:23). Out of his allegiance to God, Gideon insisted that God should be the sole king in Israel, and that resulted in 40 years of no foreign nation oppressing Israel (Judges 8:28).
Learn How to Deliver Effective Sermons
Gain the skills and knowledge needed to serve in leadership and support roles at churches and other faith-based organizations. With an online BS in Ministerial Leadership or an online MA in Ministerial Leadership, you'll be better able to respond to your calling and grow as a Christ-follower. Southeastern University's programs take place in a fully online format.
---
Southeastern University's programs take place in a fully online format. SEU is accredited by the Southern Association of Colleges and Schools Commission on Colleges.