It Seemed Impossible, but... To God be the Glory
Lucy Neeley Adams

Published

Aug 01, 2008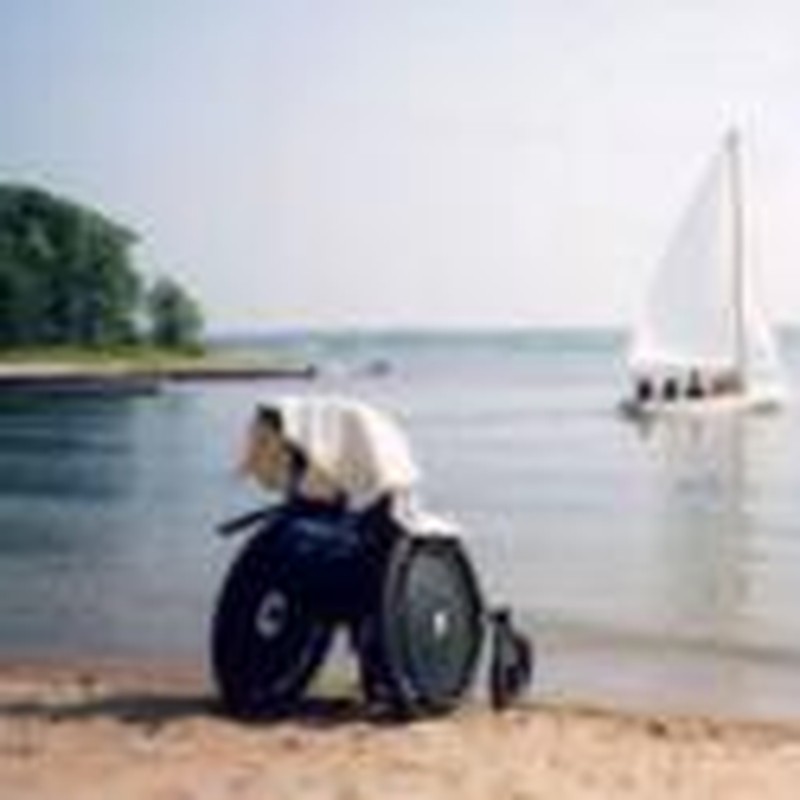 The hot August afternoon did not discourage the football teams. Sweating, running, tackling was all part of the game. It was almost over and the Loretta High School Mustangs were winning. Then disaster struck. The star player, Van Johnson, was down! He was young, but he weighed 215 pounds and it was all muscle and daring. Mustang fans moaned, "Why won't Van get up? We can't win the game without him."

But Van was in pain and struggled to breathe. He remembers the day so well and writes about that moment in his book, Tackle the Impossible! "On a routine play, the other team's quarterback took the ball and began to run. 'I'll get him,' I thought as I shot from my inside linebacker position. I tackled him, and the thud echoed into the stands. But as I fell - I felt my neck snap. Instantly, my strength and prowess vanished, I was just a frightened 15 year-old. I'm going to die, I thought."

Winning was now insignificant. Survival was imperative. With no feeling from his neck down, Van was carefully placed on a stretcher and rushed to the hospital. The next days were even more difficult with the knowledge that he was paralyzed. What would the future hold for a
young man whose dreams were shattered?
Years later during another hot summer afternoon, high school graduate Joni Eareckson Tada was enjoying a visit to a beach before college began in the Fall. Her friends swam to a raft further out into the water for some extra fun. Joni followed them as they played in the water. However, the dive she made from the raft ended in tragedy.

She writes about it this way in her book The God I Love: "I recalled diving and striking something hard, like a log. Immediately, I heard an electric buzz that I felt shooting through my body. I sensed that my arms and legs had curled up in a fetal position. They seemed locked. I tried to move but couldn't."

Were future plans changed? Yes. Did despair and loneliness settled into the minds of these two young people? Yes. Was God at work in their healing as they pressed on toward the future? Yes. But it took weeks and years for their tragic accidents to unfold into blessings.

Van and Joni both have ministries that looked impossible years ago when they were in the beginning stages of survival. But first they had to surrender their lives, just as they were. In whatever circumstances, we must first ask God's guidance and surrender to His plans.

The powerful promise of God in Jeremiah 29:11 gives assurance to all who trust His word:
"For I know the plans I have for you, says the Lord, plans for welfare and not for evil, to give you a future and a hope."
We need go no further than our computer to discover the ministries that both Van Johnson and Joni Eareckson Tada have today. The web site for Van, www.recreationagain.com, features his inventions of recreational adventures for those in a wheelchair.
The web site for Joni, www.joniandfriends.org, opens up a multitude of activities in which Joni is involved. She closes her memoir, The God I Love, with this profound statement: "There are more important things in life than walking."

So what do we gather from these two people who have survived and thrived in their lives? There is always hope and a loving God who makes a way when there seems no way...
***


The birth of a baby on March 24, 1823, in Putnam County, N.Y. was exciting. There were no troubles on the horizon for little Fanny Jane Crosby. All was well until her eye infection began at six weeks of age. The doctor prescribed the wrong medication, and the baby never regained her sight.

Even though there was anguish and fear within her family, their child grew into a fine young woman. She attended the New York School for the Blind and later became a teacher there. The hope and compassion that she gave them encouraged her students.

Kenneth W. Osbeck writes in his book, 101 Hymn Stories: "It is estimated that Fanny Crosby wrote more than 8,000 gospel song texts in her lifetime. Her hymns have been and are still being sung move frequently than those of any other gospel hymn writer."

Looking back upon the life of this great hymn writer, we remember the first weeks of her life. What would her future be? Would she always need to be cared for? Could she become a productive member of society? Her response to these questions can be found in the poem she wrote when she was eight years old:
Oh, what a happy soul am I! Although I cannot see.
I am resolved that in this world, contented I will be.

How many blessings I enjoy, that other people don't.
To weep and sigh because I'm blind, I cannot and I won't!
Near the end of her life someone said to Fanny Crosby that they were very sorry her sight was taken away when she was a baby. She replied that she was not sad but happy to be blind. She continued: "when I get to heaven, the first face that shall ever gladden my sight will be that of my Savior."

Before she saw the Savior's face at ninety five years of age, this particular hymn expressed her vision as a believer who was filled with God's power and shared it with others:
To God be the glory, great things He hath done.
So loved he the world that he gave us his son.
Who yielded his life an atonement for sin.
And opened the life-gate, that all may go in.
"Praise the Lord" is repeated four times in the chorus. I thank Him for the glory that carried Fanny Crosby throughout her life. I also praise the Lord for Van Johnson and Joni Eareckson Tada who are experiencing God's glory now. They too have surrendered to His plans for their lives.

Dear God, our Father of glory, love and power. We are amazed at your ability to take the weakest vision of what life might be, and make it sparkle with glory. From darkness we can see the beautiful light of Jesus. Help us to live in expectancy of what each day can bring when we live it in your presence. In Jesus name, Amen.
Lucy Neeley Adams has always loved music. She began telling the story of hymns on Christian radio WWGM in Nashville, TN, in the '80s. She then wrote a newspaper column titled "Song Stories" for five years. During that time Lucy's book, 52 Hymn Story Devotions, was published by Abingdon Press in Nashville. Each of the 52 stories contained in the book is written in a devotional format, with the words of the hymn concluding each devotion.
Lucy, dubbed "The hymn lady," can be heard on the first Thursday of each month when she discusses hymn stories during a telephone interview with Michelle Mendoza of "Living Christian". The program is aired on station KCIS in Seattle, WA.
Lucy lives at Lake Junaluska, NC, with her minister husband, Woody. They have four children and fourteen grandchildren. She may be reached for comment at lucya424@aol.com. Visit her at 52hymns.com.