Meet & Greet: Casting Crowns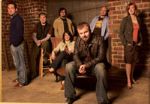 They say that life is what happens when you're busy making plans. For the members of Casting Crowns, it was the other way around: they were too busy living life to even think about making plans – at least when it came to their own musical aspirations. Started as a student worship band in 1999 by youth pastor Mark Hall, the group's only mission was to minister to local teens through music – not to become a multi-award winning, platinum-selling band. But God apparently had other plans. Casting Crowns has sold more than one million records, has racked up three longstanding No. 1 singles, and is the fastest selling debut artist in recent Christian music history. And that was just their first record.
Listen to samples or buy this album from Songs4Worship.com!
Today, they're on the verge of releasing their highly anticipated sophomore project, LifeSongs, which finds the band in much different circumstances than they were in even two years ago. Though they've made a solid commitment to be at home four days of every week (they still lead worship for the 400+ members of their church youth group in Georgia) Casting Crowns has already headlined a tour and has played to audiences of more than 125,000 people. So how will all of this success and acclaim affect the candid, honest, even outspoken lyrical tone the band has become known for? Will the new project be a kinder, gentler disc? "I think we're still talking about the things that we're seeing in our own lives," says Hall. "So, I don't think that we've felt the need to go be a different band on a new record. We're not talking about a bunch of new stuff; we're just still living it out. [We're] trying to walk with Jesus every day. We're talking about fear, we're still talking about pain, and other things where everybody lives, really."
Given that Casting Crowns is comprised of seven band members – Hall, Juan and Melodee DeVevo, Hector Cervantes, Chris Huffman, Andy Williams and Megan Garrett – it's not surprising that their collective life experience translates into music that is relevant to people of all ages and in all walks of life. Each of the 11 songs on the new project reportedly focuses on topics the band thinks aren't being talked about enough. Take "Stained Glass Masquerade," for example: "We are happy plastic people/Under shiny plastic steeples/With walls around our weakness/And smiles to hide our pain/But if the invitation's open/To every heart that has been broken/Maybe then we close the curtain/On our stained glass masquerade." Though some may see these words as an indictment against the church, Hall says that that is not the perspective from which he and co-writer Nichole Nordeman wrote the song. "It's not me saying 'You, you, you,'" says Hall, "it's saying 'Me, me, me.' I think people will listen to you if you're transparent. And one of the most transparent things about our old album is my talking about dyslexia and about all the things we're all scared to talk about. This is where we all live."
It seems altogether fitting, then, that the new album is entitled Lifesongs. These are songs about real life. And as most Casting Crowns fans know, there's nothing the band believes is more central to life than worship. Much like their debut album, Lifesongs offers several new worship anthems that many are projecting will be instant classics, including "Love Them Like Jesus," "Praise You In This Storm," "In Me," and the title track, "Lifesongs." It has been said that one secret to the band's success is that they're planted very firmly in their church, and most of their material flows out of a faithful commitment to a local body of believers. It's a spiritual service that Hall seems to think is central to worship. "This is your act of worship: what you do with the life you've been given," says Hall. "A life of worship says, "God, I'm waking up today. I'm going to do a lot of things, I'm going to go a lot of places, I'm going to talk to a lot of people, but my goal is to point others to You and make You smile today.' The more we live like that, the more we become like Him."
Sounds like a good day-to-day plan. But what about the future? Casting Crowns seems very content to let God make any plans that may be necessary. "When something happens in your life and you know full well that there's not a single thing that you did to make it happen, and you don't feel a need to keep it happening," says Hall, "you just know that for some reason God just wants it to be right now. So a big part of this whole thing is not having too many dreams for the future. All I know is that we're husbands and wives and parents first. And we know that we're supposed to be in the church doing what we're doing there. So we're going to bloom where God has planted us in this season and keep doing it until the next season comes."