Song Story: "I Can Only Imagine"
Wendy Lee Nentwig

Contributing Writer

2003

26 Sep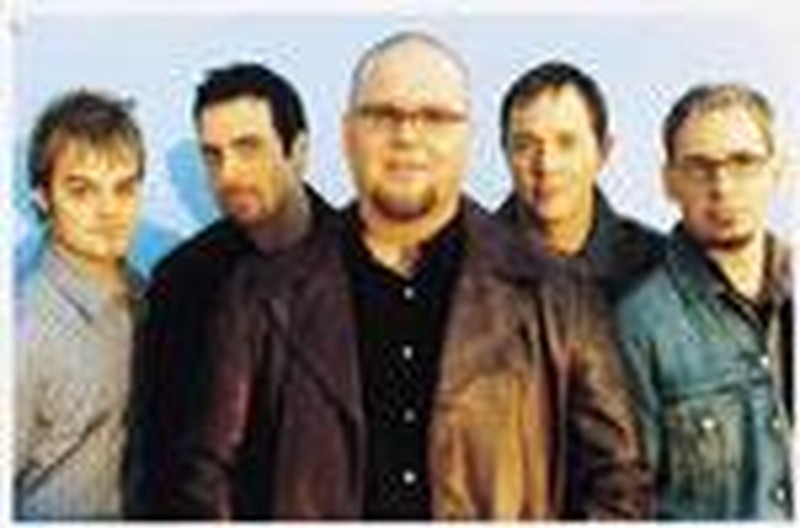 Bart Millard's beautiful take on what Heaven will be like started out as a way to work through his grief over losing his father. Now, his song "I Can Only Imagine" is helping others heal-and his father keep a promise a decade after his death.
Save up to $15 on MercyMe CDs and Songbooks featuring 22 songs including "I Can Only Imagine."
The soaring song "I Can Only Imagine," a track about envisioning the hereafter and our response to meeting God one day in Heaven, has catapulted Texas-based MercyMe to the forefront of the Christian music scene, garnered three Dove Awards and brought tears to the eyes of countless radio listeners. The popular worship track didn't start out as a tool to help better connect people to their Creator, though. Instead, it grew out of the difficult questions MercyMe frontman Bart Millard began asking after losing his father to cancer when the future songwriter was just 19.
"I kept hearing that clich€d phrase, 'your dad's in a better place,'" Millard recalls. Well-intentioned friends would then remind him that if his father could choose to come back to Earth or remain in Heaven, he would certainly choose to stay there. "I heard that so many times after he passed away and for a 19-year-old that doesn't really do it for you."
Millard knew his father, a godly man when he passed away, was in a better place. And as a Christian since the age of 13, Millard had heard all the wonderful stories about Heaven but he was still frustrated. He struggled with how his father died and why it had to take place the way it did. And as he wrestled, he wrote.
"I used to write the phrase 'I can only imagine' on anything I could get my hands on." Millard says he did this for two reasons: "I did know he was in a better place and that would set me off thinking about what he was seeing. Getting strength he never had here and seeing things he couldn't fathom here. And it really brought peace and hope to me. At the same time, I really wanted to know, 'God, what's so great about there that he would want to leave me or not come back?' Call it selfish, but it's just being human."
So the song wasn't written out of some super-spiritual motive to move closer to God. Instead, it was written by a grieving son crying out to his Creator for some sort of cosmic clue.
Years would pass before Millard would stumble across the phrase again in an old journal he was using to compose song lyrics for a 1999 independent release. "In the journal I had written that phrase over and over and over," he remembers. "So I decided to expound on what had been in my heart for so many years. It was one of those 'God things' where it was literally written in five minutes...It was written in five minutes, but at the same time it was something that was on my heart for 10 years.
The song eventually ended up on the band's 2001 INO Records debut, Almost There, and immediately began to strike a chord. In fact, the band got so many responses from people who had lost loved ones or played the song funeral services that when the topic of a video came up, Millard knew what they had to do.
"I just kept seeing all these people holding picture frames that are empty because we all carry these people with us in some way. I've had so many people after a show pull out a picture of someone they've lost. These people embrace these photos and I just thought how can we tap into that?"
The final product features normal, everyday people along with artists like dc talk's Michael Tate, Tammy Trent, Bob Herdman of Audio Adrenaline, Jesse Katina and others. In it, each person appears in the beginning holding an empty picture frame to signify their loss and then as the video progresses, they are holding photos of their loved ones. It makes for a very moving presentation, one that rarely leaves viewers with dry eyes.
Millard can relate. "The first four times I saw it I just bawled my eyes out. The thing that really got me are the eyes of the people holding the pictures. They can tell a million stories."
Like Tammy Trent's. In the video she's clutching a picture of her husband who passed away in a diving accident last September. The photo was snapped as he sat on the side of the boat 30 minutes before he died. When contacted about participating in the video, Millard recalls her saying, "it would be an honor. I never leave the house without that song since he died."
As if responses like that aren't enough, the song is also helping to fulfill a promise Millard's dad made to him shortly before he died. To care for his two sons, he has set up an annuity that would provide them with a smaller sum every year for 10 years exactly instead of one lump payment, "because he knew we'd probably spend it," Millard says. "He used to say 'you're going to get this for 10 years, but don't worry. Even when that runs out I'll be taking care of you."
Millard was in the middle of a radio interview a few months ago when he recalled that promise and realized that his father was doing just what he said he'd do. The annuity ran out in November 2001, the same week the song that he inspired reached the No. 1 spot on radio airplay charts, an almost sure sign of MercyMe's continued success.
Who could have imagined?
Save up to $15 on MercyMe CDs and Songbooks featuring 22 songs including "I Can Only Imagine."
Wendy Lee Nentwig is a freelance writer and editor who lives in Nashville, TN.