What Are We Singing: Better is One Day in Your Courts
Eva Marie Everson

Crosswalk.com Contributing Writer

2008

26 Mar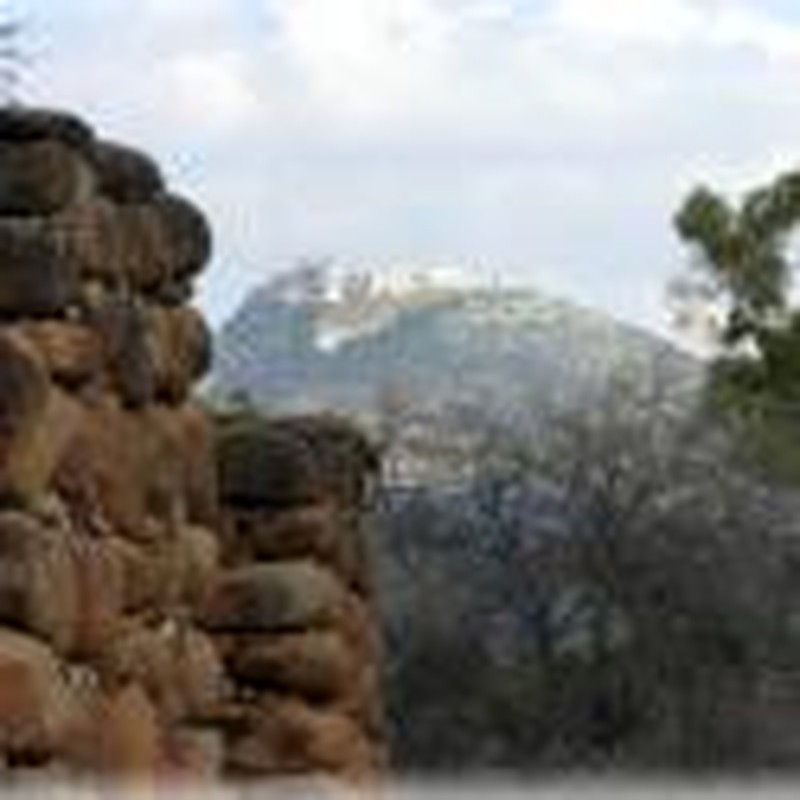 Recently, as a birthday gift for my ten-year-old, I took her and her friend Brianna to the Nick Hotel in nearby Orlando. Nick, short for the Nickelodeon Network, is the backdrop—if you will—for the hotel's theme. Each suite is decorated in a theme suitable for children (ours was The Fairly Oddparents). For an entire afternoon, the girls frolicked in the water park with its four story high water tower and 400-gallon water dump tank (which spills out at random). That evening, they played in the arcade, mingled with Nick characters and then, the following morning, had an incredible breakfast buffet and dining with SpongeBob Squarepants and Dora the Explorer.
At the end of our twenty-four hour adventure, my daughter exclaimed, "This was the best day ever!" which was quickly followed by, "I can't wait to do it again!"
Better is One Day…
I was led to reflect on my "best day ever." But, for someone who has lived five decades, I realized there were a lot of "best days ever." So, I reflected on the best recent day ever.
Anyone who knows me will not be surprised to read that it took place during my most recent trip to Israel. I woke up that morning in my room at Hotel Nof Ginnosar, opened the curtains and looked out to watch the waves of the Sea of Galilee lap along the shore. After a delicious breakfast, my friend Miriam and I ventured into Northern Israel, gawking along the way as Mount Hermon, covered in snow and seemingly hung in the sky by God, beckoned us forward. We arrived at Tel Hazor a little after 8:00 in the morning, had strong coffee with our friend and park's director, Mr. Hussein el-Heib, then took a private tour among the ruins of the city Joshua had burned to the ground a few thousand years ago. Two hours later we went to Banias/Caesarea Philippi, where Jesus asked Peter, "Who do you say I am?" and Peter answered, "You are the Christ, the Son of the living God."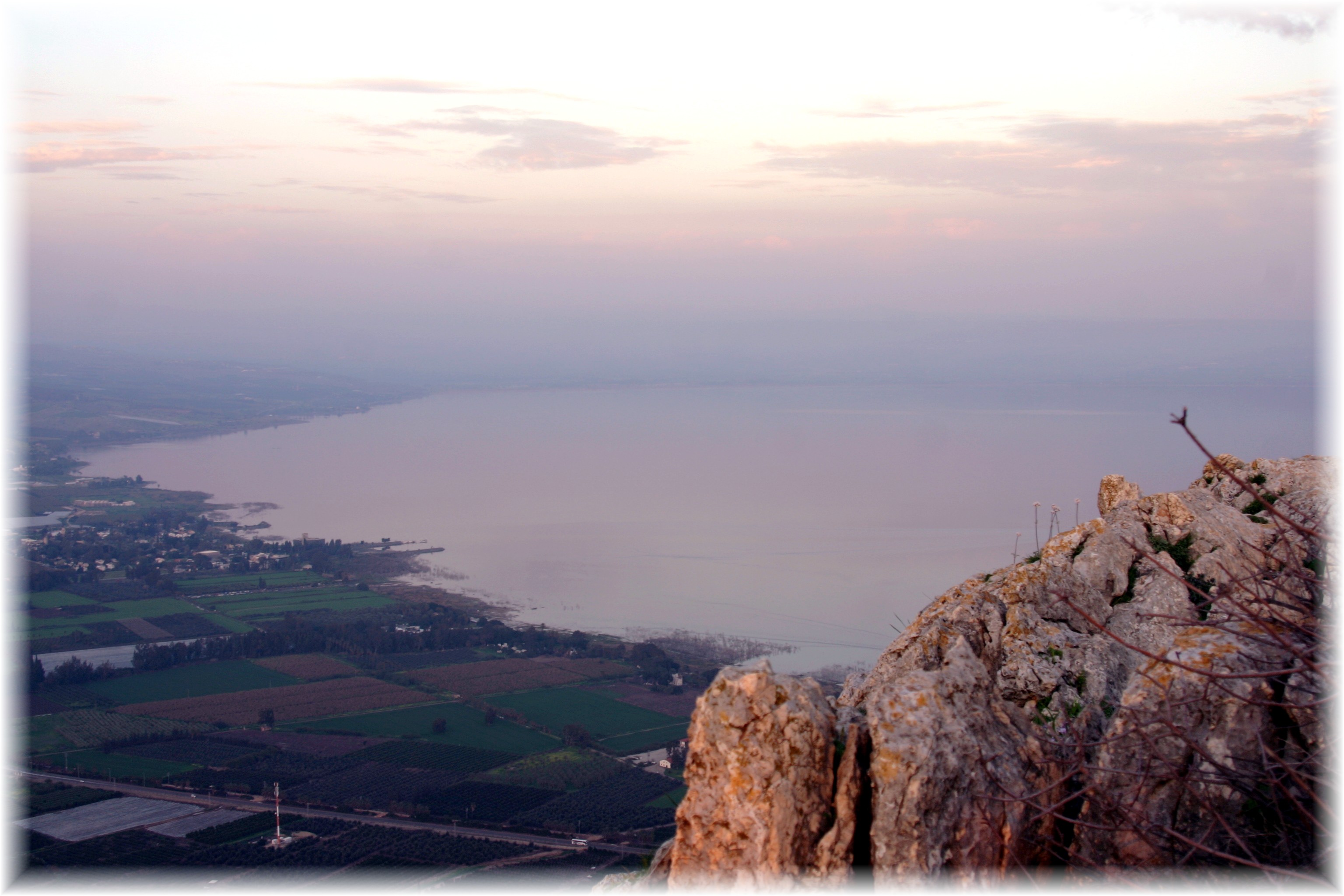 From there, up to the snowy slopes of Hermon, then down again to Nimrod's Fortress, "The Castle of the Large Cliff" (see photo at top of article), where the incredible vista of the Golan spread before us. We stopped at a Druze farmer's market, bought fresh vegetables and fruits and had a picnic lunch. Then we retreated further down the mountains until we reached the Dan Reserve. For hours we hiked through the pristine wilderness, along crystal rushing streams and calm wading pools. Then, back to the car, and a drive to the Arbel Cliff overlooking the fertile Galilee (see photo). A hike up the backside of Arbel gave a most memorable rush. My heart pounded as the sun set to my left, casting a gold and rosy hue over the Sea of Galilee. When I reached its top, I spread my arms in wonder, and my friend snapped a photo. It was one of the happiest, giddiest moments of my life; the perfect end to the perfect day. I'd seen God in the majesty of His Holy Land.
I couldn't imagine a better day.
Maybe Not I, But Someone Wrote…
While it is unknown who wrote Psalm 84, in his book The Treasury of David, Charles H. Spurgeon wrote:
It matters little when this Psalm was written, or by whom. Its perfume is Davidic…It has a mild radiance that entities it to be called "The Pearl of Psalms." …this is the sweetest of the Psalms of peace.
And yet, the author is unknown. Perhaps to give us all a chance to reflect on what would be the best day ever as individuals rather than merely reading about the near-painful yearnings of one man to be in the House and Courts of God for a mere day.
When I read the words, "How lovely is your is your dwelling place," however, I am left to wonder if "lovely" is too weak a word. "Lovely," I thought, seems more like something my grandmother might have called her dining room table, laid out in linen and china, bedecked with silver and crystal. Thinking on this, I realized the beauty in the word.
Imagine a place so spectacular—beyond any landscape or dining table, superior to any castle or mountain, more exciting than any theme or water park—you literally ache to see it, to dwell within it, to sit quietly or bursting in praise between its walls. Imagine a place that, when you are there and when you have returned, you feel satisfied only because of the Presence there. Imagine that Presence—like a mother eagle—spreading its wings and you, her eaglet nestled beneath their shadow.
Envision being in the place where God's glory lives, as it lived within the courts and amongst the furnishings of the tabernacle in David's day and in the temples built after that. Now picture yourself spending an entire day there. Just one day. What would you do? How would you spend your twenty-four hours in God's house?
And when you left, how would you feel? How deeply would you yearn to return?
So, Let's Say David Wrote It…
As a boy and a young man, we can assume David had gone to "the house of the Lord," if at no other time during the appropriate feasts and with his family. As a young man, warrior, and son-in-law to King Saul, David was driven out of his home and away from his family by the mad king, unable to enter in to the tabernacle. At one point during his years of hiding, David lived in southern Israel. 1 Samuel 23:29 reads: And David went up from there and lived in the strongholds of En Gedi.
Anyone who has been to En Gedi knows of its splendor. Within the text of Solomon's Song of Songs we find: My lover is to me a cluster of henna blossoms from the vineyards of En Gedi.
My recent visit to Israel confirmed everything I'd ever read about it. Within the pages of my journal I wrote: I am captivated by its beauty—lush greens in the midst of desert mountains—and stunned by its height…No wonder this was David's hiding place; a refuge from harm and an overflowing sanctuary of God's presence and relief.
Yet, at impressive as this desert hideaway was and is, it is without question that David yearned to return to the place where the presence of God dwelled. And so, perhaps it was he who wrote:
How lovely is your dwelling place, O Lord Almighty!
My soul yearns, even faints, for the courts of the Lord;
my heart and my flesh cry out for the living God….
Better is one day in your courts than a thousand elsewhere;
I would rather be a doorkeeper in the house of my God than dwell in the tens of the wicked. (Excerpted from Psalm 84)
And So We Sing
In 1999, singer/songwriter Matt Redmon penned the song, "Better is One Day." We have now sung it in our time of worship within churches and gatherings and even in our private praise time for nearly a decade. The next time you raise your voice with this melody, ask yourself this question: What one thing would you ask of God—and what would you seek—that would far surpass to see His beauty?
"I will draw near to you," the last line of the song goes.
And so we should.
And so we do.
Questions for Private or Group Study
Think of the best day of your life. What made it so special?
What one thing on earth would you love to see? Compare it to a day with God. How does it stack up?
Have you ever experienced a time in the presence of God that left you yearning, aching to be within Him in such a way again?
The tabernacle and temple in Israel no longer exists but 1 Corinthians 6:19 says: Do you not know that your body is the temple of the Holy Spirit? How do you spend your time, therefore, within the Presence of God?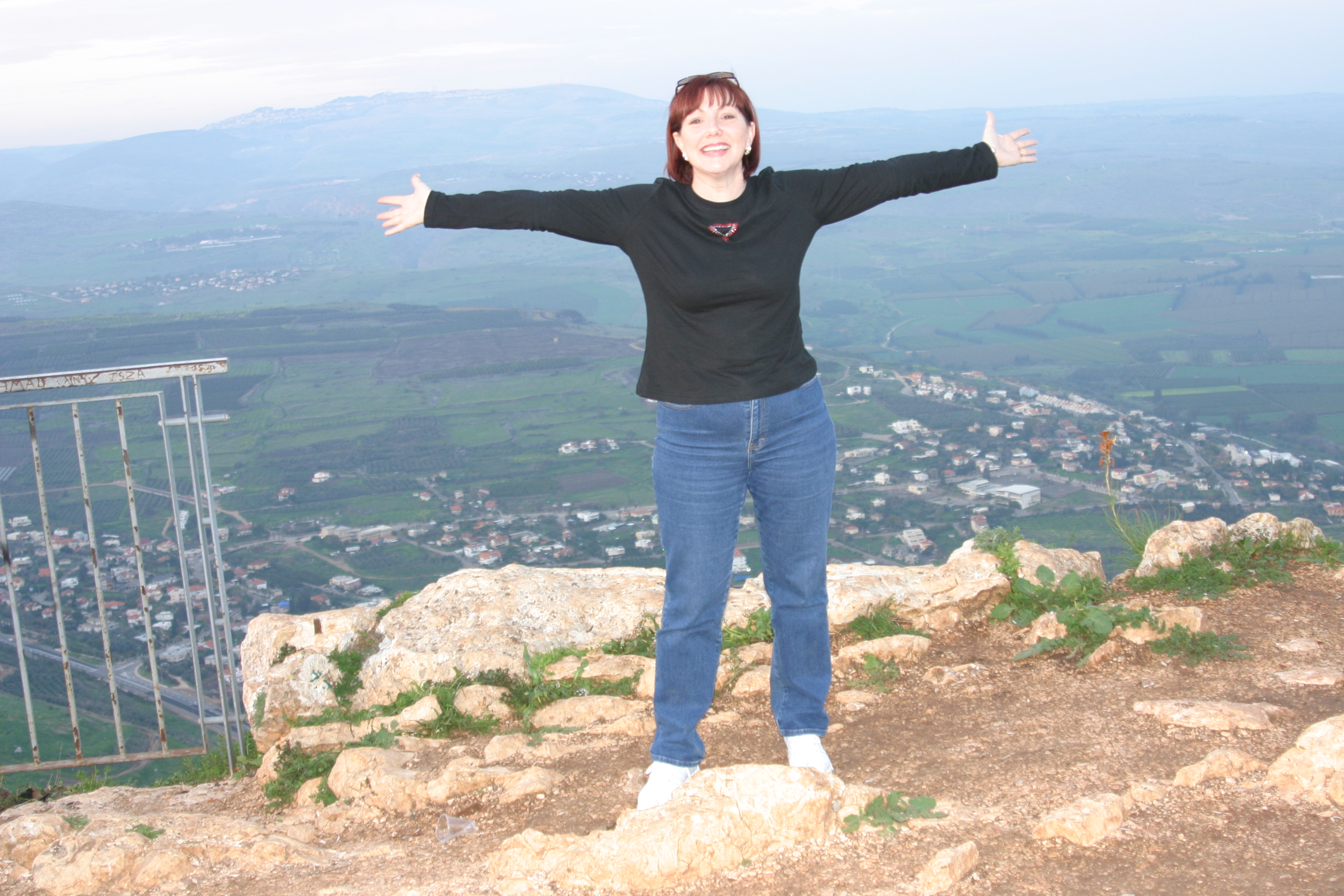 Eva Marie Everson's book Reflections of Israel; A Personal Journey to God's Holy Land (Thomas Nelson/Nelson Bibles) will release May, 2008. For more information about the book and Eva's speaking topics, go to: www.EvaMarieEverson.com