10 Worship Songs That Remind Us to Be Thankful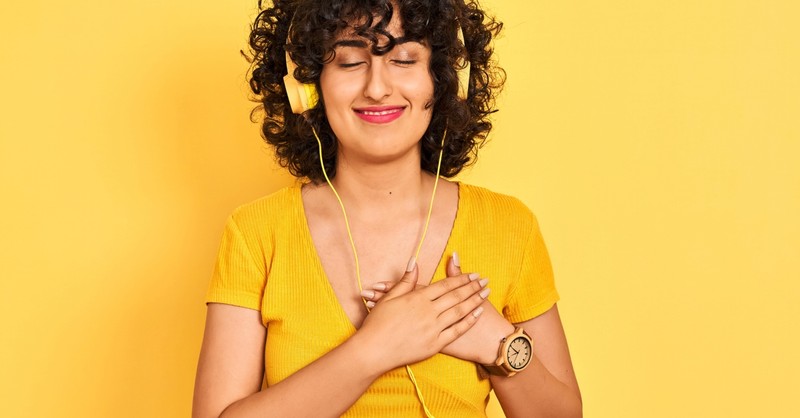 Over the holiday season, our schedules can get so full that remembering to be thankful for time with family or for God's many blessings in our lives can be a struggle. On top of that you may be having dinner with "that family member" that complains about every tiny detail of the way the meal was prepared. You get the feeling that it wouldn't matter if their meal was perfect, they would still find something about it to be unhappy about. Sometimes time with family can be a blessing and a challenge.
When we have these tough conversations or are facing a full schedule, we realize that the perspective we have can make or break this jam-packed season of the year. How we perceive our circumstances has the power to ruin even the best holiday season or to bring joy to the craziest of events. Being intentional about expressing gratitude is a great tool to help maintain a joy-filled perspective through every season of life.
Joy truly comes from within. Psalm 107:8-9 says, "Let them give thanks to the LORD for his unfailing love and his wonderful deeds for mankind, for he satisfies the thirsty and fills the hungry with good things." These words point us to the truth that we can find what we need to be satisfied from the Lord and He encourages us to "give thanks to the Lord" as a way to acknowledge God as our provider.
We all desire to be thankful and filled with positivity but it can be a battle to ensure our minds are fixed on the good around us rather than focusing on the bad. We have to be intentional about creating rhythms that remind us to express our gratitude to others and to the Lord. Spending time listening to songs that remind us that we have so much to be thankful for in our lives, thanks to our good and faithful creator, is a great way to help cultivate joy in our lives. Here are some powerful worship songs about being thankful for you to enjoy in your home as you walk through this holiday season.
1. Grateful by Elevation Worship
This song sets a tone of gratitude for your day or time of worship at church. It declares that we are standing only because God has done a good work in our lives. We owe it all to him. Let these words remind you that God has fought for you, set you free, and provided abundantly for us.
2. Gratitude by Bethel Music
Gratitude by Bethel Music reminds us that our lives are designed to be an expression of endless worship to our God. We give thanks to our God for the ways he has blessed us through worship and through following his ways. Sing along and allow the Holy Spirit to put life in proper perspective for you.
3. Reason To Praise by Bethel Music
God is faithful to us even when we are at our worst. When we are struggling to find reasons to celebrate or are struggling with feeling inadequate, God is at work. He gives us reasons to praise in every season. He strengthens us and redeems the most broken places of our lives. We can step away from our shame, guilt, and sadness for one reason, which is him!
4. So Will I by Hillsong Worship
We are one part of God's magnificent creation! He has made all things in the known and unknown universe. If the mountains bow before God and his greatness… then how can we be justified in holding back our praises? Allow God to remind you of his majesty as you listen to this beautiful song of humility and a call to worship our amazing God.
5. What A Beautiful Name by Hillsong Worship
The name of Jesus is powerful! His name can break the chains that want to hold us back from finding freedom in the Lord. Call upon that beautiful name and see God encourage your heart. When we call on his name we are able to live joyful and thankful lives.
6. Raise A Hallelujah by Bethel Music
Miracles happen when we pause from our own agendas and take time to worship the one who holds our lives in his big and capable hands! If you are discouraged this holiday season by the enemy of our souls, then you need to pause and raise a hallelujah! God is greater than our enemy and will come and fight on your behalf. He is able to do miracles!
7. Thankful by VERSES
Thankful by Versus is a lighthearted song that is sure to inspire gratitude. It is a sweet reminder that we need to take time to just say thank you to our God. The easy tune and fresh beat will make this one easy to keep on repeat in your home.
8. Thank You by Hillsong Worship
Thank You by Hillsong Worship is a wonderful anthem of thanksgiving for God's generosity. It says, "Thank You for Your kindness, Thank You for Your mercy. Thank You for the cross, Thank You for the price You paid." I love this reminder that God has given us so many good gifts. It is easy to lose sight of God's grace in the busyness of life. We need simple reminders to help us keep our eyes on God and his love at work in our lives.
9. I Thank God by Maverick City Music
This is a song you can't help but move your body to! Once you turn it on, those hands will start clapping and those feet will start moving. This song lifts up joyful praise for how God has turned our lives around. I love the organ sound and the soulful feel of this tune. I am sure you will love it too!
10. Rest On Us by UPPERROOM
As this song points out, the reality is that we need the power of the Holy Spirit at work in us in order to be able to live in gratitude. No matter how many thankful lists we make, how hard we work to keep smiles on our faces, or how much we preach gratitude to our kids, truly only through God's grace can we rise above the feeling of heaviness that this world puts on us. We need to invite the Holy Spirit to rest on our lives and to reside in our homes. He is the one that enables us to live with gratitude.
Psalm 136:1 commands us to "give thanks to the Lord, for he is good. His love endures forever." God tells us to give thanks not because he needs us to worship him but because he knows that through this simple act of obedience our hearts are changed. Praising God and thanking him encourages our souls. It inspires faith and hope! Take time to pause, praise, and give thanks to God this holiday season!
Photo Credit: ©GettyImages/AaronAmat
---

Amanda Idleman is a writer whose passion is to encourage others to live joyfully. She writes devotions for My Daily Bible Verse Devotional and Podcast, Crosswalk Couples Devotional, the Daily Devotional App, she has work published with Her View from Home, on the MOPS Blog, and is a regular contributor for Crosswalk.com. You can find out more about Amanda on her Facebook Page or follow her on Instagram.