8 Books for Christians Who Have Never Read Theology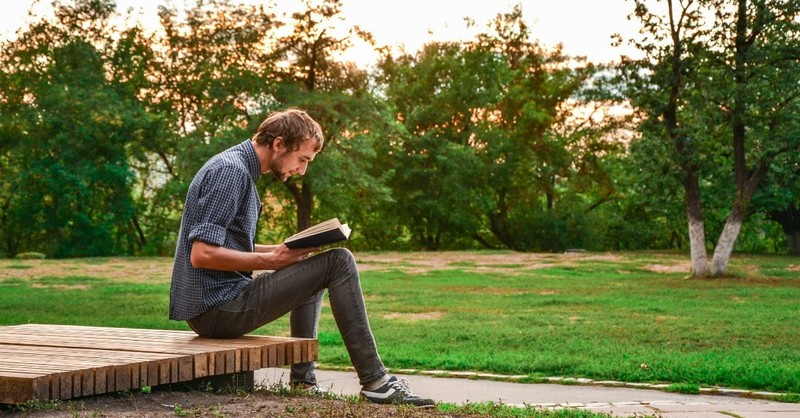 Rich Christian books have been a great aid to me in my walk with Christ. Rather than replacing my personal Bible reading, they have shed light on my Bible reading by opening my eyes to things I didn't see or challenging the way I had previously seen things. In addition, rich Christian books introduced me to how Christians had been reading the Bible for centuries. I'm not the first person to read the Bible, and so I needed to hear the wisdom of those who walked with Jesus before me.
Good Christian books also fanned into flame my appetite for reading the Bible. As I read ideas I had never encountered, I wanted to dig into the Bible to see if they were actually there. When a book called a firmly held belief into question, it pushed me to the Bible to make sure I had not been reading it wrong. Also, good Christian books made me long to know the Bible the way these authors do so that my mouth and my pen dripped Bible.
Knowing where to start reading good theological books can be difficult. There are so many books and so little time, and many of books are not worth our precious time. For the last few days I stared at the shelves in my office, sent messages to friends, and perused other's reading lists to suggest the best books for Christians who have not read theology. The books below plunge into the depths of God's word while remaining readable, rich and devotional. For the most part, they will be accessible for the person who is a new Christian while challenging you to dive deeper into the truth.
If you have never read theology, here are eight good books to get you started.
Often when Christians approach the Bible, we aren't sure where to start. We try reading from the beginning, but get bogged down in Leviticus and Numbers or jump into the Gospels, but don't understand many of the allusions to the Old Testament. In this work D.A. Carson walks us through the storyline of the Bible so we can understand how God has progressively revealed himself in Scripture. Believers will walk away from this book with a greater grasp on the Bible and the character of God.
I can't put into words how helpful this book from John Stott has been for me. Written at a time when many were trying to reframe our understanding of what Jesus accomplished on the cross, John Stott lays out a beautiful case for seeing Jesus' death as a substitutionary sacrifice on our behalf. Stott shows why we need this, how Jesus accomplished it, and how we live in light of it. This is my favorite Christian book outside of the Bible, and return to it often.
I struggle to know where to begin talking about this classic from J.I. Packer. I first read it twenty years ago, and encounter incredible jewels every time I read through it again. Packer takes us on a journey into the nature, attributes, and ways of God. He does not write about God with detachment, but as a man who has walked closely with him and basked in the warmth of his love. In doing this Packer embodies the best kind of theological writing, that which teaches us while also stirring our affections.
There are many ways Christians can fall into thinking our relationship with God is based upon what we do. Jared Wilson shows how awakening to the realities of the good news of the Gospel, and our acceptance before God by faith alone reinvigorates our Christian walk. The chapter I found most helpful was, "Freedom from Hyper-Spirituality," as I spent many years frustrated because I had a truncated view of what genuine spirituality looked like. This book is freeing, and any Christian walking through a dry period would do well to give it a close reading.
Many Christians have lost confidence in the Bible as God's perfect word. This important book from Kevin DeYoung will help Christians regain their grip on the inspiration and authority of the Bible by showing what it has to say about itself. He begins by walking through Psalm 119's beautiful picture of God's word and then shows that Scripture demonstrates itself to be sufficient, clear, authoritative, and necessary. In the most crucial chapter of the book he shows Jesus' view of the Bible. I've read this short, timely, and accessible work several times now. It has challenged and instructed me on every read-through.
Tim Keller spent the last quarter century talking to Manhattanites who are skeptical about the Christian message and Christian morality. He takes the objections he hears the most and works through them showing both the fallacies behind the objections and the logic of Christian truth. In the second half he lays out the basics of the Christian message and why it beckons us to believe. If there are areas where you struggle with the faith or have friends who do, this book is a great place to start.
Our culture asks many questions about the Bible we don't know how to answer and reading the Bible raises many issues we don't know how to grapple with. Robert Plummer answers many of these queries in a clear and understandable way. While all of this book is profitable for the reader, its arrangement allows you to go to specific questions with which you or someone you know may be wrestling. You will find this a great reference to keep close at hand.
I'll never forget the first time I saw a full-length Systematic Theology book. I didn't know how anyone could read a book that long, but knew the information in it was vital to understand. Thankfully Wayne Grudem's Systematic Theology exists in a slimmed down version called Bible Doctrine. Even this version clocks in at over 500 pages, so Grudem and his son Elliot released an even more condensed version which covers the basics of Christian doctrine. For the person who has never tackled Systematic Theology, this would be a great place to start. Since this is a reference work, you can begin with a doctrine that interests you, or sit down and read it all the way through.
This article was originally published on ScottSlayton.net. Used with permission.
Scott Slayton serves as Lead Pastor at Chelsea Village Baptist Church in Chelsea, AL and writes at his personal blog One Degree to Another: scottslayton.net. He and Beth have been married since 2003 and have four children. You can follow him on Twitter:@scottslayton.
Publication date: July 28, 2016