A Return to Sunday Dinner: A Sunday for Thanksgiving
Russell Cronkhite

Author

2005

24 Nov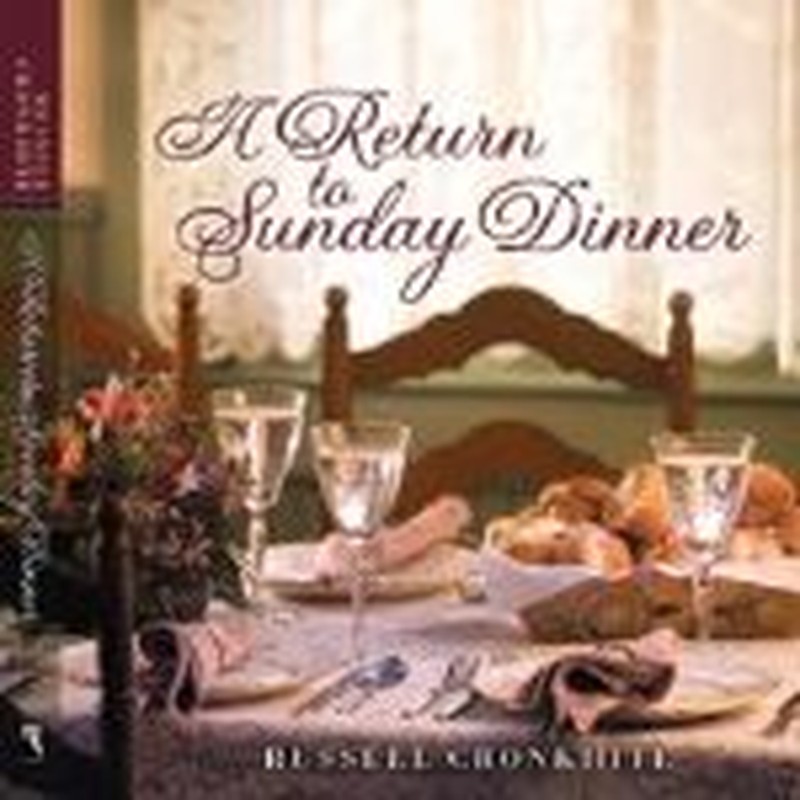 Savory Turkey and Vegetable Pot Pie, Molded Cranberry, Apple and Orange Ring, Sweet Potato Biscuits with Maple-Walnut Butter, and Spice Pumpkin Mousse Cake
Throughout history and around the world, harvest festivals have been held to celebrate the gathering of the year's crops.  They acknowledge God's "manifold blessings" and the earth's plentiful abundance.  In 1621, however, when the Pilgrims invited their Indian neighbors to a dinner in honor of their first harvest, a distinctly American tradition was born.  Today, in fact, we are one of the few nations to observe an official day of thanksgiving.  On the fourth Thursday of November, Americans of all backgrounds gather to give thanks with a feast of traditional foods harvested from our land:  turkey, corn, squash, pumpkin, sweet potatoes, and cranberries.
Thanksgiving has always been more than just a harvest festival, however.  It has also traditionally been a time to refocus our attention on what is important and give God thanks for His grace and protection.  George Washington was the first to proclaim a national day of thanksgiving.  Later, during the Civil War, President Lincoln set aside the last Thursday of November "as a day of Thanksgiving and Praise to our beneficent Father."  After that it became a tradition for each president to proclaim annually a day of thanksgiving.  This continued until 1941, when Congress finally established it as a national holiday. 
Thanksgiving has always been one of my favorite holidays. Each year our family gathers together to share a traditional meal complete with hearty seafood chowder, juicy herb-scented roasted turkey, savory cornbread dressing, sparkling cider, and rich homey desserts.  This is a joyous time to remember our heritage, our family, our faith, and all the blessings we have enjoyed throughout the year.  Ever year, however, we seem to face the same universal challenges:  How do we fit all those leftovers into the crowded refrigerator?  What do we do with that picked-over turkey carcass?
My wife and I met these challenges years ago when we began the tradition of making turkey pot pie from our leftover bird and serving it the Sunday following Thanksgiving.  We've come to anticipate this savory and satisfying entrée as much as the Thanksgiving dinner itself.  It is a perfect Sunday dinner:  very easy, mostly prepared ahead, and memorably delicious.  I think you'll agree that leftovers never tasted better!  Of course, you don't have to wait until November.  After all, Sunday dinner should be a bit like having Thanksgiving each and every week; it's a time for both thankful reflection and joyful feasting.
SAVORY TURKEY AND VEGETABLE POT PIE
8 servings
Creating this excellent pot pie couldn't be easier.  One way to save on time is making a little extra crust when you prepare your Thanksgiving pies (pastry crust will stay fresh for days when refrigerated).  Then, when those Thanksgiving dinner dishes are being scraped and stacked, take a few moments to prepare a rich stock from the turkey carcass and a few of the vegetables and herbs you'll no doubt have on hand.  Trust me:  As you organize things to prepare the stock, a lot of that leftover Thanksgiving mess on the stovetop will disappear in the process!
NOTE:  When making a stock, I generally fortify the flavor by using a quality bouillon in lieu of using salt.  (Most bouillon cubes are for the most part sodium anyway, so I really think of this as salt with a little extra flavor.)
TURKEY STOCK
1 whole turkey
8 cups cold water
1 carrot, peeled and chopped
1 rib celery, chopped
1 leek, white part only, thinly sliced
1 medium onion, diced
1 whole clove garlic
1 bay leaf
1 small bouquet of fresh herbs:  parsley, rosemary, sage and thyme
6 to 8 white peppercorns
2 chicken bouillon cubes
PREPARE THE STOCK:
FIRST, cut away the extra meat from the turkey breast and remove the legs and thighs.  Trim the remaining meat from the legs and thighs, keeping the larger pieces for sandwiches or other favorites, and set aside about 4 cups of the smaller pieces, as well as any little bits of extra white and dark meat, for the pie filling.  Scrape any lingering dressing from the carcass, but don't worry if a little remains – the flavor will only enhance the pie.  Use a pair of poultry shears to carefully cut through the breastbone and back.
SECOND, place the turkey carcass, as well as the leg, thigh and wing bones, into a large pot and pour in the 8 cups cold water.  Add the chopped carrot, celery, leek, onion, garlic, bay leaf, bouquet of fresh herbs, white peppercorns and bouillon cubes.
THIRD, heat the stock until the water just begins to boil.  Reduce the heat and simmer uncovered until the liquid is reduced by half, about 3 hours; this should yield about 4 cups stock.  Cool slightly, discard the turkey bones and strain through a fine sieve; then cool to room temperature.  The stock may be refrigerated in a well-sealed container for up to a week.
PASTRY DOUGH
3 cups all-purpose flour
1 teaspoon salt
½ cup (1 stick) unsalted butter
½ cup shortening
4 to 5 tablespoons cold milk, as needed
PREPARE THE PASTRY DOUGH:
FIRST, whisk the flour and salt together using a stiff wire whisk.  Cut in the butter and shortening with a pastry cutter, or pulse for several seconds in a food processor, until the mixture reaches the consistency of coarse crumbly meal.
SECOND, add in the milk, a tablespoon at a time, and toss together with a fork or by pulsing a second or two until the liquid is incorporated and the moistened dough is just beginning to come together.  Remove the mixture from the bowl or food processor, turn out into a clean dry surface and knead the dough just enough to form a pliable, tender ball.  Divide into two portions and roll into balls.  Flatten each ball into a disk by gently pressing it between your hands.
THIRD, wrap the disks in plastic wrap and chill for at least 30 minutes.  The dough may be kept in the refrigerator, wrapped tightly, for up to a week.
POT PIE FILLING
½ cup (1 stick) butter
½ cup diced celery
2 cloves garlic, minced
½ cup diced onion
1 cup peeled sliced carrots
1 cup peeled pearl onions
6 tablespoons all-purpose flour
4 cups turkey stock
Salt and white pepper to taste
4 cups roasted turkey, cubed
1 cup fresh blanched peas or frozen peas, thawed
1 tablespoon combined fresh chopped herbs:  parsley, rosemary, sage and thyme
PREPARE THE FILLING:
FIRST, melt, the butter in a skillet over medium heat.  Add in the celery, garlic and onion and sauté until the onion becomes translucent, 2 to 3 minutes; regulate the heat carefully to ensure that the butter doesn't brown.  Add in the carrots and pearl onions and sauté for 2 more minutes.  Sprinkle the flour over the sautéed vegetables and stir until the flour combines with the butter to form a roux. 
SECOND, pour in the stock, stirring constantly to keep lumps from forming, and simmer until the sauce has thickened to the desired consistency, 3 to 4 minutes.  Season to taste with the salt and white pepper and remove the pan from the stove.  Fold in the cubed turkey meat, peas and fresh herbs and cool the mixture to room temperature.  This filling may be used right away or refrigerated in a well-sealed container for up to 4 days.
ASSEMBLE THE TURKEY POT PIE:
FIRST, lightly dust a rolling pin and a clean work surface with a little flour, then roll out one of the chilled pastry disks into a circle that is about ¼-inch thick and about 12 inches in diameter.  Carefully drape the pastry over the rolling pin and transfer it to a 10-inch deep-dish pie pan.
SECOND, spoon the filling into the dish.  Roll out the second piece of dough so that it is slightly smaller in diameter and just a bit thicker than the bottom crust, and carefully place it over the filling.  Use a sharp knife or poultry shears to trim away any excess dough, then crimp the edges.  Cut several slits into the top of the crust and brush with a little milk.  (Note:  Extra pieces of dough can be cut into attractive shapes and arranged decoratively over the surface of the pie.)
THIRD, bake in a 350°F oven until the crust is golden and the filling is bubbling hot, 60 to 70 minutes.  Remove the pot pie from the oven and let it rest at room temperature for 20 minutes before serving.
MOLDED CRANBERRY, APPLE AND ORANGE RING
10 servings
The tang of cranberries and orange with crunchy apples makes a festive salad – leftover cranberry sauce never had it so good!
CRANBERRY, APPLE AND ORANGE RING
2 whole oranges
1 12-ounce package fresh cranberries
1 ½ cups granulated sugar
2 tablespoons unflavored gelatin
2 cups cranberry-apple juice cocktail
2 cups whole-cranberry sauce
2 cups diced red or green apples
PREPARE THE CRANBERRY, APPLE, AND ORANGE RING:
FIRST, wash the oranges thoroughly and cut them into quarters (leave the peels on); remove any seeds and slice the quarters into chunks.  Combine the orange chunks with the fresh cranberries and ½ cup of the sugar in the bowl of a food processor fitted with a steel blade.  Roughly chop by pulsing for 5 to 10 seconds.  Set this mixture aside.
SECOND, sprinkle the gelatin and the remaining 1 cup of sugar into the cranberry-apple juice in a small saucepan.  Bring the mixture to a boil over medium heat and stir until the sugar and gelatin are completely dissolved, about 5 minutes.
THIRD, combine the hot cranberry-apple juice mixture and the whole-berry cranberry sauce in a stainless bowl.  Stir together well, let stand for 5 minutes and then partially submerge in a bowl of ice water; stir until cool.  When the mixture has cooled completely, fold in the diced apples and the chopped orange-cranberry mixture.
FOURTH, pour into a 2-quart plastic mold or ceramic dish and cover with plastic wrap.  Chill until the salad is set, at least 8 hours or overnight.
SERVE THE SALAD:
Take the salad out of the refrigerator and dip the bottom into hot water to loosen the gelatin.  Remove the plastic wrap and carefully invert the salad onto a decorative platter.  If desired, garnish with fresh orange slices and sugar-frosted cranberries.
SWEET POTATO BISCUITS WITH MAPLE-WALNUT BUTTER
18 biscuits
For this recipe you can bake a couple of extra potatoes when preparing your Thanksgiving dinner.  Or simply use leftover sweet potatoes – the little extra brown sugar that you seasoned them with will only enhance the flavor of the biscuits.  The biscuits are especially good served hot and oozing with creamy maple-walnut butter.
BISCUITS
2 ½ cups all-purpose flour
2 tablespoons baking powder
Pinch of all-spice
Pinch of ground cloves
½ teaspoon salt
¼ cup packed light brown sugar
¼ cup (1/2 stick) unsalted butter, chilled
½ cup shortening, chilled
1 ½ cups mashed sweet potatoes or yams
Adjust the rack to the center of the oven and preheat to 425°F.
MAKE THE BISCUITS:
FIRST, sift the flour, baking powder, all-spice, ground cloves and salt into a large bowl.  Use the tips of your fingers to blend in the brown sugar.
SECOND, cut in the chilled butter and shortening with a pastry cutter or pulse in a food processor until the mixture resembles coarse crumbly meal.  Then stir in the mashed sweet potatoes and knead until the dough just holds together.
THIRD, turn the dough out onto a lightly floured surface.  Knead gently for 1 minute, adding a little extra flour as necessary to incorporate all the ingredients and ensure that the biscuits will rise evenly.  Pat the dough into a ½-inch thick circle and let it rest, covered with a clean tea towel, for 10 to 15 minutes. 
FOURTH, cut out the biscuits with a 2-inch round cutter dipped in flour.  Gather the scraps, pat out again and cut into biscuits.  Arrange them about ¾-inch apart on an ungreased baking sheet and brush the tops with a little milk.
FIFTH, bake the biscuits until golden grown, 10 to 12 minutes.  Cool the biscuits on racks and brush with a little melted butter.
MAPLE-WALNUT BUTTER
½ cup (1 stick) unsalted butter, softened
2 tablespoons pure maple syrup
1 tablespoon ground walnuts
MAKE THE BUTTER:
FIRST, whip together the softened butter with the maple syrup and ground walnuts using an electric mixture set at high speed, or pulse in a food processor fitted with a steel blade, until the butter is light and fluffy.
SECOND, spoon the maple butter into a small serving dish or use a pastry bag fitted with a decorative tip to pipe the butter into small ramekins.  The butter can be kept at room temperature until ready to serve; or you can cover with plastic wrap and refrigerate, then return to room temperature before serving.
Something happens in my human heart when I approach that place – a perpetual place, Yeats calls it – where time and space and family have grounded me:  my parents' Sunday dinner table.  It was never grand, but it was ever constant.  During lean, hard times when hailed-out crops or plunging cattle prices brought us to the brink of ruin, my parents still bowed their heads in thanks and showed us how to live.

Ranch life lingered on, but with the "work all done" in fall, Thanksgiving marked a season of rest as well as feast, and we enjoyed pheasants fattened on our corn and the bounty of garden vegetables – God's provision redeemed from the soil and put up for winter's store.

Our five original family members now number twenty-three, and when we gather together, the grandchildren sleep in tents or under the open sky.  At dinnertime the youngest ones take their plates to the lawn to eat, and Sunday dinners still last most of the afternoon.  Now the stories are of our own diaspora, for modernity has scattered us from coast to coast.  But here, in the vast spaces of Wyoming, the children learn that they are pat of a larger story.

A tall chocolate cake layered with fresh fruit welcomes us home each year, and once again we celebrate the continuity of holy things – communion around God's table, followed by communion around our own. 
— Mary Ann Bell
SPICED PUMPKIN MOUSSE CAKE
12 servings
There always seems to be at least one unused can of pumpkin left in the cupboard after Thanksgiving (you'll need a 29-ounce can for this recipe).  If your home is anything like ours, you'll no doubt have plenty of leftover whipped cream on hand, as well.  This amazing cake is rich and creamy, light and airy – and the combination of spices creates a fabulous dessert!
PUMPKIN CAKE
1 cup all-purpose flour
¾ teaspoon baking soda
¼ teaspoon ground allspice
½ teaspoon ground cinnamon
¼ teaspoon ground nutmeg
¼ teaspoon salt
½ cup (1 stick) unsalted butter
½ cup granulated sugar
½ cup packed dark brown sugar
1 large egg, room temperature
1 1/3 cups canned pumpkin
½ cup dark raisins
Adjust the rack to the center of the oven and preheat to 350°F.
MAKE THE CAKE:
FIRST, lightly grease a 9-inch springform pan.
SECOND, sift the flour, baking soda, allspice cinnamon, nutmeg and salt into a mixing bowl; set aside.
THIRD, thoroughly cream the butter with the granulated sugar and brown sugar in the bowl of an electric mixer fitted with a paddle until light and fluffy, about 6 minutes.  Scrape down the sides of the bowl with a rubber spatula.  Then, with the mixer running at medium speed, add in the egg, beat until the egg is fully incorporated into the butter mixture.
FOURTH, turn the mixer speed to low and add the sifted dry ingredients in 3 stages alternately with the pumpkin, mixing well after each addition.  Increase the mixer speed to medium and beat for about 30 seconds.  Then scrape down the sides of the bowl and fold in the raisins. 
FIFTH, spread the batter evenly in the springform pan and bake until a wooden pick comes out clean when inserted into the middle, 35 to 40 minutes.  (The cake will only rise to a height of approximately 1 inch.)  Cool the cake in the pan.  When the cake is cool, wipe along the inside edge of the springform pan with a damp paper towel, then lightly butter the clean edge.
MOUSEE FILLING
2 cups half-and-half
1/3 cup brandy or ¼ cup water plus 1 tablespoon brandy flavoring
2 tablespoons unflavored gelatin
4 large egg yolks, room temperature
1 2/3 cups canned pumpkin
¾ cup granulated sugar
½ cup packed light brown sugar
1 teaspoon ground allspice
1 teaspoon ground cinnamon
½ teaspoon ground cloves
2 cups heavy whipping cream
MAKE THE MOUSSE:
FIRST, scald the half-and-half in a saucepan by heating it just to the point of boiling; then quickly remove the pan from heat and cool until it is lukewarm.
SECOND, pour the brandy into a small bowl and sprinkle the gelatin over it, then stir until the gelatin has dissolved.
THIRD, combine the egg yolks with pumpkin, granulated sugar, brown sugar, allspice, cinnamon and cloves in the top of a double boiler or in a stainless bowl.  Stir well to incorporate.
FOURTH, whip the heavy cream in a separate bowl until stiff peaks form; cover and refrigerate.
FIFTH, add the softened gelatin to the scalded half-and-half and stir to dissolve so that there are not lumps, then slowly pour it into the pumpkin mixture, stirring constantly.  Place the bowl over a double boiler or pan of rapidly boiling water – do not allow the pan to touch the water – and stir with a heat-resistant rubber spatula until the pumpkin mousse has thickened slightly and is barely bubbling around the edges, about 5 minutes.  Remove the mousse from the pan of boiling water, submerge it partially in a pan of ice water and cool, stirring constantly, to room temperature.  As the custard cools, it will begin to set up and have the consistency of cake batter.
SIXTH, just when the custard begins to set up, add half of the stiffly whipped cream to it and stir until fully incorporated; then quickly but gently fold in the remaining whipped cream.  Pour the mousse over the cake in the cake pan, tapping the edges of the pan to get rid of any air bubbles.  Chill uncovered in the refrigerator until the mousse is completely cool, about 1 hour; then cover tightly with plastic wrap.  Refrigerate for at least 8 hours or overnight.
SERVE THE CAKE:
Wrap a warm damp tea towel around the outer rim of the pan for a minute or so, then carefully run a thin sharp knife around the inside of the pan.  Loosen the springform ring and transfer the cake to your favorite cake stand.  If desired, garnish the cake just before serving with rosettes of whipped cream and lightly dust the top with pumpkin pie spice.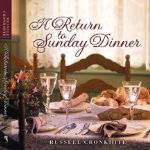 Excerpted from "A Return to Sunday Dinner" © 2003 by Russell E. Cronkhite.  Used by permission of Multnomah Publishers, Inc.  Excerpt may not be reproduced without the prior written consent of Multnomah Publishers, Inc.
Russell Cronkhite is a renowned chef, pastry chef, and baker whose culinary career has spanned over thirty years.  His work has appeared in Art Culinaire, Bon Appétit, The Washington Post, and Weber's Big Book of Grilling.  In 1988, Russell began twelve remarkable years as executive chef of Blair House, the guest house of the president of the United States, where he served three presidents, five secretaries of state, and six chiefs of protocol.  Nearly every major world leader of our time visited Blair House.  Russell and his wife have three grown children who still come home for Sunday dinner.