Author Kenny Luck: Helping Every Young Man to Be God's Man
Laura MacCorkle

Senior Entertainment Editor

2005

18 Jun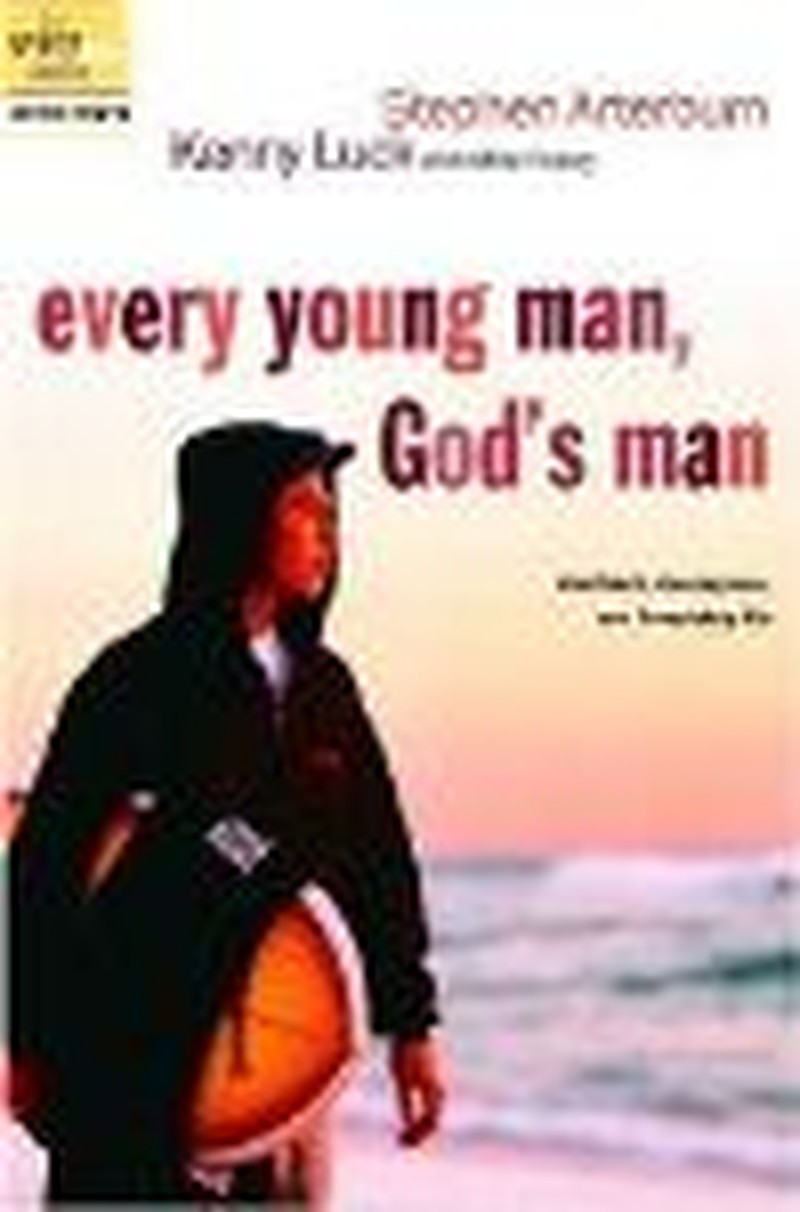 EDITOR'S NOTE:  Some of the following subject matter discussed in this interivew may not be suitable for young children.  Parents, please use your discretion.
About a month ago, I had the opportunity to meet up with author, speaker, teacher and football fanatic Kenny Luck during his book tour in a dark and vibey Italian restaurant called Campisi's in Dallas, Tex. 

The landmark establishment is also known as "The Egyptian," given the fact that there's a second sign – left by a former tenant years ago and still hanging outside today – that reads "The Egyptian."  Quirky and perhaps confusing.  Some folks even think the restaurant is run by local mafia.  Me, I just think it has great pizza and a good atmosphere.
Along with his media reps, Kenny and I discussed his latest book and the movement he envisions taking place in the hearts and minds of young men in this generation, as they are challenged to live radically as men of God.
Not long after that, we talked in greater detail via phone, when Kenny had returned to his home in Trabuco Canyon, California, where he is the president and founder of Every Man Ministries, and the area leader over men's ministry and a member of the teaching staff of Saddleback Church, as well as the author of the recently released "Every Young Man, God's Man" (WaterBrook Press). 
In this 200+ page young men's guide to living "life the way Jesus did … to the extreme," Kenny considers no subject taboo and gives his own testimony (warts and all) to further connect with his young readers.  Chapters discuss struggles many young men are facing today, including masturbation, Internet pornography, fantasizing about women, lies and secrets, shirking from responsibility and much more. 
As I asked him more about his book, I thoroughly enjoyed hearing Kenny's heart to reach young men so that they will impact our culture for Christ.  Listen in. …


---
Laura:  Kenny, in your latest book, "Every Young Man, God's Man," you talk about the "Man Zone."  What is that and what happens there?
Kenny:  The idea is that if you're 17, 18, 19, 20 … if you're leaving your house, leaving for college, or entering the workforce, then you have a man-sized body with man-sized issues, man-sized responsibilities and man-sized consequences.  But what we see multiplied by millions of young men is that they're going into the Man Zone with boy-sized character, which means that up until this point it's all been about fun. 

We can't allow young men to go into manhood without the right thinking about God, people, consequences to action, responsibilities, etc.  We're doing a disservice to them.  We're setting them up for failure in that critical window of time which will shape the next 30 years of their life.  The reality of the Man Zone working out in my own ministry today is that forty and fifty year olds say to me:  "Where were you when I was 18 to 25?  If I had heard you then, the last three decades of my life would have looked a lot different.  No one ever gave me that talk.  But if they did, I would have chosen the narrow road because I don't want pain."
So, the Man Zone is giving young men a very clear picture of what the next phase in their life is going to look like and stories of people who did it right vs. people who did it wrong.

Laura:  It seems like authenticity is the first step to getting in the Man Zone.  Why is that so hard – yet beneficial – for young men to do?
Kenny:  No one wants to expose their struggles.  Men, in particular, since we're so competitive we don't want to appear weak.  It's masculine culture.  There's spiritual warfare around a young man.  The devil loves for a young man to keep a secret about a struggle.  Secrets keep this young man isolated and unknown.  He becomes worse in his character – not better -- the longer he keeps a secret.  A sick character leads to sick conduct and sin which leads to broken relationships with God and people. 
Confession is not taught.  We have to confess to God and to other people.  If you want emotional healing, that has to be in there.  That's difficult for men because we're not wired that way.  So we have to discipline ourselves to do it.  Anytime you have to discipline yourself to be honest with other people, it's a huge risk culturally, personally because there's shame involved in confession.  Especially on the sexual issue – there's huge shame for a young man to say, "You know what?  I'm really struggling with masturbation.  They'll think I'm a freak, think I'm weird."  But the reality is … 100 percent of the room is struggling with that.
Probably most of these young men have never experienced supportive community which is what they should be experiencing in their band of brothers.  So that's why ["Every Young Man, God's Man"] is a movement book.  You're going to get tons of youth groups with boys dealing with this stuff.

Laura:  You talk about "baptizing your brain" and "you are what you think."  What do you mean?
Kenny:  When you are responding to God in fear – and the message in fear is "I know my needs better" – then you have the wrong view of fear in God.  It all starts with the right view of God.  If [young men] know Him and if they realize how committed Jesus is to them … when they see how great He is and that He also loves you and has your best interests in mind … well, when you get those two things in your mind, you get a lot softer. 
If I can't rescue a kid, his heart is hard or he's so wounded that he has to go after indulging himself, impressing others and chasing toys or making money, then I'm praying for that young man that his world will be rocked early.  The fact of the matter is that most men, particularly in their thirties and forties are in this groove of "I'm a Christian, but functionally I'm a materialist" or "I'm a Christian, but functionally I'm a hedonist" or "functionally I'm a narcissist 'cause I'm insecure and wounded and I don't even understand myself and why I do what I do."  Their fear is this:  "If I give myself fully to God, then my needs won't be met.  I won't be having sex or I won't experience intimacy or I won't get the nice car or I won't get the promotion, etc."
But then when they chase those things and it gobbles them up and it "pimps" them – and the world and the devil and their own flesh use and abuse them – then they're like, "Man, this program that I thought was all that hasn't got me anywhere."
And so you confront the self-trickery and lies and you give them a right view of God while confronting some of the deeper issues of wearing masks, the need for love and intimacy and then share with them the truth of who God is, how awesome He is, how great a plan He has for them, etc.  Then, you illustrate how that plan works out in the lives of people for the good. 

Laura:  The concepts and principles in your book are great.  But after reading through it, I couldn't help but wonder, "Shouldn't these things be taught in the home by dads?"
Kenny:  No doubt!  This book should be about a father and a son.  It's not about going back to retrofit a relationship between a dad and his son.  However, that's the optimal situation.  When a dad is owning his spiritual life (and modeling it), marriage, family life, spending time with his kid, talking, etc., then it's just like Deuteronomy 6.  If you read Deut. 6, it's aimed at a dad.  It says to pass on the spiritual part to your children and when your son asks you what are the meanings of these decrees, the dad is supposed to give a testimony of his relationship with God and how God delivered him from Egypt and so forth.
The reality is that most kids, most young men, do not have that optimal father/son relationship.  A rare fraction of one percent of young men have a dad who loves God, a dad who loves mom and spends time with his kids and is the spiritual leader of the family, and has modeled a relationship with God and passed that on successfully.
So what we're doing here, well, it's like you're calling out a barbarian.  You're calling out a generation of people despite their losses.  You're tapping into the pain issues that those losses in the home have created.  The losses in a young man's life make him who he is.  If he has a dysfunctional family or a fragmented or a disconnected family, he's probably on a desperate search for acceptance and a search for love.  So what you have to do is meet that kid where he's at. 

Laura:  Do you find that at your different speaking engagements that young men respond to the way you communicate with them?
Kenny:  Oh my goodness!  They never thought someone could get into their dark spaces and walk out with them with their heads held high.  Jesus said "hungry … feed" and "naked … clothe."  When you go to talk with young men, you've got to get into their pain issues.  When they see someone who's credible, walking into those spaces with them, and not embarrassing them, but challenging them with a desire to be more … they're like "Yeah!  I want to be more."  I'm just tapping those core desires that are in all men – to risk, to live life to the extreme to be on the good side and fight to really fly high. 

I'm not THAT great of a communicator, but I do know how – because of my own life – I have fought every battle I talk about.  You've got to know your audience.  A lot of times, men's ministers – they have great content, but they haven't lived it out in community with other men.  But I'm a men's pastor.  I'm in there every week.  I respond to every person who writes me an e-mail.  I get in these dialogues with Christian college professors who are acting out and they don't know what to do; they're living a double life.  And then down to the 15-year-old who says he hasn't masturbated in two weeks, and he's so happy. 

Laura:  What do you hope to see happen as a result of a book like this – that challenges young men to be God's men?
Kenny:  I see a movement of millions of young men who courageously embrace their identity and the responsibilities, values and decisions that go with that identity.  We'll change the world.  Change the world.  I hope to change male views of culture. 
I hope to turn it on its head, because the Kingdom is missing a generation of men, of warriors, who are not in the great battle and George Barna empirically proved it in the church in his study (March 2000 – "Women Are the Backbone of the Christian Congregation in America") and so our marriages suffer, our families suffer, our cities suffer.
In particular, this is a huge issue for people of color.  And they know it.  It resonates in all cultures, but it resonates very deeply in the African American community.  When you have three generations of men in urban centers in prison, you know that no one trained them to be men. 

Laura:  What would you say is the best way to go through the book and the accompanying workbook?  Is it better do to this in a group setting or by yourself or does it really matter?
Kenny:  It's ten times more impactful if you can do it in community.  You can have great content, and you can even do it in community, but if you don't have accountability and encouragement then there's going to be less transformation.  You have to have all three:  content, community, accountability/encouragement.
If there was a 17-year-old who went through this by himself, that's okay because he'd learn some good stuff.  But if he went through it with a group of other young men, then that would be even better because then there'd be some dialogue.  But then if he went through the content with some young men and there was dialogue and he had an accountability partner going through the module where they called each other every day to check in and see how things were going, then that guy's life will be different.  He'll be transformed tremendously. 

Laura:  Kenny, in closing, would you pray on behalf of young men who may be reading this article right now or for moms or dads who may have sons who are struggling with different issues? 
Kenny:  Father, I'm reminded of myself in my room when I was 17 and how desperately I wanted to know not only who I was, but who you were, and I cried out to you to both know you and see you.  And you met me, and I've never been the same and I found a Father who loves me, gives me advice, shows me the way, gives me a great example and I'm truly grateful. 
I know that there are both parents and young men out there who are struggling to know You and experience Your purpose and plan for their lives.  And I ask that by the power of Your Holy Spirit that You would reveal to both parents and young men Your purpose for their lives.  For fathers to be God's men and to give that away to their sons.  For young men to leave childish ways behind to embrace their future as a man to not just pursue fun but to also pursue their faith aggressively, so that the next 30 to 40 years of their life will be different and lived for You. 
So I pray that You would strengthen fathers, young men to be God's men and that they would live out that identity through their choices and all their relationships and advance Your Kingdom powerfully in this generation.  In Jesus' name, Amen. 

Kenny Luck is president and founder of Every Man Ministries and co-author of "Every Young Man, God's Man" and the best-selling "Every Man, God's Man."  He is the area leader over men's ministry and a member of the teaching staff of Saddleback Church in Lake Forest, California.  He and his wife, Chrissy, have three children and reside in Trabuco Canyon, California.