Author Lisa Samson Talks about Living Outside the Box
Paula Moldenhauer

Contributing Writer

2007

15 Feb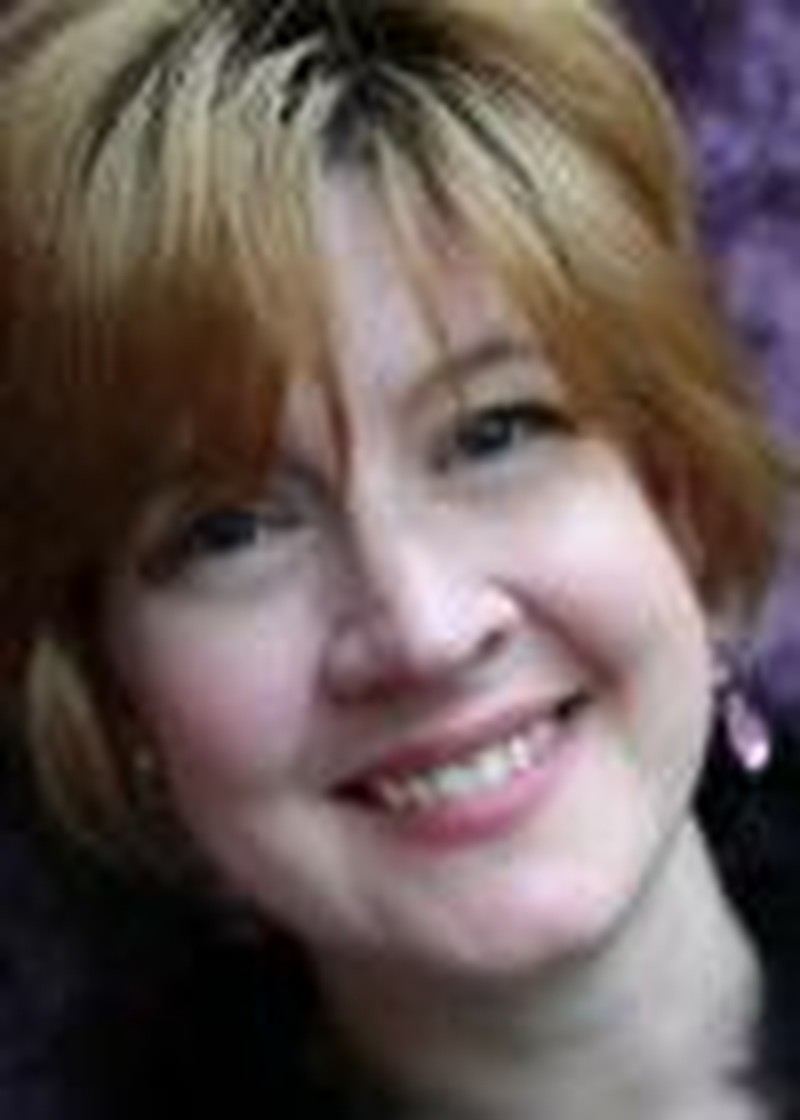 Lisa Samson
, author of Christy award-winner
"Songbird"
and the recently released novel
"Straight Up,"
is known for excellence in writing as well as her artistic bent, but more than anything, perhaps, the name Samson brings to mind authentic stories that makes you think. One reader, Wendy Groenevelt from Colorado, puts it this way: "Reading Lisa Samson is like having a raw steak thrown on the plate in front of you with the admonition, 'chew on this awhile.'"

Dealing with difficult issues has also given Samson a reputation for courage in her writing. What is less known about this author is the courage she has shown by stepping out of her comfort zone in real life. She and her husband, Will, have taken a huge step out of the traditional American box in an effort to follow the Biblical mandate to remember the poor and hungry.
Lisa and Will lived a comfortable suburban lifestyle in a half a million dollar home when they felt prompted to relocate to the inner city to share Christ's love in that environment. After much soul-searching prayer, they sold their home, packed their bags, and moved to downtown Lexington, KY.
Lisa, what prompted this "out of the box" move?
It was a calling out, I believe. We'd long been hearing the whisperings of God that there was more to this walk of faith than going to church, reading your
Bible
, praying and serving at church. We served like crazy, lived the suburban life of working, running around, always trying (and failing) to live a spiritually focused life, but finding ourselves depleted and discouraged no matter how hard we sought to please God.
Describe for us your goals in this life-style change.
Our goal is pretty simple: to follow God in the way of Jesus. And beyond that, I've always loved
Micah 6:8
, "What is it, oh man, that the LORD requires of you, but to do justice, love mercy and walk humbly with your God."
Jesus traveled pretty lightly, so one our goals was and is to get rid of as much extra junk as possible! Isn't that weird? I know that's not real sexy and spiritual sounding, but I guess we've thrown out or given away close to half of our possessions and lest you think we're overly spiritual, we did get rid of the half we didn't like so well as the other half!
Then, we relocated ourselves where issues of justice would confront us every day, where we couldn't live our lives without stumbling over it, because basically, in the burbs, we failed. We did not seek out those who were hungry, thirsty, naked, sick, or in prison.
What was the hardest part of making this decision?
The strain on relationships. To live in a prophetic manner, your very lifestyle, if not your words, is misunderstood by a lot of people. By choosing to make our home downtown, to simplify our habits and our lifestyle, we've automatically alienated people simply by how we exist even though we do all we can to say, "Hey! I'm still me! I haven't changed into somebody you don't know."
Were you ever scared?
I still am. Sometimes, I'd love more than anything to go back to the life I used to lead, living in a house that doesn't need a ton of work we can't do yet, going to a "regular" church, being back with my old neighbors and the ladies' prayer group I was privileged to be a part of for years. I'm so lonely and scared at times that my heart will buckle under, and sometimes God is silent and feels far away. But I remember the distinct calling he placed not only on my husband, Will, but on me also. And he sends words of encouragement from people who care.
How long have you been in Lexington and what has been the hardest part of living out the choice?
A year and a half. I left a lot of things behind in the suburbs, but not suburban guilt! I still feel like no matter how hard I work – if my serving is getting in the way of my writing, or my writing schedule is getting in the way of my serving – it's never enough. That the days are short, people are suffering and I'm only one woman, what can I really do for the world? So sometimes I feel discouraged because there's so much pain in our world and I'm just a gnat swimming for life in a wide-open sea. The second hardest part is that I just plain miss my old life, my family in Maryland, all that I left behind. It's funny, I know my old life wasn't perfect, but I sure remember it that way sometimes! And it was so much easier not to have to think about the poor and the suffering. With that knowledge has come a real load upon my mind and conscience. Ignorance was bliss, I guess.
Hospitality and community are a big part of your focus. What does that look like?
We live in "intentional Christian community". It sounds a little strange, I know, however, it's been very challenging and a good way to break oneself of that independent spirit that so longs to focus only on one's own needs and desires. At one time, a young married couple lived in the loft apartment in our attic: they took care of the yard and have put in a beautiful city garden. Another young man who came to us pretty broken-up from a family situation turned sour, lived in the back bedroom: he folded laundry as his chore. We all worshipped together and ate two dinners a week together. We also hosted a summer intern who came to learn about issues of poverty and justice down at the Catholic Action Center, a soup kitchen/homeless shelter/helper of the poor place that does wonderful works of justice and mercy in downtown Lexington.
There's always an open invitation for anyone whoever needs a place to sleep over in Lexington or would like to see what we're doing here.
You mentioned that even though the brokenness of the inner city can be more obvious, it is important to remember that a broken, lonely woman sitting in a million dollar home in the burbs can carry just as much pain. Can you elaborate on that?
Oh yes. There are those who are poor in spirit to be certain and their pain cannot and should not be ignored. God loves everyone, doesn't He? So it stands to reason, He's called us to love mercy no matter where we find a person that needs it. The Bible is pretty clear that money isn't the cause for happiness, but good relationships, a caring person reaching out, make all the difference in a person's life.
I truly believe we must look at all people God sends our way as if we're looking at Christ Himself.
Matthew 25
has become a very important scripture to me. "Inasmuch as you've done it unto the least of my brothers (and sisters!), you've done it unto me."
I also know that God keeps the poor very close to his heart, and we just can't get around that it scripture. So while we minister to those who are poor in spirit, we simply cannot forget the commands of God to help the poor. The references to this being close to the center of God's heart are many. We have to get away from the either/or mentality – I can help the poor and suffering or the people at church who are lonely/in pain/ suffering, and see our lives as both/and. I truly believe that turning our back on the poor and suffering of our world is not an option for the follower of Christ – not if we want our lives to resemble His, anyway.
Let's be honest, Lisa. Most of us reading this hope God won't ask us to make a major move as He asked you to – but boxes come in all shapes and sizes. What are some of the boxes you see in yourself? What boxes do you see in the Church in America?
Oh wow, how much time do you have? Ha!
The biggest box I find myself in, can't seem to climb out of, is the box with the label: God Will Love Me More if I'm Perfect. I'm so flawed, that this mindset positively chains me down.
Some of the American church's boxes have a lot to do with wealth and power. If we are rich and powerful, it's because God's blessed us; conversely, if we lose any wealth or power, God has taken away His favor. But I seem to read in scripture that neither of those things are what Jesus was about. He seemed to do everything topsy-turvey. He didn't use the government of the day to do His job for Him; He didn't use man's institutions as a barometer of God's approval or disapproval. One of the biggest boxes for many in the American Church is that they view their Kingdom citizenship through their American citizenship and not the other way around.
Another box is that the gospel has become therapy and not a path of obedience. It's misleading at any rate because living in the Kingdom isn't easy and fun and you don't always feel peaceful and happy. It takes guts and commitment and sacrifice, but praise Jesus, He modeled the way and continues to give us strength, and yes, peace sometimes in knowing we're about our Father's business.
When God totally took you out of one environment and placed you in another, what held you together?
God's assurance that He was the architect of the plan. He made our path perfectly clear and to have stepped aside would have been nothing other than a quenching of the Spirit. I knew that then and I still cling to that calling when I really don't feel like hanging in there. (Which is a lot!)
Have you discovered anything new about Jesus in this process?
He's everywhere! I used to think of myself as being "the hands and feet of Jesus" to a world that needed Him desperately. But now, after Matthew 25 became so significant, I realize it's a little bit different than that. At the homeless shelter where I used to volunteer there were signs around the kitchen. "If Jesus were homeless, would you give him something to eat?" "If Jesus were pregnant and alone, would you take Him in?" So I came to realize that Jesus is in every one of these people we are called to serve. When we give a cup of cold water, we give it to him. It makes people a lot more important when I see Jesus in their eyes instead of seeing Him in my own.
Is there anything else you'd like to share about this experience or advice for those of us who want to follow Jesus wholeheartedly?
Don't expect it to be easy and don't expect the world to stand up and applaud. Chances are very few people will understand, but those who do become infinitely more precious. But if God is calling you to live the radical Christian life, do you honestly have a good alternative choice?
A homeschooling mother of four, Paula Moldenhauer is passionate about God's grace. Published over 300 times, she's recently released two novels:
Titanic: Legacy of Betrayal
and
Postmark: Christmas
. Her website offers homeschooling and parenting articles, devotionals, and information about her books. www.paulamoldenhauer.com Contact Paula: Paula@soulscents.us