Author Offers Advice for Pastors, Others Subjected to Verbal
Rev. Austin Miles

AgapePress

2005

15 Nov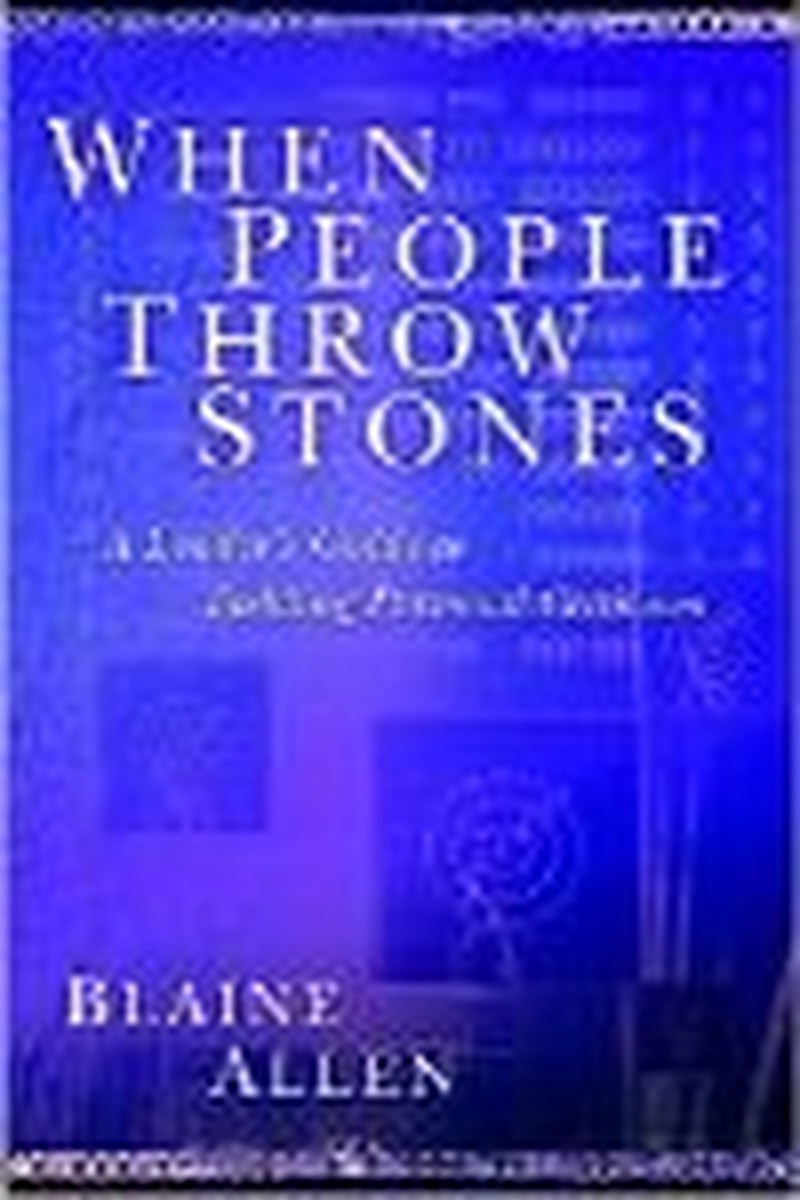 Title:  "When People Throw Stones"
Author:  Blaine Allen
Publisher:  Kregel
Everyone has at one time or another found themselves in the dentist chair of a critic. It hurts. It's like going through an operation without anesthesia. This newly released Kregel publication, "When People Throw Stones:  A Leader's Guide to Fielding Personal Criticism," brings to light these career detractors who march in with a deadly arsenal of words strapped to bombs. And then ... BOOM!
Many times these sneak attacks are launched by people you would least expect. They seemed so nice, so unassuming.
Those doing God's work seem particularly targeted for assault. This is why there are so many retreats throughout the United States to deal with crushed and discouraged pastors. Too often some of the abuse comes from their own congregations that they have dedicated themselves to serving.
This reviewer can well identify with the contents of this book, and has long questioned the saying: "Sticks and stones will break my bones, but words will never hurt me." Yes, they will. A research project at the University of Missouri at Columbia proved that "verbal stressors" can be the base of various illnesses. Words have the power to wound, and they cause damage.
Dr. Blaine Allen, the author of this 175-page book, comes with solid credentials. He not only gives excellent counsel in dealing with this problem, but is also refreshingly transparent regarding his own life in the ministry. He is the author of another Kregel publication, "Before You Quit:  When Ministry Is Not What You Thought." Both books are invaluable.
To try to list the highlights of this book would be to print the entire book in this review. The book itself is a highlight. It tells the reader how to handle the slander and gossip without getting an ulcer.
It spotlights the Apostle Paul, how he dealt with his critics (page104) and how he dealt with false accusations, false trials, and imprisonment with absolute class. He should be our standard.
Page 54 tells exactly what to do when the attacks begin. And it shows how to totally sell out to God during such trials. It is rich with applicable scriptures that will explode with deeper meanings. Page 71 shows how to interrogate a critic. Wow! Solid!
You will be challenged to take the unnatural approach for victory (pages 87-88), realizing that "we do not wage war as the world does." It shows us the importance of self-examination and how to be less critical ourselves.
When the fault-finders begin their march, we need to ask ourselves, are we really doing the right thing for God? This book gives the best analysis to be found of Mary pouring the precious oil on the feet of Jesus. While her critics took issue with this action, the response of Jesus to them thoroughly answers the question of what God's work really is.
Listening skills ... how to listen is covered in Chapter 7. Everyone should acquire solid listening skills, which keep you in charge of any situation. This chapter shows how to hear what is actually being said and what is behind it.
"When People Throw Stones" is an easy read. It is also a (surprisingly) fun read. The author has a sense of humor and scatters tidbits throughout that offer excellent illustration material. One of those stories (found in the first paragraph of Chapter 6) is so funny that it made this reviewer laugh out loud. Every public speaker and minister will be able to use this one in particular.
This is the first book of its kind to effectively deal with the problem of stone-throwers. Every pastor and seminary student should be required to read it.
One of the values of this book is that it shows that you are not the only one going through a punching-bag experience that can make you doubt yourself and even your calling. This book instructs you how to deal with it, overcome it, keep focused on God and how even to minister to your critics. This includes family members who object to you devoting your life to serving God. It is all detailed.
Though written especially for ministers, anyone who has found themselves in the trash-heap of destruction from damaging words will find strength and new authority with the excellent instruction and wisdom given.

© 2005 AgapePress.  All rights reserved.  Used with permission.