Author/Banker Maps Route to Abundant Life - Part I
Randall Murphree

AgapePress

2004

3 Jul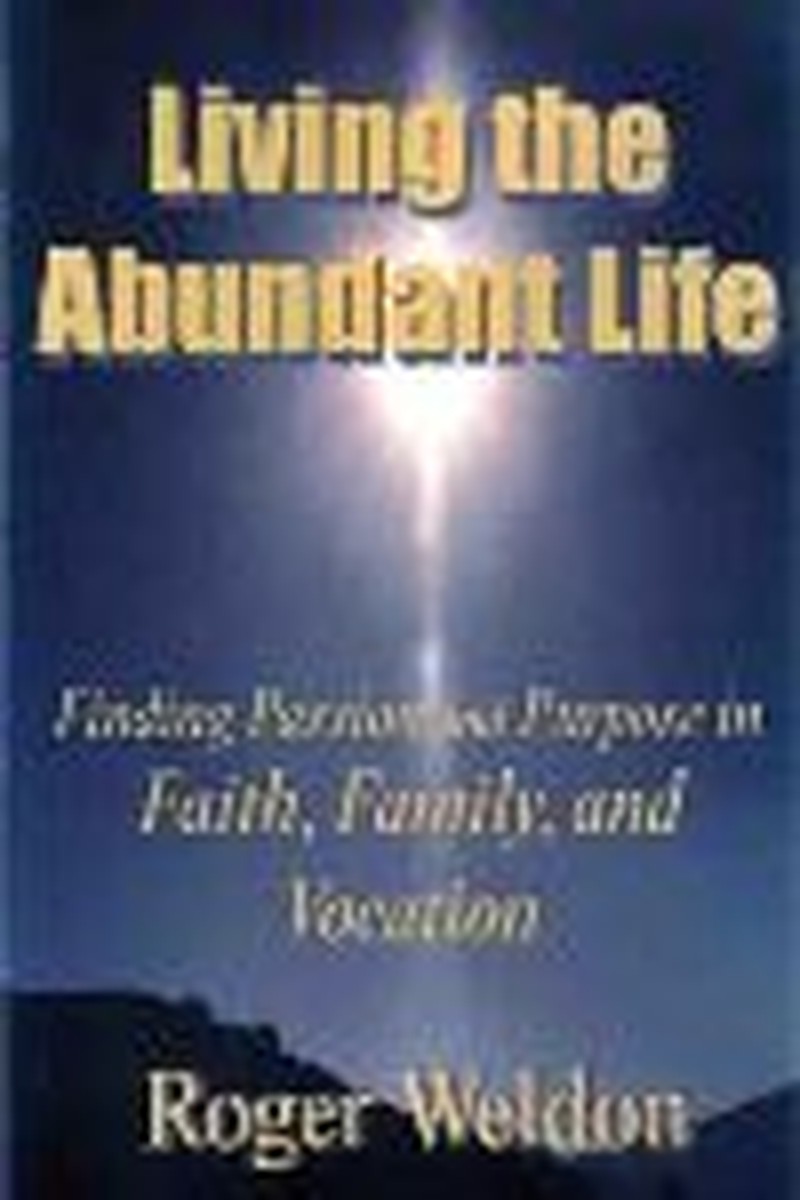 Roger Weldon is a bank city president, speaker and author of "Living the Abundant Life," a book in which he writes about faith, family and vocation, and how to bring those three elements to an intersection that results in the abundant life cited in John 10:10. He also offers, from a layman's perspective, some very practical pointers for identifying and using one's gifts in Kingdom work. In a recent interview, he answered questions for AgapePress.

AgapePress:  To reach a plain of abundant living, what was your greatest obstacle?

Roger Weldon:  One of the biggest obstacles was my own definition of success. It's hard to strive for the right thing if there are so many other things that appear to be more enticing. Some of those may be career-oriented, some may be financially-oriented. And I don't think there's anything wrong with that type of goal, except having that as the ultimate goal, rather than living in a relationship with Jesus and letting that relationship dictate everything you do. One of the biggest things I had to do was turn my eyes to the only One that can provide that abundant life, and keep my focus there.

AP:  Do you think most men sitting in the pews Sunday morning really want to carry their faith over into Monday?

RW:  I think many men want to, but they don't necessarily know how to do that. Sadly, I believe that issue has been unresolved for so long that some of them have stopped looking for an answer of how you do it. They just go through the motions. They log their time at work. Work and church become separate entities. It's not an easy thing to do. When I talk to people about this, the one thing I hear constantly is, "This is not easy."

But the consequences of not doing it are just so tragic. We end up going to work but we don't feel fully involved, and our heart is not there, our passion is not there, our soul is not there. And sometimes we feel like we're denying our faith by some of the things that we're involved with, or conversations that we're a part of, so we feel this emptiness when we're at work.

And then when we're sitting in the pews on Sunday morning, we like it. It resonates in our soul to a certain degree, but we know deep down inside that we're not doing enough with it, so there's that emptiness there as well. It's a vicious cycle once it begins. I think many men are caught up in that cycle.

AP:  Do you believe that men have an inborn need to be passionate about something?

RW:  Absolutely. C.S. Lewis said, "How can we hunger and thirst for righteousness when we have stopped hungering and thirsting altogether?" We serve a God of passion and, created in His image, we are passionate beings. There's something within us that has a desperate need to feel like we're engaged with life, we're not just spectators.

AP: And you think a man's passion is likely to become his work?

RW:  That's right. It can be work. It can be football. It can be watching a spectator sport. Passion is one of those things that we need to have in our lives. Sadly, though, it can be very destructive as well, because when you look at a lot of the vices and temptations that are out there, you can link those with passion as well. I mention in "Living the Abundant Life" that all of our passions need to have a burden.

AP:  How can passion become a negative thing?

RW:  We need passion because we are created in amazing ways. Ephesians 2:10 says we are "God's workmanship created in Christ Jesus to do good works, which He planned in advance for us to do." There is something He wants us to do with our lives. What a wonderfully inspiring verse that is, but we do have to operate between the boundaries because there are forces that will work overtime to keep us from being the child of God that we were meant to be – or the father or the husband.

It's a wonderful adventure, but I think we need to have a proper sense of all those things that can keep us from doing what we're really supposed to do.

AP:  When should parents begin teaching these principles to their children?

RW:  I don't think you can start too early. Granted when you look at a lot of the concepts that are in my book, looking at the biblical applications and the way that can be applied to life, there's a depth issue that I certainly wouldn't attempt with my six-year-old. But one of the ways we're doing that now is, we're essentially praying Ephesians 2:10 into their lives. We pray every day that their hearts will be open to the amazing things that God wants to do through their lives, that they would understand that they are made in His image, that they're made very special, that they would understand that God has given them gifts exclusively for the work that they want to do for Him.

It also keeps them focused on the fact that His goal and design for their lives is the most important thing for their lives. Because people are going to try to redefine that when they get 16 or 17 years old. I think that now is the right time to build the walls of defense.



© 2004 AgapePress.  All rights reserved.  Used with permission.