Best Christian Fiction Reads for the Beach This Summer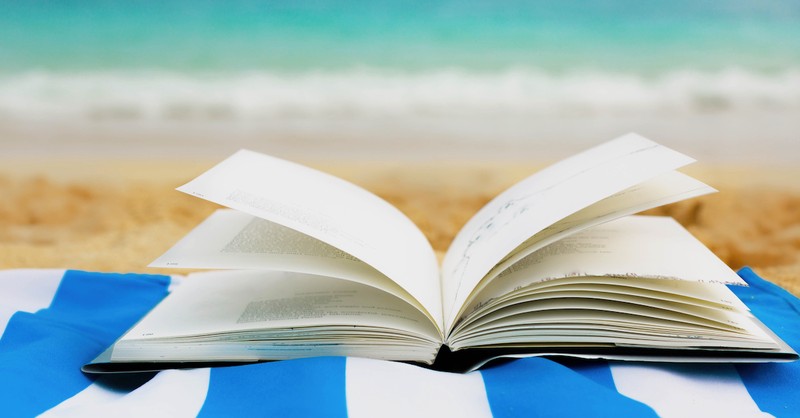 Ahhhh, just picture it. The warm sun, the sand, a towel spread across a reclining chair, a cool glass of lemonade sweating in the heat, your sunglasses, and a great book. There isn't anything much better in the world than a day at the beach with a light and easy read to keep your attention while still being able to keep an eye on the kiddos.
There are so many great reads available it's like trying to swim the ocean to find which one to start first. So, narrowing it down to the Christian market is helpful, but I've gone even a step further and pinpointed some reads that are downright sunny in nature, easy on the eyes, and sweet to the soul.
Try on some of these for size:
1. The Do-Over, by Bethany Turner – Thomas Nelson Publishing
Witty with a side of snark, Turner brings comedic romance to a whole new level as she introduces a nerd-to-hot hero and a washed-up career woman who pretty much has a lease on life that is running out just shy of her fortieth birthday.
This novel has everything a beach read should have. It will make you lol, maybe sniffle a bit (and not because you're allergic to the sunscreen), and re-fall in love with an old high-school flame (?—questionably, because can you really have an old flame who bested you at the spot for top of the class?). Snatch this read up as soon as you can; just bring a chessboard and some patience—read the book, and you'll know why.
2. Her Darling Mr. Day, by Grace Hitchcock – Bethany House Publishing
Who doesn't want a sweet historical romance set in the Gilded Age with the pomp and circumstance of American royalty? *Insert raised hand here. A jilted bachelor is all the rage as he flees his New York shame to become the most popular and eligible in the world of New Orleans. But he's not alone in his quest to run to New Orleans, but unlike Mr. Day, our heroine Flora has specific intentions for her journey. Mr. Day is her goal, and she'll do just about anything to claim the man she loves as her own.
A sweet romance set in the era of the New York Vanderbilts, readers will travel in style, revel in American luxury, and watch as women on the cusp of independence begin to take their futures into their own hands. Definitely pair this read with a chilled glass of sparkling grape juice, and be sure to wear your gold jewelry for accessories because it is rich with story and entertainment.
3. A Promise for Faith, by Stacy T. Simmons – Celebrate Lit Publishing
Heartwarming and dear, this contemporary romance will be just what you need to drift away with while you sun. A single dad drowning in his self-made river outfitting business and coffee shop meets an out-of-work chef, and you have a recipe for a flood of emotions. As the story unfolds to reveal secrets, tragedies, and disappointments, the reader will journey through the struggles to find faith and love at the end.
Turn off your cell phone; this book is a page-turner, and only dozing in the sun should interrupt this lovely read that will bless you, engage you, and make you anticipate book two.
4. Bookshop by the Sea, by Denise Hunter – Thomas Nelson Publishing
What better title for a beach read? It's like a booklover's dream all wrapped up in one. A story of second-chance love and old high-school sweethearts will have you swooning, all in the eye of a hurricane and the impending opening of a new bookshop. With family tensions and love in the air, what better thing could happen than to get stranded alone with a past love? If your heart's not palpitating yet, it will be.
You'll definitely want to pay attention to this story, as North Carolina becomes the backdrop for a romance that is anything but watered-down. A queen of romance, Denise Hunter's latest story will enthrall you and probably set you at high risk for sunburn as you forget to reapply sunscreen while being captivated by this tale.
5. Once Upon a Summer, by Toni Shiloh/Andrea Boyd/Teresa Tysinger/Jaycee Weaver
Do you need a shorter read to catch between relaxing and chasing kiddos down in the waves? Try this novella collection by four talented writers as they offer contemporary retellings of timeless tales. With proportions of love, you won't be disappointed as you're wrapped into the tales of tangled lives, romantic comedies, chance encounters, and heroes that deserve a poster spot on the wall of your teenage self.
It's a sunny read that includes four stories, totally doable for an afternoon at the beach. Bring a soda—or sparkling water—and don't forget that every good romance story should have a fairy-tale ending.
6. Molly (Sewing in SoCal series), by Sarah Monzon – Radiant Publications
Do you always tell the truth? Molly does. And truth-telling gets her into a heap of trouble, all while landing her square in the center of a handsome dad's life. This fun-loving, witty tale told in the first person will delight any lover of chick-lit fiction or the more current romantic comedies. With some seriousness thrown in, a lot of heart, laughs, and banter, Molly is just the first in a series that will not only read well by the water but look great laying on your colorful beach towel.
Just be sure that when you bring this to the beach, you get its sequel too—and probably the rest of the series. Easy to read, delightful, and sweet, you won't regret this for your day's read-pick.
7. The Nature of a Lady, by Roseanna M. White – Bethany House Publishers
What better than a book complete with a hunt for pirate treasure? What's that? Oh! Reading said book on the beach? Why yes, I quite agree. This love turn-of-the-century romantic mystery is rife with secrets, love, treasure, and a missing sister. If you want some adventure to spice up your lazy day, this will be the book, complete with dress styles straight out of a scene from Downton Abbey.
And don't worry. If you enjoy this one, there is already a sequel available that also includes pirate ancestry, treasure hunting, lies, and secrets. You can't go wrong with a Roseanna M. White novel!
Always pack at least one novel in your beach bag. Or, if you're like me, pack four or five. Some other honorable mention authors you may want to check out as well for light-hearted and romantic reads are:
Gabrielle Meyer
Tabitha Bouldin
Becky Wade
Liz Johnson
Kimberley Woodhouse
The beach is a lovely place to get lost in a story. But remember, sunscreen first, because once you start reading, odds are you'll forget to reapply. Oh, and don't forget that lemonade. Staying hydrated is also a must. Because let's face it. A book doesn't allow for breaks, so be sure to be properly prepared to not move for hours—or until the last page is turned.
Photo credit: ©GettyImages/globalmoments
Jaime Jo Wright is an ECPA and Publisher's Weekly bestselling author. Her novel "The House on Foster Hill" won the prestigious Christy Award and she continues to publish Gothic thrillers for the inspirational market. Jaime Jo resides in the woods of Wisconsin, lives in dreamland, exists in reality, and invites you to join her adventures at jaimewrightbooks.com and at her podcast madlitmusings.com where she discusses the deeper issues of story and faith with fellow authors.