Between a Rock and a Grace Place
Carol Kent

Author

2010

20 Oct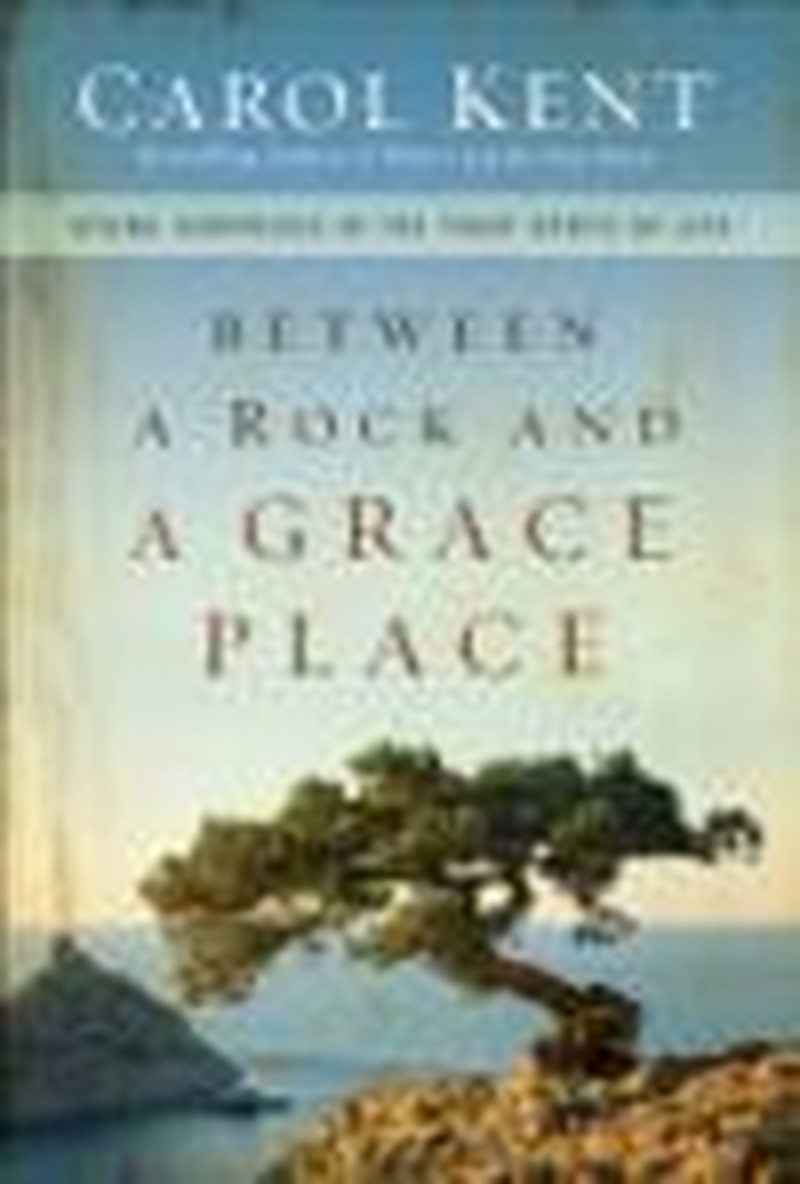 EDITOR'S NOTE: The following is an excerpt from Between a Rock and a Grace Place by Carol Kent (Zondervan).

Prologue

Special Delivery

The doorbell startled me. It was 9:15 p.m. It's too late for a delivery, I thought, and it's an unusual hour for unexpected company. Turning on the porch light provided no help in solving the mystery. No one was visible as I peered through the glass pane in the front door.

"Gene," I called, "did you hear the doorbell ring?"

"Yes," he shouted from his office. "Who's there?"

Gene joined me as I unlocked the door. There wasn't a car in sight, and no one appeared to be anywhere near our home. Suddenly my eyes were drawn to a package next to the door. It glistened as the yard lights reflected off metallic ribbon and gilded holiday wrapping paper.

Where did it come from? How was it delivered? What was inside?

The size and grandeur of the package made the mystery surrounding the delivery all the more intriguing. It was two weeks before Christmas, but I couldn't imagine who would have dropped off the gift. Picking it up, I stepped back inside the front door and noticed a card on top of the gift. It simply read: Mom.

Now I was certain the package had been delivered to the wrong house. My only child was in prison. Was this a cruel joke? At best, it must be a mistake.

Gene and I looked at each other, bewildered. Neither of us spoke.

Curiosity was getting the best of me. After all, the package was left on my porch. And I am a mom. Certainly no one could fault me for opening the package.

Sensing my hesitancy, Gene nodded, and I opened the card. Much to my shock, the note inside appeared to be in the handwriting of my son, who was incarcerated at Hardee Correctional Institution, forty miles away. I could feel tears forming in my eyes as Gene and I read the message:

Dear Mom,

It's been nine years since I was able to be home with you and Dad for Christmas. I miss you so much! You have poured love and encouragement into my life, and you have supplied me with so many educational and ministry tools to help my fellow inmates here at the prison. You and Dad always keep enough money in my account so I can purchase personal hygiene items and additional food items so I feel like a human being who still has somebody who loves me in the middle of a maximum security prison.

I wanted to do something special for you this year. I hope you enjoy the gift. It would bring me lots of joy if it's something you like. I hope every time you wear it you think of how much you mean to me.

Love,
J.P.

Tears spilled down my cheeks as I began opening the exquisite package, so carefully wrapped with tender loving care. I knew it would have been impossible for my son to wrap and send this package on his own — the prison would never allow it. But who helped him to make this clandestine delivery? And what about the note that looked like it was penned in his handwriting?

Lifting the lid off the large gift box, I discovered mounds of tissue paper covering the surprise. As the paper fell to the floor, there it was: the most gorgeous russet-colored silk jacket I had ever laid eyes on — a perfect match for my red hair. Slipping it on, I headed for the full-length mirror in our bedroom. It was just the right size — as if a tailor had custom-measured me for a flawless fit. The quality was better than I could have afforded for myself that Christmas, and inside the package was a matching scarf to make the ensemble complete.

I clung to the note, still amazed that someone could have pulled off this coup without my knowledge. I felt as if God had kissed me on the forehead and said:

Carol, I know where your son is and how much you long to have him at home with you. I know your heart hurts. I love your son even more than you do. I have not forgotten him, and I have not forgotten you. Your family Christmases will not be the way you once dreamed they would be, but I want you to be encouraged. I love you with an everlasting love, and I won't ever walk away from you.

I am comforting your son as you are opening this package. Merry Christmas, my child. Remember, I am close to the brokenhearted.

That night I discovered something new about God and something I had forgotten about myself. He loves to interject divine surprises into our lives — and I still had the childlike wonder to appreciate them. His timing is always perfect, but it had been a while since I had been surprised by joy, wonder, and grace in the middle of one of the tight spots
of life.

The mystery of the clandestine delivery lasted several days before I discovered that my friend Pam had exchanged letters with my son and arranged for this gift to be delivered on his behalf. Before making the stealthy trip to my front porch, Pam checked my schedule to be sure I would be home, and her daughter, Kirstie, placed the gift outside the door. I was surprised to find out that Kirstie, with Pam's help, had penned the note, based on what they believed would best express J.P.'s thoughts. Kirstie's handwriting was a dead ringer for his. The note was like an extra bow on the gift of reassurance of being loved by my son and cared for by God. It was a divine surprise. A holy hug. A sweet taste of grace in a hard place.

That's what this book is about — finding "the grace place" when you feel as if life's circumstances have placed you in a tight spot: between a rock and a hard place.

You may have read about our family's experience with our "hard place" in When I Lay My Isaac Down or in A New Kind of Normal. If not, let me fill you in with the speed version. I'll fast-forward to the birth of our only child, Jason Paul Kent (we call him J.P.), because in order to grasp the full weight of our story, you need to understand the bond within our family of three.

J.P.'s birth was a delightful surprise — not that I was having a baby, but that he was a boy! I didn't know the gender of my child before I gave birth, so when the doctor announced, "It's a boy!" I had the joy of watching sheer delight spread immediately over my husband's face.

Gene had a son, and he could hardly contain himself. Little did I know then that becoming a mother would ultimately be the hardest, most heart-stopping, emotionally charged, and gut-wrenching assignment of my life.

Our son grew up happy. His teachers praised him. His grandpa took him on fishing trips. He and his dad began running together and eventually participated in a half marathon. Jason was focused, disciplined, compassionate, and lots of fun! He always kept a to-do list. He listed his goals and marked off his accomplishments. He had a strong faith, and as he matured he developed a determined mind-set to change the world for the better through military or political leadership.

After receiving an appointment to the U.S. Naval Academy, he continued his commitment to mental, academic, physical, and spiritual disciplines. Following the rigors of "plebe summer," we enjoyed four years of traveling to Annapolis for parent weekends. The pride and glory days of color parades, awards ceremonies, clam chowder at The Chart House, and old-fashioned milkshakes at Chick & Ruth's Delly to celebrate our son's small and large accomplishments provided many scrapbook-worthy photographs. Memories to last a lifetime, with many more to come. Until disaster struck — and life changed forever.

Jason's first assignment as a young ensign was nuclear engineering school in Orlando, Florida. He met the girl of his dreams in a local church and fell deliriously, head over heels in love! When Jason's orders changed and he had to be at Surface Warfare Officers School in Newport, Rhode Island, in early September, they decided to get married.

Our soon-to-be daughter-in-law had two adorable little girls from a previous marriage, and the day we became in-laws we also became Grampy Gene and Grammy Carol to a three-year-old and a six-year old whose big brown eyes and precocious personalities quickly stole our hearts.

At the time of our daughter-in-law's divorce, a judge had granted the girls' biological father only supervised visitation with his daughters due to allegations of abuse. During the first year Jason and his new bride were married, the girls' father petitioned the court for unsupervised visitation. It appeared that he was going to get it. J.P. began to unravel emotionally, mentally, and spiritually as his anxiety mounted over the safety of his stepdaughters.

Just over a year after our son's marriage, we received a middle-ofthe night phone call that shocked and horrified us. Our son had been arrested for the murder of his wife's first husband. For several moments, we couldn't breathe. Waves of nausea combined with disbelief immobilized us. Our minds whirled.

This is a bad dream. We'll wake up soon, and life will be normal.

Our son is not capable of murder.

If God loves us, how could he allow this to happen?

I'm going to be sick again.

But the news from the caller was true. Jason had pulled a trigger in a public parking lot. A man died. Another family — a father, stepmother, fiancée, and sister — were planning a funeral for the man our son had killed. We experienced another round of sickness and grief as we considered what the family of the victim was experiencing. There could be no do-overs. No opportunity to fix what had happened. A man was dead. Jason had been arrested for killing him. It was the kind of shock no parent ever wants to get. We went through two and a half years and seven postponements of Jason's trial for first-degree murder. Ultimately he was convicted and sentenced in a Florida state courtroom to life in prison without the possibility of parole. Our requests for evidentiary hearings and appeals have been exhausted at both the state and federal levels. We are living daily between a rock and a hard place. Humanly speaking, we can't see any possibility that our son, who was twenty-five years old at the time of his arrest, will walk in freedom in this lifetime.

I now believe it is possible to die from a broken heart. I have experienced the agony of crying until I have no more tears. I know the sadness of watching hopes and dreams for my son die. I have watched what happens to many inmates who, when all hope is taken away, find no internal motivation to act responsibly. There is no reason to learn, to grow, to contribute positively to someone else's life. I have watched the eyes of "lifers" lose their sparkle and become empty. A life sentence is a walking death for many. A different kind of punishment than the death chamber. It is the death of hope.

So why am I writing this book? Because I passionately believe, through personal experience, that when we reach the absolute end of our ability to move in a forward direction because the rock in the middle of our path is immovable, there is a better option than giving in to resignation or despair. When we are stuck between a rock and a hard place, we have not reached the end of the road.

One day when I was struggling with "sad mama" thoughts, my sister Jennie e-mailed me a verse from the Bible that captivated my heart.

Even though I grew up as a preacher's kid, went to church almost every Sunday, and have read and studied the Bible throughout my life, I didn't recall hearing Romans 9:33. When Jennie shared Eugene Peterson's rendering from The Message, the verse came alive for me:

"Careful! I've put a huge stone on the road to Mount Zion, a stone you can't get around. But the stone is me! If you're looking for me, you'll find me on the way, not in the way."

It has now been more than a decade ago, right in the middle of my life, that I ran into a huge boulder — the likes of which I had never encountered on my lifelong walk with God. It could have been my stopping place — the point at which I lost not only some of my most cherished dreams but also my faith, my joy, my purpose, and my passion to go on. Instead, I found out that the Rock in my path represented not an obstacle but an opportunity to encounter the living God in surprising, sometimes astonishing ways. As I have learned to press into the Rock in the middle of my hard places, I have discovered that I am actually in a position of safety, refuge, and grace. Year after year, God continues to transform my hard places into grace places where I discover surprising gifts of faith, mercy, contentment, praise, blessing, freedom, laughter, and adventure — tailor-made for me with his tender, loving care.

You probably picked up this book because you feel caught in one of those tight spots of life where the experience you are facing is difficult, if not unbearable. I pray that you will come to realize that the pain of being in this place need not cause you to lose hope. On the contrary, being "stuck" between a rock and a hard place can lead to a transforming and liberating encounter with the only true Rock — God himself.

If you press into the Rock instead of trying to get around it, you will discover a surprise far better than a Christmas gift specially delivered to your doorstep. On the road that is your life right now, you can find a new way of thinking about your circumstances, as well as an astonishing experience of grace, tailor-made just for you. As you encounter God "on" the way, not "in" the way, you may come to know him as you never have before.


Copyright © 2010 by Carol Kent
This title is also available as a Zondervan ebook. Visit www.zondervan.com/ebooks.
This title is also available in a Zondervan audio edition. Visit www.zondervan.fm.
Requests for information should be addressed to
Zondervan, Grand Rapids, Michigan 49530

Carol Kent is the bestselling author of When I Lay My Isaac Down and A New Kind of Normal. Carol is an expert on public speaking, writing, and on encouraging people to hold on to hope when life's circumstances turn out differently from their dreams. She speaks internationally on the subjects of her books. With vulnerable openness, restored joy, and a sense of humor, Carol helps people to find God's "grace places" in the middle of challenging circumstances. For more information, please visit www.carolkent.org.